2018 KWPN Stallion Licensing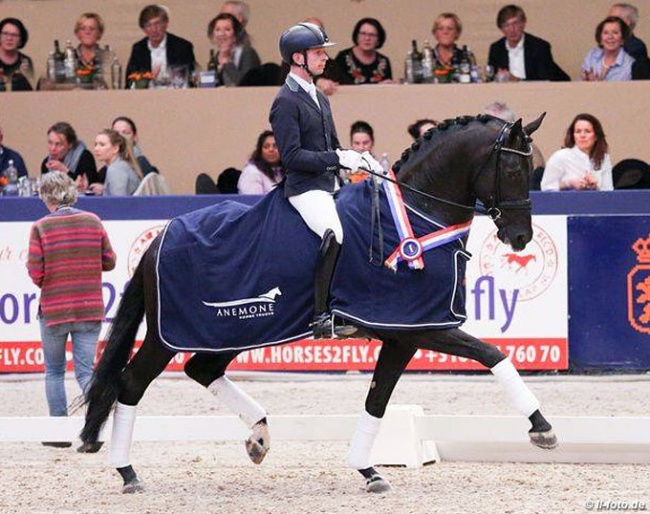 The 5-year old Imposantos, the 6-year old Total U.S. and the 7-year old Gunner KS became the winners of the 2018 KWPN Stallion Competition series of which the finals were held at the 2018 KWPN Stallion Licensing in 's Hertogenbosch, The Netherlands, on Friday 2 February 2018. 
In the L-level division 15 stallions travelled to Den Bosch and the duel between Imposantos and In Style was won by the former stallion. Under Bart Veeze, Imposantos (by Wynton x Krack C) scored one point more in the overall ranking to win the title.  Imposantos was the one who reigned, impressing the judges with his trot and suppleness. Judges Monique Peutz and Maarten van der Heijden rewarded the black with 8.5 for walk and canter and 9 for potential and harmony. In Style (by Eye Catcher x Lorentin) became the runner up in the final ranking. The victory in the Finals class went to Emmelie Scholtens on the KWPN licensing champion Indian Rock (by Apache x Vivaldi). Because he did not compete in the qualifiers due to fitness issues, Indian Rock was not eligible to compete for the overall title.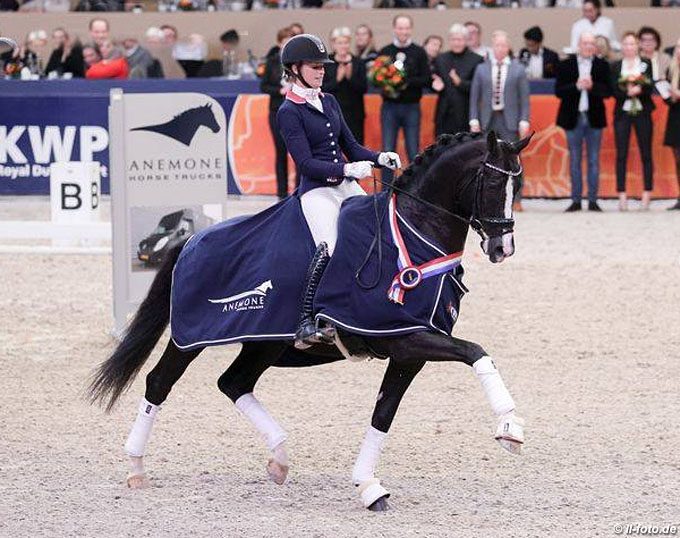 In the M-level division seven combinations appeared and Dinja van Liere steered Paul Schockemohle's Total U.S. (by Totilas x Sir Donnerhall) to an easy win. Judge Peutz praised the pair for its harmonious image, uphill tendency and relaxation. Van Liere also snatched the second place aboard Hermes (by Easy Game x Flemmingh), who got 8.5 for walk, 9 for trot and 8 for canter. Kirsten Beckers and Habanna (by Vivaldo x Van Gogh) ranked third.
At small Z-level division was won by Dana van Lierop on Gunner KS (by Belissimo M x Vincent). She achieved the highest score in the overall ranking and earned the competition title, but Franka Loos and Giovanni (by Chippendale x Scandic) were the high scorers in Den Bosch with 81 points. The stallion got 7.5 for walk and 8.5 for trot and canter. Giovanni had missed one of the qualifiers and could no longer play catch-up for the final competition ranking. 
Photos © LL-foto
Results - 2018 KWPN Stallion Competition - Final Ranking
Rider - Horse - qualification score - finals score --- total
L-level
1. Bart Veeze - Imposantos (by Wynton x Krack C) - 251 - 89 --- 340
2. Renate van Vliet - In Style (by Eye Catcher x Lorentin) - 251 - 88 --- 339
3. Joyce Lenaerts - Iconic B (by Bon Bravour x Jazz) - 248 - 86 --- 334
4. Femke de Laat - Intro K (by Apache x Rousseau) - 242 - 82 --- 324
5. Hans Peter Minderhoud - Incognito (by Davino VOD x Vivaldi) - 235 - 85 --- 320
6. Hans Peter Minderhoud - Dettori (by Desperado x De Niro) - 237 - 80 --- 317
7. Diederik van Silfhout - Impression (by Don Schufro x Ferro) - 234 - 81 --- 315
8. Charlotte Fry - Inclusive (by Everdale x Uptown) - 238 - 76 --- 314
9. Moises Jover Azuar - Imagine (by Chippendale x Jazz) - 232 - 81 --- 313
10. Danique Janssen - Indigro (by Negro x Jazz) - 231 - 77 --- 308
11. Franka Loos - Inverness (by Everdale x Johnson) - 229 - 77 --- 306
12. Denise Nekeman - I'm Perfect STH (by Zack x Fidertanz) - 222 - 78 --- 300
13. Benjamin Maljaars - Inspire (by Everdale x Don Romantic) - 224 - 72 --- 296
14. Carlijn Vaessen - Invershin (Charmeur x Balzflug) - 213 - 70 --- 283
15. Emmelie Scholtens - Indian Rock (by Apache x Vivaldi) - 171 - 89 --- 260
M-level
1. Dinja van Liere - Total U.S. (by Totilas x Sir Donnerhall) - 265 - 91 --- 356
2. Dinja van Liere - Hermes (by Easy Game x Flemmingh) - 245 - 85 --- 330
3. Kirsten Beckers - Habanna (by Vivaldo x Van Gogh) - 246 - 78 --- 324
4. Kirsten Brouwer - Hummer (by Westpoint x Farrington) - 241 - 79 --- 320
5. Remy Bastings - Hennessy (by De Niro x Jazz) - 237 - 78 --- 315
6. Bart Veeze - Daily Diamond (by Daily Deal x Furst Heinrich) - 234 - 76 --- 310
7. Diederik van Silfhout - Hometown (by Apache x Ferro) - 222 - 80 --- 302
Z-level
1. Dana van Lierop - Gunner KS (by Belissimo M x Vincent) - 244 - 79 --- 323
2. Franka Loos - Giovanni (by Chippendale x Scandic) - 166 - 81 --- 247
Related Links
Trafalgar, Toto Jr, Four Legends Win 2017 KWPN Stallion Competition Finals
Toto Jr, Ferdeaux, and Electron Win 2015-2016 KWPN Stallion Competition Finals
El Capone, Desperado, Cupido Win 2013-2014 KWPN Stallion Competition
Desperado, Charmeur, Bordeaux Win 2012-2013 KWPN Stallion Competition Finals
Chippendale, Bon Bravour, and Apache Win 2011-2012 KWPN Stallion Competition
Bon Bravour, Amazing Star and Zhivago Win 2011 KWPN Stallion Competition Finals
Andretti, Zhivago and Wynton Win 2010 KWPN Stallion Competition
Zizi Top, Wynton and Vivaldi Win 2009 KWPN Stallion Competition
Wynton, Johnson, Dreamcatcher Win 2008 KWPN Stallion Competition Finals
Uptown, Tolando and Florencio Win 2006 KWPN/KNHS Stallion Competition Finals
Sandreo, Scandic and Rhodium Win 2005 KWPN/KNHS Stallion Competition Finals
Scandic, Ro-Lex and Prestige VDL 2004 KWPN Stallion Competition Winners
Rousseau, Paddox and Rubels Win 2003 KNHS/KWPN Stallion Competition