U.S.A.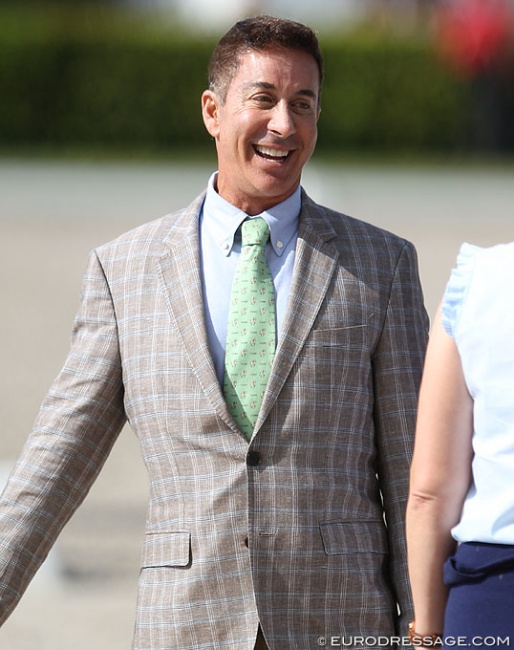 The United States Equestrian Federation has announced that up to eight of the highest scoring riders of the winter-spring 2018 season can be invited to a European show tour which count as observation events before official U.S. WEG team selection. They can be selected with more than one horse.
The qualification period for the Euro tour closes on 30 April 2018.
Short List combinations will be required to complete a minimum of two (2) Observation Events
Compiegne CDIO5*/CDI3* (FRA) - 17 May – 20 May
2018 Roosendaal CDI4* (NED) - 31 May – 3 June 2018
Rotterdam CDIO5*/CDI3* (NED) - 21 June – 24 June 2018
Leudelange CDI4* (LUX) - 3 July – 8 July 2018
Aachen CDIO5*/CDI4* (GER) - 17 July – 22 July 2018 (Mandatory)
If an athlete is named to the Short List with more than one horse, the selectors will consult with the athlete for which horse they ride in the mandatory Observation Event. Waivers/byes may be considered.
No later than August 1, 2018, the U.S. Dressage selectors will review the short list combinations. They may request a short list combination to attend an additional Observation Event, such as the 2018 CDI Verden 3* or observations in the US or Europe (in the form of 'home visits' / possibly with selectors). The official observation event period is from May 1, 2018 – September 3, 2018.
The European WEG training camp will no longer be at De Begijnhoeve in Retie, Belgium, but at Eliane Cordia-Van Reesema's Jewel Court Stud in Wuustwezel, Belgium, where the Canadians had their WEG training camp in 2010.
Nominated Entries for the 2018 World Equestrian Games have to be named by 13 August 2018.
The ranking for the Euro Tour is not a definite selection method. "Athletes are not necessarily named by ranking order and there is no ranking of the short list," USEF Dressage Director Hallye Griffin told Eurodressage. "The ranking list is just a tool we have for selection. There are eight different points that will be used for selection, such as scores from tests, consistency of scores, trend of scores, previous international experience, potential to contribute to medal winning team, etc. So the 'rankings' certainly are not everything and we don't want a perception out there that we only use the rankings."
Current Ranking - Qualification Period Euro Tour - Standing 29 January 2018
1. Laura Graves - Verdades - 79.630
2. Adrienne Lyle - Salvino - 74.543
3. Sabine Schut-Kery - Sanceo - 74.000
4. Shelly Francis - Danilo - 73.261
5. Steffen Peters - Suppenkasper - 72.870
6. Shelly Francis - Doktor - 72.478
7. Ashley Holzer - Havanna - 70.892
8. Catherine Haddad Staller - Semper Fidelis - 71.853
9. PJ Rizvi - Breaking Dawn - 69.745
10. Katherine Bateson Chandler - Alcazar - 69.960
11. Dawn White O Connor - Legolas - 69.065
12. Charlotte Jorst - Nintendo - 68.011
13. Kathleen Raine - Breanna - 67.130
14. Susan Dutta - Currency DC - 67.040
15. Natalia Pai - Unlimited - 67.000
Related Links
Robert Dover to Retire as U.S. Team Technical Advisor after WEG, New Coach to be Found
Graves Returns to Winning Ways at 2018 CDI-W Wellington
Tryon (USA) to Host 2018 World Equestrian Games