Canada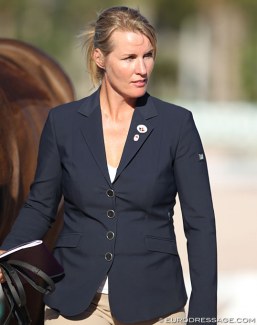 Canadian Grand Prix rider Karen Pavicic, who represented her native country at the 2014 World Equestrian Games, has declared for Croatia. 
The 46-year old Pavicic is originally from Vancouver, Canada, and spends her winters in Wellington, Florida. 
Aboard Don Daiquiri (by Don Cardinale x Rubinstein) she represented Canada at the 2007 Pan American Games in Rio, where she won team silver, and at the 2014 World Equestrian Games in Caen. In 2016 she pulled out all the stops to make it to the Olympics. She even shipped her horse to Austria last minute to compete at the CDI Fritzens in a final attempt to gain a high enough qualification score, but the Canadian selectors picked two different riders. 
After not making the 2016 Canadian Olympic delegation for Rio, Pavicic and co-owner Jayne Essig decided to sell Don Daiquiri to American Beth Palmgren as new ride for Israeli Sahar Hirosh. Karen rode her last international at the Central Park invitational in New York in September 2016. 
At the beginning of the 2018 show season, Pavicic has declared for Croatia. 
"With dual citizenship for Canada and Croatia, I find myself in the unique situation to be able to help develop the sport of dressage both at home and abroad," said Pavicic. "After much reflection and consideration, I will be changing my sport nationality to Croatian, thereby supporting the FEI initiative of having more flags represented. I am still and always will be a proud Canadian. My goal to continue to compete internationally is unwavering and I look forward to representing Croatia at future FEI championships."
To Eurodressage she explained that, "in 1997 when I got married, my husband and I were both Canadian citizens. When he obtained his dual citizenship four years ago - this is his country of birth - our family also became eligible to do so."
At the moment, Croatia does not have a single Grand Prix rider competing internationally. Iva Jurak Lukicic, Mia Brnic, Gordana Pavic, and Barbara Ozeg Prah represented Croatia at small tour level at the 2017 Balkan Games. 
Karen will represent Croatia for the first time at the 2018 CDI Wellington on 21 - 25 February, when she will compete two Canadian bred horses: Totem (by Totilas) in the 6-year old class and Laura Penikett's Fausto (by Fidertanz x Lady's King) in the small tour horses. 
With Pavicic's nationality change, Canada loses its second elite Grand Prix team rider in a short time. In 2017 multiple Canadian Olympian Ashley Holzer declared for the U.S.A.
Photo © Astrid Appels
Related Links
Karen Pavicic Sells Don Daiquiri, New Ride for Sahar Hirosh
FEI Investigation into Judging Bias and Unethical Behaviour at 2016 CDI Cedar Valley Closed
Pavicic Appealed Canadian Olympic Selection Based on Judging Bias
Pavicic Chosen Co-Chair of Dressage Canada Athletes' Council
Tourkomani, Macropoulou, Ravini, Sauer Win Individual Gold at 2017 Balkan Dressage Championships
Scores: 2017 Balkan Dressage Championships