Great Britain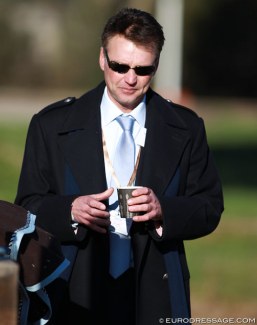 British judge Clive Halsall and Grand Prix trainer Paul Fielder have been appointed Britain's new pony and junior/young riders' team trainer.
Halsall will be the official pony team trainer after the shocking and sudden resignation of Darryl Thickitt in July 2017.  Fielder's position has not been named 'team trainer' but "International Youth Coach Advisor."
Recommendations After Strategic Review
The preliminary findings of British Dressage's U21 International Teams Strategic Review were presented to the Board of Directors in December and a number of the key recommendations are being progressed ahead for implementation in 2018.
Announced in September 2017, the review looked at the management, operations, procedures and policies surrounding the Pony, Children on Horses, Junior and Young Rider Programmes and was conducted by Tamsyn Cowie, Judy Harvey and Sara Green.
Over 40 submissions were received by 32 stakeholders including parents, riders and officials, past and present. The key recommendations supported by the Board are as follows:
• Develop and appoint a new role of Under 21 Performance Manager
• Ensure that the key team roles of Pony Team Trainer and International Youth Coach Advisor are appointed ahead of the 2018 season
• Expand the role of International Director to Chief Selector for all teams, to provide oversight of all squads and ensure that there is a consistent approach.
• Review and clarify all other official roles and responsibilities
• Update the Code of Conduct and Team Agreement for each of the teams
• Develop a formal 'whistle blower' / escalation policy
Appointments
The Board of Directors have already agreed to extend David Trott's role of International Teams Director to cover the Chief Selector of the Pony, Junior and Young Rider teams.
David said; "This will greatly help with continuity across our teams. It means I can bring best practice from our senior ranks to the youth areas as well as providing continuity across our international effort. I'm looking forward to working closer with all of our Selectors to develop our teams into medal winners."
The recruitment process for the Pony Team Trainer and International Youth Coach Advisor is also now complete. We are delighted to announce that 4* FEI judge and UKCC Level 3 coach Clive Halsall will join the Pony ranks, while Paul Fielder will oversee the Junior and Young Riders as Coach Advisor. These key training roles have now been confirmed for the forthcoming season and will be reviewed again as part of our evaluation process after this year's European Championships.
Clive has had a few sessions with the pony squads already, alongside Pony Progress Trainer Dan Sherriff, and the two will continue to work closely, including joint sessions with the Pony Prime and Progress squads.
Speaking on his appointment Clive said; "It's a privilege to be taking on this position and an honour to become part of this established and knowledgeable team. Winter training is well under way and the 2018 Prime Squad incorporates both experienced and newer combinations so it's a great mix. I'm excited to be working with the riders and their support teams in their pursuit of excellence, especially with this year's European Championships hosted in the UK at Bishop Burton."
A skilled mentor, Paul's training CV is extensive, not only here in the UK but also across Europe and Scandinavia, so he is ideally placed to help with the riders' home coaches to develop them into the athletes they need to be to take on the best in Europe. "I'm looking forward to working within the BD Youth training scheme and bringing a fresh view point. With my experience of training international riders, particularly younger riders, for many years, I know I can help guide the team on a journey of success, turning talent into elite performance," said Paul.
New Job for U21 Performance Manager Being Launched
BD's Chief Executive Jason Brautigam confirmed that the new role of U21 Performance Manager has been agreed and a role description is currently being written, with recruitment commencing in the coming weeks. The role will report to him and the International Director and will cover the development of riders over three squads, assisting riders with their annual training and competition programmes in a bid for selection. The teams will continue with Chefs d'Equipe for major team competitions and Championships but their role will focus primarily on the logistical support and team co-ordination on the ground at these vital events. 
"This is a very exciting development for the squads," Jason said. "It's a system that works well at Senior level, under the UK Sport lottery funded BEF World Class Performance Programme. To have a role which sits at the heart of the youth programmes to drive it forward, providing a consistent approach to help with the transition from Ponies to Juniors and Young Riders, will be beneficial for all concerned. We are finalising a role description and will start recruiting as soon as possible so the successful candidate has as much time to settle in ahead of the busy selection campaigns and on to the Championships.
"Over the coming weeks, we will continue consulting with those involved in our U21 teams, including riders, parents and officials, to ensure that these changes are fully supported and implemented effectively. I am confident that everyone will embrace these changes to enable us to be in the best possible position to continue winning medals in the future. We all share the same goals, aspirations and ambitions for our U21 riders."
Photo © Astrid Appels
Related Links
Darryl Thickitt Resigns as British Pony Team Trainer Effective Immediately
British Team Selected for 2017 European Pony Championships