U.S.A.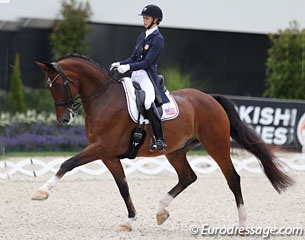 American show jumper McLain Ward beat world number four ranked U.S Grand Prix rider Laura Graves for the title of 2017 U.S. Equestrian of the Year, which is honoured with the Robert P. Strub Trophy. 
At the USEF Pegasus Awards Dinner, dressage was not amongst the decorated disciplines this year, although KWPN horse breeder Willy Arts received the Ellen Scripps Davis Memorial Breeders Award.
Because Laura Graves finished second at the 2017 World Cup Finals and won the Grand Prix Special at the 2017 CDIO Aachen, she was being considered for the top distinction of the year (Equestrian of the Year Title). She still received the William C. Steinkraus Trophy for her major accomplishments in 2017.
McLain Ward won the 2017 World Cup show jumping Finals and helped team U.S. win silver at the FEI Nations Cup Finals. 
"Without the horse none of this would be possible. We owe them our lives," said Ward. "They give us so much and they ask for only basic kindness in return. I believe horses and humans have a connection that draws us to each other. I believe in their own way they know we need them and they are pleased to be our partner whether it be in work or sport. We need to remember to never take this privilege of working and living with horses for granted. To never lose our appreciation for what they have given us throughout the history of time and to be sure that their relevance in our society does not fade away. This is our greatest responsibility as equestrians."
McLain Ward's horse HH Azur also snatched the title of 2017 U.S Horse of the Year, while Graves' Verdades became a "2017 U.S. horse of honour"
Related Links
Graves and Verdades Nominated for 2017 U.S. Rider and Horse of the Year Title
Laura Graves Beats Isabell Werth in Grand Prix Special at 2017 CDIO Aachen
Graves Posts Historic High Score in 5* Grand Prix at 2017 CDI Wellington
Graves and Verdades Remain on Top and Over 80% in Kur at 2017 CDI-W Wellington
Verdades' Breeder, the Crum Family, Honoured at 2017 KWPN Stallion Licensing