2018 USDF/USEF Young Rider Graduate Program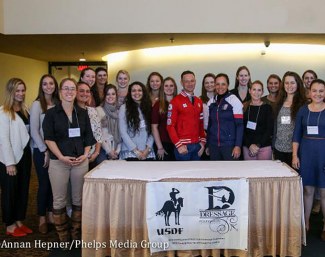 Talented young riders, U25 competitors and up-and-coming dressage professionals from across the United States gathered in West Palm Beach on 13 - 14 January 2018 for the USDF/USEF Young Rider Graduate Program. Amongst the top professionals and experts who presented lectures to the group of inspired participants were Olympians Allison Brock and David Marcus.
The USDF/USEF Young Rider Graduate Program is a two-day educational seminar that focuses on crucial topics that young adults, ages 20-28, need to know to prepare for a professional career in the equine industry. Topics include goal setting, sponsorship, international competition and business subjects such as contracts, insurance and tax practices. These subjects are taught by some of the top professionals in the country to foster strong role models for the future.
Marcus was joined by fellow Olympian Allison Brock for their presentation, "How My Career Evolved," which was centered around building client relationships, improving mental strength and balancing managing a business, while continuing to develop your skill sets in the saddle.
"When I was a young rider, I did not have the finances or the skill sets to be an international Grand Prix competitor," Marcus explained to the students who dream of winning an Olympic gold medal one day. "Never take yourself away from your personal goals. If you believe you can achieve it tomorrow, you are setting yourself up for failure. Focus on becoming the best rider, trainer and competitor you can be every single day. It's hard to say to yourself, 'This goal may never happen for me,' but you have to understand that the stars have to align. The chance of failure is high as few people get to stand on a podium at the Olympics.
"If you set yourself up where your integrity is strong and you are thinking of yourself as a business person and not only a dressage rider, you will find success in your career if you put in the hours," he continued. "It is so important to invest in your skills continuously, while building long-term professional relationships with honest communication. Ask yourself what are your strengths and your expectations for your business? Do not underestimate your worth."
Marcus and Brock spoke about their path to success in both their personal riding goals as well as in their business models before opening up the floor for questions. Many of the participants asked for advice on how to avoid burnout and how to be a well-rounded professional.
"Riding is hard - the highs are high and the lows are very low," Marcus shared. "Don't stress over things you can't control because it's a waste of energy and you need to stay in the right headspace. You need to think ahead and figure out how to focus on your efforts."
One of the USDF/USEF Young Rider Graduate Program participants, Emily Gill, is an aspiring dressage professional from Louisville, Ohio, who was inspired by Marcus' career advice from the lecture.
"After hearing David speak, it made me feel very motivated and excited to be in this sport!" Gill said. "When he shared his journey from Nebraska to becoming an elite rider in this sport, it resonated with me because I think that is a goal that most people at the conference would like to achieve. He proved to us that hard work really does pay off as long as you prioritize your efforts, start a project that you are proud of and surround yourself with quality relationships. He was easily my favorite speaker at the event!"
Related Links
Allison Brock's Rosevelt Getting Back in Shape for 2017 Show Season
Brock and Francis Wrap Up 2016 CDI Wellington With GP Special Victories
David Marcus, Guest Judge Rider at 2017 Pavo Cup Finals
David Marcus' Chrevi's Capital Retired
Canadian Dressage Athletes Shine at 2014 CDI-W Palgrave