2018 CDI-W Wellington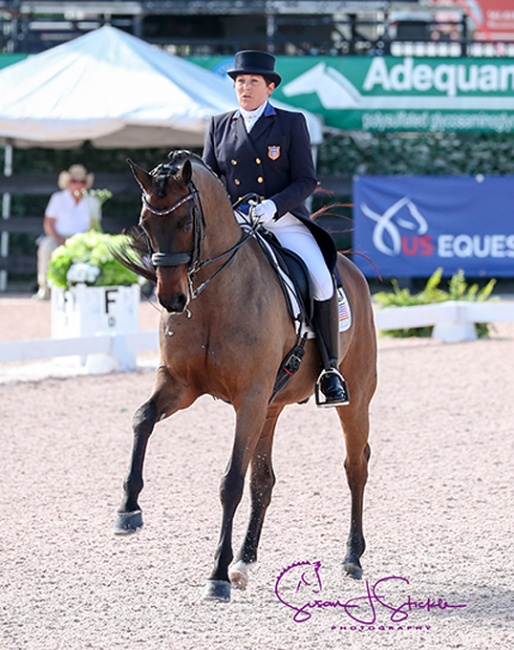 Week one of the 2018 Global Dressage Festival in Wellington, Florida, wrapped up on Sunday 14 January 2018 with Shelly Francis (USA) logging another victory. Aboard Doktor — Patricia Stempel's seasoned 15-year-old Diamond Hit gelding — Francis added the MTICA Farm-sponsored Grand Prix Special 3* to her grand prix title from two days previously. The pair scored 70.404% despite being penalized for an error of course.
"Everybody says I'm just getting old, but I used to go off course when I was young too," said the 59-year-old. "I had a few bobbles in my rides, which you don't want, but I feel I'm coming out a little stronger than last year."
Doktor has made huge progress since Francis found him as a spooky five-year-old: "He was very nervous if you moved on him," she said. "He had this fear-running thing, and it took me a long time to be able to wear a tailcoat. I try not to let him get afraid; for example I put ear plugs in for the awards, and today he was okay. But in the tests he's really focused."
Francis' major aims for the year include the World Equestrian Games in Tryon and World Cup classes with Doktor and her other grand prix ride, Danilo — with the Wellington season providing the perfect preparation platform. She has been on a health kick to boost her performance.
"I lost 40 pounds of weight in five months and I think the whole picture probably looks a lot nicer," added the 5'2" rider. "I feel I can sit better, too. It's the second time I've lost weight; I'm one of those women who can swell and shrink."
Francis finished 1.68% clear of second-placed Jill Irving (CAN) and her Jazz gelding Arthur, with the USA's Megan Gardner (Zaffier) filling third.
Juan Matute Guimon's charmed run continued as the Spaniard steered Copernico — an eight-year-old Oldenburg gelding by San Amour x Don Gregory — to top spot in the Young Rider Individual CDIY. The 20-year-old has ridden six tests over three days, winning four of them.
Home rider Janne Rumbough swept the day's big tour amateur division classes with her two grey Spanish geldings. With the 17-hand 16-year-old Junior, by Gaucho III, she topped the Grand Prix for Amateur CDIAm. The 73-year-old rider went on to capture the Intermediate I Freestyle for Amateur CDIAm on Armas Zumbel, breaking the 70% barrier with 70.35%. Rumbough has been competing the 15-year-old gelding by Escarzo for a year, and they have never been out of the top three in CDI classes.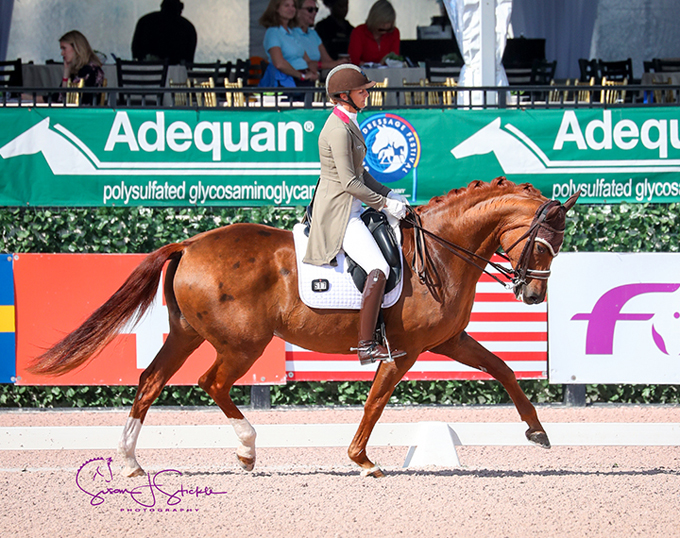 The third and final amateur class saw the winner's rug awarded to Ireland. Sonia Zügel topped the Intermediate I for Amateur CDIAm on her own Hemingway, a 14-year-old Hanoverian gelding by His Highness x Friedensfurst. They scored 64.676%.
Heather Blitz (USA) added another blue ribbon to her collection in the Intermediate I Freestyle 3*. With her own nine-year-old Danish warmblood Praestemarkens Quatero (by Quaterback x Rohdiamant), she garnered 75% exactly, beating the previous day's small tour winners, Canadian Diane Creech on Robbie W, into second place.
Text by Alice Collins, edited by Eurodressage
Photos © Sue Stickle
Related Links
Scores 2018 CDI-W Wellington
Vilhelmson Scores First World Cup Points of 2018 at CDI-W Wellington
Vilhelmson and Francis Take First Big Tour Trophies of 2018 Wellington Show Season