Germany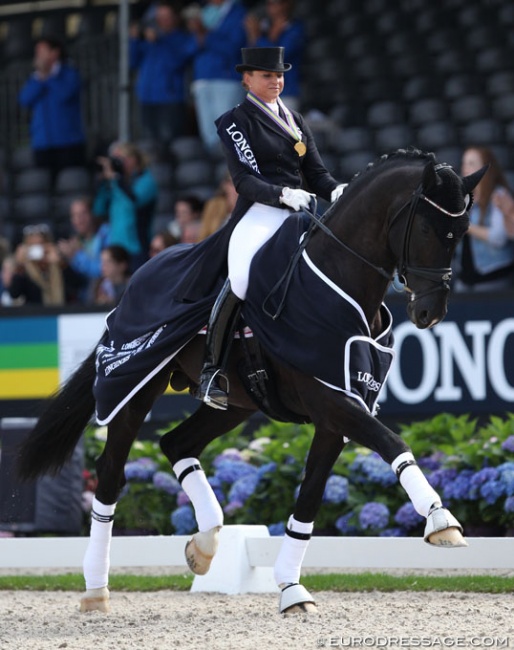 Swedish Olympian Patrik Kittel has reconnected with his former sponsors, Arlette and Edwin Kohl of Gestut Peterhof, and is currently assisting them in the training of Sezuan. He struck a new co-operation since Dorothee Schneider ended her collaboration with Peterhof at the end of November 2017.
Eurodressage picked up the news of Kittel training triple World Young Horse champion Sezuan (by Zack x Don Schufro) already two weeks ago, but Peterhof refrained from disclosing any information.
Today the Kohls issued a press release, which reads: "We are testing in all privacy how we will shape the future training (of Sezuan). The stallion is top fit and there is a world-wide high demand in the stallion. In the training Patrik Kittel is supporting us."
The Kohl couple, which has garnered their fortune as a major distributor of pharmaceuticals, owns the state of the art dressage stable Peterhof in Perl-Borg on the Luxembourg border.
The couple first came into the spotlight through its collaboration with Patrik Kittel which started in 2009 and ended in September 2012 due to Kittel's inability to manage two stables at once. The long distance between the two yards and the time management in combination with an active show schedule were too much. 
At the time Peterhof's star horse was World Young Horse Champion Donna Unique, which the Kohls purchased for almost four million euro at Andreas Helgstrand's yard. Patrik qualified the mare for the 2012 Nurnberger Burgpokal finals with a record score. In February 2013 a scandal broke out in Denmark when Donna Unique's original owner Joan Andresen went public, revealing that almost one million euro in commission fees had been hidden from her. The parties involved reached a settlement outside of court.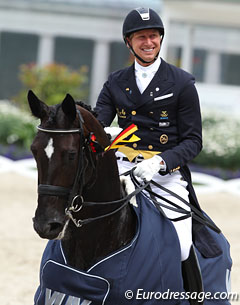 Donna Unique disappeared from the scene due to an unfortunate injury, but Peterhof's fame kept increasing as they acquired another super star at Helgstrand's: Sezuan. Under Dorothee Schneider the stallion won three, consecutive World Champion titles in Verden and Ermelo.
Peterhof has now confirmed that Kittel is involved in the training of the talented Danish warmblood stallion. The world top 10 dressage rider did not wish to comment on the rumour that he is being flown over by private jet to Peterhof to assist in the riding and training of Sezuan.
The evening after the news was released that Kittel was riding Sezuan, the Swede posted two videos of him riding Sezuan at home at his yard in Appelhulsen (see top right corner).
Peterhof further stated in its press release that the breeding book of their stallions will be managed in partnership with the Luxembourg based Grand Ducal Dressage, run by judge Christof Umbach, rider Sascha Schulz and sponsor Patrice Mourruau, who are close friends of Arlette and Edwin Kohl.
Related Links
Dorothee Schneider and Gestut Peterhof Part Ways
Kohl Family and Kittel Part Ways, Salzgeber to Ride Donna Unique
Story of Donna Unique's "Missing Million"
Kohl Family Acquires Donna Unique for Patrik Kittel