2018 Excellent Dressage Sales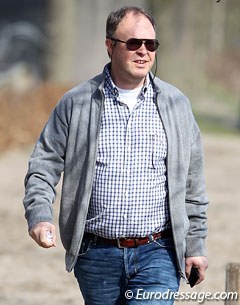 Eugene Reesink has joined the team that organizes and scouts horses for the annual Excellent Dressage Sales.
"Eugène is a true horse man and is successful in breeding young talented stallions," said EDS press officer Eline de Groot. "He is known for several successful horses, like Florencio, Franziskus, Don Juan de Hus, Spielberg, Schumacher, Florentiano, Vitalis, Ampère and Romeo, and more recently Valverde and Ibiza."
Eugène grew up with horses and aged 20 he began his sales business. Over the years he has built a large network of many good breeders in The Netherlands and abroad, with whom he regularly does business. With good breeders he negotiates the first right of purchase in advance, in order to get good horses for the future.
"I get very enthusiastic when I see a well moving foal with a lot of charisma, which almost always grows into an interesting dressage horse," said Eugène.
"By adding Eugène to the team, the EDS team is joined by a hardworking and all-round horseman, who thinks outside the box and constantly looks for innovation," said EDS team member Tim Coomans.
The EDS team further includes horse dealers Joop van Uytert, Nico Witte, and Joep Schellekens.
Related Links
San Diamantino, Top Seller of the 2017 Excellent Dressage Sales
Hannelinde TC, Price Highlight of the 2016 Excellent Dressage Sales
Excellent Dressage Sales 2016: Our Success in the Past is the Reference for Your Future