Clinics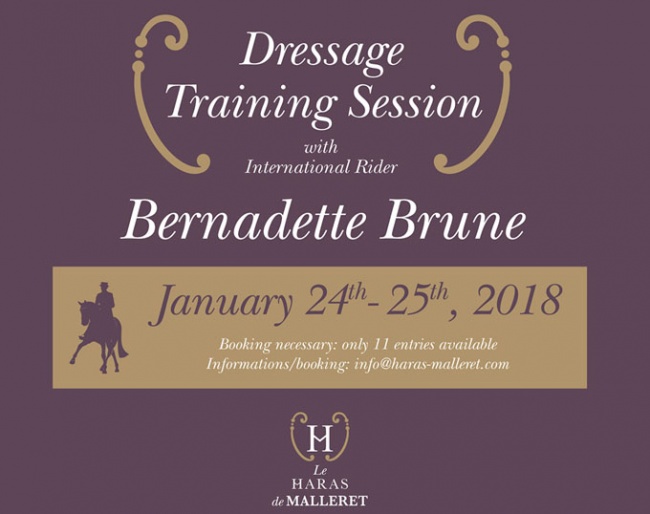 Leading French dressage breeding farm and rehabilitation center Haras de Malleret in Le Pian Medoc near Bordeaux, France, is proud to be hosting a training seminar with German Perspective team rider Bernadette Brune on 24 - 25 January 2018. Riders who wish to participate in this event can contact Haras de Malleret to reserve one of 11 training slots available.
As the owner of Domaine Equestre des Grands Pins in Vidauban, France, and the prestigious dressage training and breeding facility Gestut Brune in Westerstede, Germany, Bernadette Brune is passionate dressage rider and breeder who has worked her way up and earned a highly coveted place on the German Perspective squad with Grand Prix horse Spirit of the Age OLD.
First competing as jumping rider, Bernadette amassed 142 placings and victories at medium (M) and advanced (S) level during her jumper career. Switching to dressage because of an injury, she has gained the respect and recognition of the German team selectors with her achievements in the international Grand Prix arena. Trained by team trainer Jonny Hilberath, Bernadette is known for her commitment and passion for horses.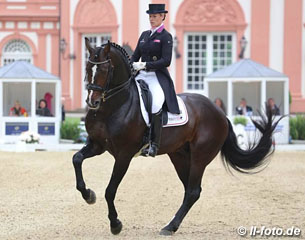 Haras de Malleret is proud to be hosting the second in a series of Dressage Training Seminars with Bernadette Brune.
There are eleven slots still available for those who wish to ride and get exclusive training from Bernadette on this second training seminar on 24 - 25 January 2018.
The training sessions are open to riders of all levels and cost 250 €. The price includes stabling and two lessons of 45 minutes.
There are a number of options to enhance your course experience, by adding a privileged dinner with Bernadette (who is fluent in French, German and English), are giving your horse to an exclusive spa treatment in the Haras de Malleret Wellness Center.
Contact Haras de Malleret for more information: