2017 PSI Auction
Zum Gluck (by Zonik x Florestan) became the price highlight of the 2017 PSI Auction in Ankum, Germany, on 3 December 2017. The 4-year old stallion sold for 850,000 euro to RS2 Dressage in The Netherlands.  The 38th edition of the P.S.I. Auction brought a total sum of 14,635,000 euro. "That was an exceptional auction" mentioned Ulli Kasselmann and Paul Schockemöhle added, "Quality is honored".  
Both auction organizers, Kasselmann taking up the dressage part and Schockemöhle the show jumping leg, were satisfied.
Zum Glück earned the top sales price of 850,000 euro. The tall Oldenburg stallion is an "exceptional horse" and not only Ulli Kasselmann thought that. "Zum Glück was highly coveted by our international clients." The RS2 Dressage Center, owned by Saskia Lemmens and her husband and with Seth Boschman and Robin van Lierop as the team riders, will be his new home.  
The Dutch couple, who runs a pharmaceutical business, also acquired the 5-year old premium licensed Danish warmblood stallion L'Olymp Landlyst (by Don Olymbrio x Fidermark) for 240,000 euro. The liver chestnut stallion is approved for the Oldenburg society under his German name Der Däne.
"Zum Glück RS2 is a very special stallion that is very nicely modeled and has three super basic gaits. And very important, a fantastic temperament and character! We are looking forward to the future with this beautiful horse," said Robin van Lierop for RS2 Dressage. "Our second eyecatcher L'Olymp Landlyst RS2 is an approved premium stallion that shows a lot of talent for the future. Actually an image of his father Don Olymbrio. That combined with a proven dam line where good characters are a fact, makes this horse extremely interesting for breeding. These stallions, For Cruise RS2 (Fürstenball x Don Crusador) and hopefully in the future Jameson RS2 (Zack x Negro) will lay the foundation for our new stallion barn and breeding station."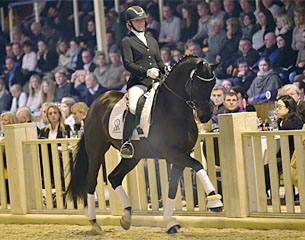 The second most expensive dressage horse in the collection was the 4-year old Hanoverian mare Florette (by Furstenball x Don Crusador), which sold for 700,000 euro to Leslie Malone of Harmony Sport Horses in the U.S.A. The mare was described in the catalogue as "Fashion diva of the highest quality". Her new owner, Harmony Sport Horses from the USA, was already successful in finding a horse at the P.S.I. in 2012, when they got the stallion Don Noblesse  who has been highly successful in international Grand Prix tests under Susan Pape. 
Austrian Grand Prix team rider Astrid Neumayer will become the new rider of the 4-year old Westfalian gelding Sogno d'Amore (by Sir Heinrich x Weltmeyer), which sold to Austria for 360,000 euro. 
The 4-year old Westfalian gelding Semias (by Sir Donnerhall I x Fidermark) sold for 320,000 euro and is moving to the yard of German Grand Prix rider Heiner Schiergen.
American Grand Prix rider Tina Konyot can celebrate a new addition to her stable. A New York based sponsor acquired the 3-year old Oldenburg stallion Doutano (by Don Noblesse x Dolany) for 220,000 euro.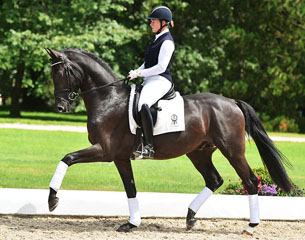 The 4-year old Oldenburg stallion Zucchero (by Zonik x Prince Thatch xx) sold for 370,000 euro, while the 4-year old Oldenburg stallion Damiro (by De Niro x Sandro Hit), who is the half brother to Anna Kasprzak's For Emotion, sold for 350,000 euro.
The Hanoverian bred Nuit d'Or (by Negro) found a new owner for 240,000 euro, while the 4-year old Hanoverian gelding Harrods (by Hochadel x Rotspon) was knocked down for 205,000 euro.
In the jumper collection the top price was 700,000 euro. Two horses out of Paul Schockemöhle's jumping collection sold for this price: the 7-year-old dark bay mare Cha Mu (by Cornado II x Rheinsberg) and the  6-year-old  World Champion mare Columbcille Gipsy (by Toulon x Grundymann xx). "Cha Mu is a 'finished' horse to ride off on", explained Paul Schockemöhle. "I am sure that the mare will play a role in international top sport very soon." The LEE equestrian sport and breeding company and Patrick Döller can now call themselves the new owner and rider of this charming Westphalian. The Houston family from Leichlingen, Germany secured Columbcille Gipsy. 
A total of 47 horses were sold at the 38th P.S.I. Auction – the dressage horses brought a total of 6,060,000 euro and the average price was 252,500 euro. The jumping collection brought in a total of 8,575,000 euro and the average was 375,826 euro.
Riding Against Hunger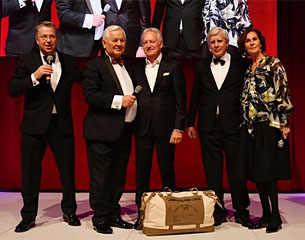 Aside from expensive horses, the idea of charity was once again a set part of the P.S.I. Auction. During the P.S.I. Charity Gala Ball, a sports bag belonging to Dr. Werner Wilhelm and signed by 80 equestrian sports stars at the 1970 Dressage World Championships at CHIO in Aachen, was auctioned off for a good cause.
For 10,500 euro, Swiss businessman Rolf Zimmermann was briefly the highest bidder. Then, yet another bidder put down an additional 5.000 euro on the bag. Both quickly decided to offer it up again to benefit the charity "Reiten gegen den Hunger" (Riding Against Hunger).
The next stop will be Horses & Dreams from April 25th to 29th, 2018 at Hof Kasselmann in Hagen a.T.W.. At the gala everyone had the chance to play their part and fill in a donation on a post card. With a further 23,155 Euros, the guests in Ankum rounded out the total sum for "Riding Against Hunger" and "Welthungerhilfe" up to 38,655 euro. Aid, which is especially important, now around Christmas, will arrive where it is most needed.  
You can find further information about the 38th P.S.I. Auction on December 2nd and 3rd, 2017 in Ankum under: www.psi-auktion.de.
Related Links
Ferrari, Price Highlight of the 2016 PSI Auction
Stalognia and Fasine, Price Highlights of the 2015 PSI Auction
SPH Dante Sells for Record Price of 2.8 Million at 2014 PSI Auction
Lannaro and Bluetooth, Million Euro Horses at the 2013 PSI Auction
Sa Coeur, Price Highlight of 2.3 Million Euro at 2012 PSI Auction
Der Designer Breaks One Million Euro Barrier at 2011 PSI Auction
Balsandra, Price Highlight of the 2010 PSI Auction
Diamonit, Price Highlight of the 2009 PSI Auction
St. Emilion, Doletto and Lawito, Price Highlights of the 2008 PSI Auction
Fine Time, Price Highlight of the 2007 PSI Auction
2006 PSI Auction Horses Sold for More Than 10 Million Euro
620,000 € for Price Highlight at the 2005 P.S.I. Auction
Santa Cruz, Dressage Price Highlight at the 2004 PSI Auction
Poetin Sold for World Record Price of 2,5 Million at 2003 P.S.I. Auction
Love Parade, Price Highlight of the 2001 PSI Auction 
Highest Price for Weltclassiker and H.S. Europa at 2000 PSI Auction