FEI News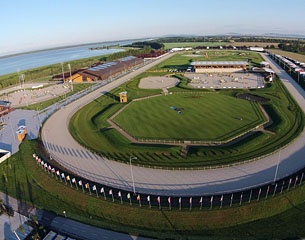 The Slovakian town of Samorin has withdrawn as the sole bidding venue to host the 2022 World Equestrian Games. The FEI will now have to relaunch the bidding process for the 2022 FEI Games.
"Despite the intensive and fruitful discussion with the FEI representatives it was not possible for us to reach an agreement in points which are decisive for us in order to organize the best possible games also in commercial terms," Samorin's general manager Richard Ungerhofer and his assistant Mario Hoffmann told Eurodressage. "Regardless of this decision, early next year we will continue to invest in our equestrian center."
Ungerhofer did not want to disclose any details on the "points" he and the FEI disagreed on.
Samorin was initially in the running to host the 2018 World Equestrian Games, which were first allocated to Bromont, Canada, but then to Tryon, U.S.A., when Bromont withdrew due to financial issues. 
On 22 December 2016 the FEI announced to have two candidates for the 2022 WEG: Lexington and Samorin. Twenty-two days later on 13 January 2017 the Kentucky Horse Park Commission in Lexington voted to withdraw from consideration to host the 2022 FEI World Equestrian Games.
At the 2017 FEI General Assembly in Montevideo, Uruguay, it was announced that Samorin has also withdrawn its bid. The bid process for the hosting and organisation of the 2022 World Equestrian Games has been re-opened. The process starts with an "Expression of Interest" (EOI) phase in order to gather worldwide interest before moving forward to the next stage of the Bid Process. The EOI form should be filled in and returned to the FEI by 31 January 2018. 
"We are confident there will be candidates, but these are complex Games and we need to make sure we do it right", said FEI President Ingmar de Vos.
Related Links
Kentucky Withdraws from 2022 WEG Consideration
Lexington and Samorin Launch Official Bid for 2022 World Equestrian Games
Samorin Thrown into the Mix as 2018 World Equestrian Games' Candidate