2017-2018 KWPN Stallion Competition Circuit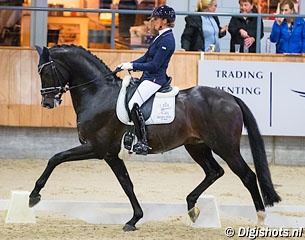 The 4-year old Indian Rock, the 5-year old Total U.S. and the 6-year old Giovanni became the winners of the first of three qualifiers in the 2017-2018 KWPN Stallion Competition circuit. The first leg which was held in Ermelo, The Netherlands, on 22 November 2017 and saw very good participation in the 4-year old division.
Licensed stallions are only eligible to move onto the Finals held at the 2018 KWPN Stallion Licensing in 's Hertogenbosch if they have competed at all three qualifiers, with exception of stallions born in 2011. The next qualifier is in Kronenberg on 11 December 2017, followed by the third one in Zuidbroek on 2 January 2018.
Seventeen combinations contested the 4-year old division at L-level, which was won by Emmelie Scholtens aboard the KWPN licensing champion Indian Rock (by Apache x Vivaldi). The pair scored 88 points. Renate van Vliet and the sympathetic In Style (by Eye Catcher x Lorentin I) were the runners-up with 85 points. Diederik van Silfhout and Impression (by Don Schufro x Ferro) landed third place with 84 points. Holland's biggest 4-year old breeding machine, Ibiza (by Desperado x Jazz), was entered for Ermelo but the official score sheet mentioned that the stallion "did not compete".  Ibiza did compete in Ermelo remarkably, but bit his tongue and drew blood. He was excused from the test. Only four days before the KWPN Stallion Competition, Ibiza was presented in hand and under saddle at the 2017 Oldenburg Althengst Parade in Vechta, Germany, where the stallion won the main premium title.
"What a canter," said judge Mariette Sanders. "Very collected, very focused and every canter stride bang on. A 9.5. The trot has much expression and is already very controlled and focused. Sometimes Indian Rock could be a bit more flashy, but the ease and quietness were appealing."
In the 5-year old division at M-level, which was judged by Mariette Sanders, Arie Hamoen and Frank Jespers, Dinja van Liere steered Van Uytert & Schockemohle's Total U.S. (by Totilas x Sir Donnerhall) to victory with a 90 point score. The pair stayed well ahead of all the competition. Judge Sanders praised the black stallion's ground covering walk, his expressive trot and uphill canter. "We do have some criticism on the contact because he tilted the head quite considerably," Sanders added. "But this is a horse with much technique, expression and more than enough go." Kirsten Brouwer and the Russian owned Hummer (by Westpoint x Farrington) were second with 8.2. Italian Riccardo Sanavio and the Austrian owned and German bred Trafalgar (by Totilas x Lord Loxley) were third with 82 points.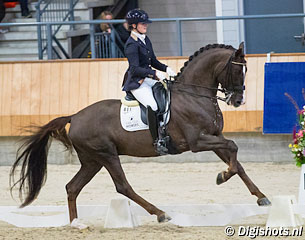 The Z-level division for 6-year olds only had three participants. Frank Loos and Giovanni (by Chippendale x Scandic) topped the board with 84, just a fraction ahead of Dana van Lierop on Gunner KS (by Belissimo M x Vincent) who finished second with 83 points. Judge Sanders praised Giovanni's engagement from behind in trot and his power in canter but overall the liver chestnut could swing more in the topline. Dinja van Liere and For Gribaldi (by Gribaldi x Michelangelo) were third with 75 points. 
" A very boldly ridden test," Sanders commented at the end of Giovanni's test. " The walk is clear and enough in overtrack although there could have been a bigger difference between the extended and collected walk. The trot has a nice total image. He keeps moving and there is clearly a motor behind. We would like to see more looseness in front. The canter has much jump and a lot of power."
Photos © Digishots
Results - 2017 KWPN Stallion Competition Qualifier - Ermelo
4-year olds - L-level
1. Emmelie Scholtens - Indian Rock (by Apache x Vivaldi) - 88
2. Renate van Vliet - In Style (by Eye Catcher x Vivaldi) - 85
3. Diederik van Silfhout - Impression (by Don Schufro x Ferro) - 84
4. Joyce Lenaerts   - Iconic B (by Bon Bravour x Jazz) - 83
5. Bart Veeze - Imposantos (by Wynton x Krack C) - 83
6. Hans Peter Minderhoud - Dettori (by Desperado x De Niro) - 82
7. Hans Peter Minderhoud - Incognito (by Davino x Vivaldi ) - 82
8. Charlotte Fry - Inclusive (by Everdale x Uptown) - 79
9. Diederik van Silfhout - It's a Pleasure (by Dark Pleasure x Zack) - 79
10. Moises Jover Azuar - Imagine (by Chippendale x Jazz) - 77
11. Franka Loos - Inverness (by Everdale x Johnson) - 77
11. Benjamin Maljaars - Inspire (by Everdale x Don Romantic) - 77
13. Femke de Laat - Intro K (by Apache x Rousseau) - 76
14. Denise Nekeman - I'm Perfect STH (by Zack x Fidertanz) - 76
15. Danique Janssen - Indigro (by Negro x Jazz) - 72
16. Carlijn Vaessen - Invershin (by Charmeur x Balzflug) - 70
17. Marjan Hooge - Hoogadel (by Hofrat x Del Piero) - 69
Emmelie Scholtens - Ibiza (by Desperado x Jazz) - ELI
5-year olds - M-level
1. Dinja van Liere - Total U.S. (by Totilas x Sir Donnerhall) - 90
2. Kirsten Brouwer - Hummer (by Westpoint x Farrington) - 82
3. Riccardo Sanavio - Trafalgar (by Totilas x Lord Loxley) - 82
4. Bart Veeze - Daily Diamond (by Daily Deal x Furst Heinrich) - 81
5. Kirsten Beckers - Habanna (by Vivaldo x Van Gogh) - 81
6. Dinja van Liere - Hermes (by Easy Game x Flemmingh) - 79
7. Remy Bastings - Hennessy (by De Niro x Jazz) - 79
8. Diederik van Silfhout - Hometown (by Apache x Ferro) - 72
9. Judith Schaaphok - Bright's Hero SB (by Bright Speed x Samber)
6-year olds - Z-level
1. Frank Loos - Giovanni (by Chippendale x Scandic) - 84
2. Dana van Lierop - Gunner KS (by Belissimo M x Vincent) - 83
3. Dinja van Liere - For Gribaldi (by Gribaldi x Michelangelo) - 75
Related Links
Ibiza Wins 2017 Oldenburg Main Premium Title
KWPN Licensing Champion Igor Renamed Indian Rock
Igor, Champion of the 2016 KWPN Stallion Licensing