Oldenburg Breeding News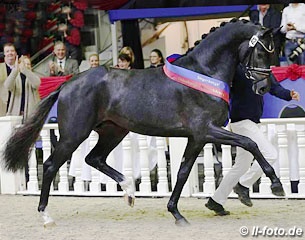 The grey Benefit (by Belantis x Sir Tender) was named champion of the 2017 Oldenburg Stallion Licensing in Vechta, Germany, on Saturday 18 November 2017. The licensing committee approved 21 colts out of a collection of 37 dressage bred stallions. Seven stallions received premium status.
The 2017 Oldenburg Stallion Licensing was certainly an interesting one with a big collection of wonderful young sport horses. The majority of the colts were "very talented sport horses" or "good geldings" as a figure of speech. A true stunner offering the complete package was lacking this year, but there were many impressive colts that ticked the boxes either on a conformation level, or in one or two gaits.
Benefit (by Belantis x Sir Tender x Welton x Figaro), bred and owned by Angelika Krause, was probably the most beautiful stallions presented in Vechta in years. The nobility in his face, his cresty neck and his outstanding shoulder freedom made him an undoubted, succulent 10 in front. His hind legs were still baby, not really showing the strength and push one hoped to see in a champion. Both on the lunge and in freedom, this colt moved with much expression in front but could convince slightly more behind. In canter he lacked a bit of suppleness and with every presentation this typy dark grey colt ground his teeth. He had a good walk. At auction this colt sold for 600,000 euro to Antonia Ax:son Johnson of Lovsta Stutteri in Sweden.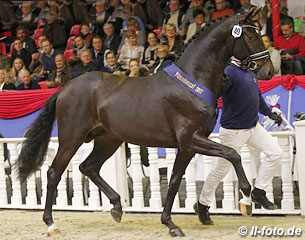 This is the third time in recent years that the Oldenburg society decided on a grey stallion as the champion to infuse more variety in the black and brown dominated stallion world. In the past Fairbanks and De Martino were grey champion but neither of these resonated with the breeders. Fairbanks did not get the attention of the breeders a champion normally gets and is now standing in the U.S.A De Martino hardly bred at all and has now passed away.
Oldenburg breeding director Dr. Wolfgang Schulze-Schleppinhoff praised the DNA unicity of this Belantis colt, as its pedigree is free from the traditional (over)used Oldenburg bloodlines alongside the stallion's basic gaits. "Even in the last round he showed a very good and relaxed walk," Schulze-Schleppinghoff remarked.
The dark bay Don Schufro x Stedinger x Dinard L x Ramiro, bred by Heinz & Elisabeth Schulte and owned by Johannes Westerdarp, was certainly the winner on the lunge line! He always moved with an uphill tendency and a hind leg reaching under the body. On the right lead he lost a bit of his suppleness. Unfortunately in freedom, the Don Schufro lost a bit of its shine as he was not longer put together by side reins and a handler enganging him. The stallion often moved butt high and pulled the hocks more up than under. The walk was good though and overall this horse makes a very interesting prospect. He sold at auction for 320,000 euro to a trio of owners: Paul Schockemohle, Andreas Helgstrand and Lone Boegh Henriksen.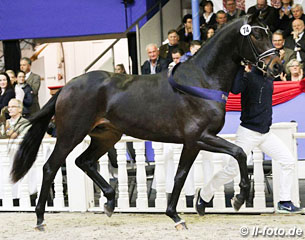 The third ranked stallion in the premium ring was a bit the odd one out. The committee raised eye brows when they approved Sansibar AK (by Sandro Hit x Furst Heirnich x De Niro x Rubinstein). Bred by Andreas Klinker and owned by Lone Boegh Henriksen, Sansibar AK is a beautiful dark bay colt with a lovely face, standing tall on his legs and he seems to have a lovely character. With no less than 186 Sandro Hit sons already approved in Germany alone, another licensed Sandro Hit son only makes sense when it is extraordinary. Unfortunatey the sympathetic Sansibar AK did not meet all that criterium, despite his proven Love Story dam line and his title of 2015 German Foal Champion. The stallion was unbalanced in trot, clearly swinging both hind legs far out from under the body, both on the lunge line and in freedom. He did have a very good walk though and showed a wonderful temperament. The licensing committee ranked him third in the premium ring. The oversaturation of direct S-blood in Oldenburg was ackowledged as Sansibar AK was the only S-line sired colt approved this year.  Schulze-Schleppinhof told Eurodressage that Sansibar AK "is a very typeful, long-legged stallion, with a correct foundation, well-proportioned and out of a successful dam line. He shows three very good gaits and performed well during lunging. The licensing committee did not recognize any unforgivable deviations from the requested standard in the course of the movement."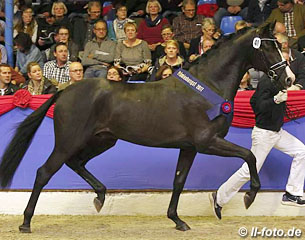 The other four premium stallions tied in fourth place. Agent Provocateur (by Ampere x Sandro Hit x De Niro x Rubinstein) probably also came close to the complete package this year. Bred by Karin Rinnen and owned by German Under 25 team rider Juliette Piotrowski, this black colt showed good lift in the whithers and very good articulation of the joints and flexion of the hocks on the lunge line, even though he was very poorly presented by a handler. The horse was overpaced on the lunge line and pushed forwards too much. In freedom he showed very nice suspension though the canter could have had a bit more roundness. His walk very ground covering and clear in the rhythm. Landgestut Celle did a good deal buying Agent Provocateur for 105,000 euro at auction.
Gestut Sprehe's Diamond Hit x Furst Heinrich x Famos x Benedictus was a stunner on the lunge line with my suspension in trot and a decent canter. He did squeeze his tail. In freedom, however, the horse lost some greatness despite still showing a quick hindleg and a very functional way of trotting. However his walk was mediocre.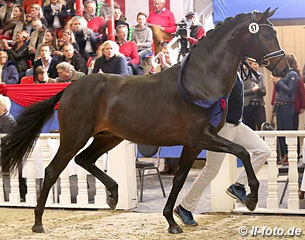 The Follow Me x Sir Donnerhall I x Rohdiamant x De Niro colt bred by Jurgen Fetzer and owned by Adrian Gasser showed nice knee action in trot with an active hindleg that should have had more carrying capability. The canter was uphill, the horse made an impressive with his expressive front and walked well. He sold for 260,000 euro to Adrian Gasser in Switzerland, but he will be stationed in Germany.
The dark bay Grey Flanell x Licotus x Rotspon x Rakett is definitely one to watch in the future. Bred by Bernd Meyer and owned by Paul Schockemohle, the Flyinge State Stud and Partner AB (?), this cheeky rascal had a big attitude going but was a very nice mover! On the lunge he was lightfooted in trot and had a good uphill canter, but he was lunged on a 10 meter circle, not allowing him to go any bigger. In freedom he did move slight wide behind with his right hind leg and here and there threw in some brilliant trot steps. This compact stallion would probably not fit a difficult type of horse (by Jazz, Sandro Hit or let's say the old fashioned crazy Trakehner) but makes an appealing young stallion.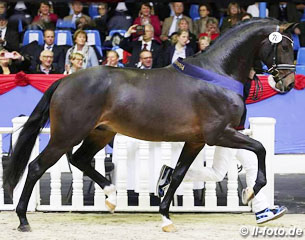 Aside from the approval of Sansibar AK and a weak Desperado x Sandro Song, the licensing committee showed the appropriate rigour and standard and was brave enough not to accept several young colts owned by powerhouse stallion owners. The Grand Galaxy Win T offspring failed to impress. The chestnut colt out of World Championship silver medal winner Fiontina (by Fassbinder) was very attractive and lightfooted in trot, but the top line was stiff especially in canter. The Governor offspring could not convince with their weak loins, but the pretty one out of a Furstenball x Rohdiamant dam was accepted.
The crowd favourite was the Hanoverian bred Londontime x Danone I x Sandro Hit, bred by Wilhelm Schwierking and owned by Blue Hors stud (although that was not listed in the catalog). This tall and grand looking chestnut stallion had the proper length neck and moved with much powergrace. He was wonderful in trot and very ground covering in canter. The crowds kept on clapping and whistling for him, clearly oblivious to the horse's poor walk which often became totally lateral.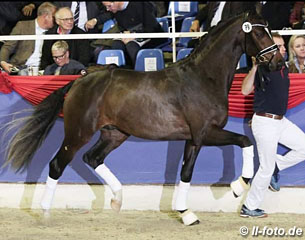 The British bred Woodlander Woodstock (by Wild Child x Florencio x Sao Paulo x Lanthan) is a very attractive young colt. With a gorgeous face and neck, Woodstock impressed in front. In trot his hind leg was quick but could step under more and the back was slightly sunken. The walk had much overtrack but the rhythm was not always clear. Nevertheless this was colt with prospect and Dutch stallion owner and vet Jan Greve acquired him for 70,000 euro. 
The average price for a licensed stallion at auction was 143,462 euro. This average was of course very much lifted by the 600,000 euro for the Belantis. The non-licensed stallions sold for an average of 23,500 euro. 
Text by Astrid Appels - Photos © LL-foto
Related Links
Viva Vechta: A Break from Hibernation
Forty-one Colts Selected for 2017 Oldenburg Stallion Licensing
Previous Champions
Furst Fabrice, Champion of the 2016 Oldenburg Stallion Licensing 
Bonds, Champion of the 2015 Oldenburg Stallion Licensing
Morricone, Champion of the 2014 Oldenburg Stallion Licensing
Don Deluxe, Champion of the 2013 Oldenburg Stallion
Follow Me, Champion of the 2012 Oldenburg Stallion Licensing
For Romance 2011 Oldenburg Licensing Champion, Tight Junction Steals the Show
De Martino Captures Champion's Title at 2010 Oldenburg Stallion Licensing
Fairbanks, Champion of the 2009 Oldenburg Licensing
Furstenball, Champion of the 2008 Oldenburg Stallion Licensing
Sieger Hit, Champion of the 2007 Oldenburg Stallion Licensing
Sandro Hit Euphoria At 2006 Oldenburg Stallion Licensing
Marketing Above Quality at the 2005 Oldenburg Stallion Licensing
Furst Heinrich Fledglings Fly High at 2004 Oldenburg Stallion Licensing
Don Kennedy, Champion of the 2003 Oldenburg Stallion Licensing