2017 Oldenburg Stallion Licensing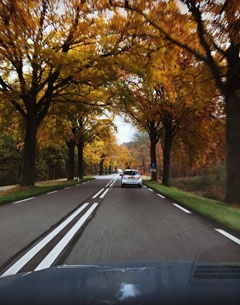 The Oldenburg Stallion Licensing in Vechta is an annual fixture on my calendar. Not only is it the place where I catch up with my dear breeder friends from Denmark and the U.S.A, but it is also the first "horse show" I cover on the scene after my summer break. Only home for about ten days during the two summer months, for me September and October are a total abstinence from live competition so I can recharge my batteries and clear my mind.
I feel like Punxsutawney Phil from Groundhog Day when I venture north to Vechta. I stick my head out for two days, only to return back to hibernation until February when I go sun-seeking in Wellington, Florida. I filled my car with expensive diesel and drove my usual routine of A40 - A3 - A2 - A43 - A1. Along the way I always look at the Hohe Mark West petrol station and reminisce about the days that I used to do this trip with my then Belgian based Danish colleague Thomas Bach Jensen. We always stopped at this station so his dog Lola could stretch her legs for five minutes and relieve herself.
The Oldenburg Stallion Licensing is always the third week(end) of November and over the past 15 years that I have covered the event in very different weather conditions. Usually I connect the licensing to freezing cold weather, wearing a fluffy down jacket. One time I had to drive in the most horrible winter weather ever. The first snow hit Germany and it turned the Autobahn into an ice-skating rink (and I hadn't put on my winter tyres yet). It was so dangerous, but turning back was no option either. This year however, it's not too cold and the leaves have turned all colours yellow and red. It's a gorgeous autumn.
Vechta always brings back the same memories: a male dominated breeder scene of farmers sitting next to each other in the stands drinking coffee and eating sausage; however here and there you can spot fancily dressed stallion/dressage ladies with Louis Vuitton bags ready to spend money on a future star. I also associate the licensing with the horrible cigarette smell in the lobby - probably the only public place in whole Europe where people ignore to the law and nervously suck their cancer sticks while watching the horses on the video screen. However, Vechta is much more than that: Haribo candy, pommes with mayo, goulash soup at the vip tent, champagne in the stables, Irish Coffee in the hotel rooms, wonderful catch-up dinners with friends talking horse non stop.. and then of course beautiful, beautiful young stallions!
I couldn't make it for the presentation on hard surface so can't comment on that, but I was definitely on time for the lunging sessions. First the jumpers went in, but then my attention is more directed towards chatting with my friends than to the actual horses. I'm the dressage purist.. Yes yes I know I should be watching jumping too ! However when the dressage babies came into the arena it was full focus.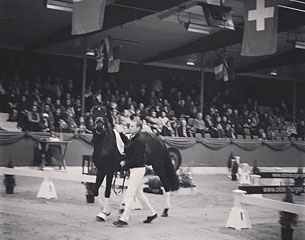 The lunging is always a very interesting phase in the licensing process as the handlers are the ones who either reveal or hide the flaws. I've heard complaints about the lunging at the Hanoverian licensing in Verden, and in Vechta there were also a few who thought that they way to go was extended trot and canter non stop. The poor youngsters were chased forwards as if there was no tomorrow. The naughty-cheeky stallions, on the other hand, were lunged on 10 meter circles instead of 20 meters to keep them "in line".. And then you had a bunch of horses that as soon as you put the side reins on, they loose all flash in their gaits; the shoulder freedom disappears and the hindleg no longer carries (nor pushes).
This year there were three stand-out horses on the lunge line and there were a few more than looked interesting but I want to see them in freedom first before I take on a firm opinion on their quality. There was a large group of athletic, modern looking sport horses that simply did not have the sire-quality. That does not make them bad horses. I think I might have seen only one or two colts that I really disliked. Several horses had weak top lines though and year after year you realize that these babies are way too young. Unfortunately the German breed societies lack the balls (what a figure of speech for a licensing) to postpone the licensing until the colts are at least three. They just need to be brave to skip one year (and manage their cash flow to overcome that period) and present three year olds in October or November.. And for a transition period, they could even move the licensing to April first and the next year back to October/November. It is such a no brainer to me.
My favourites so far are the Don Schufro x Stedinger, the Diamond Hit x Furst Heinrich and the cheeky Grey Flanell x Licotus. I was also interested in Morricone's full brother, who is quite compact, and the Wild Child x Florencio appeared very sympathetic but I want to see those in freedom first.
I must admit I was a bit disappointed by the Finest and Governor offspring. Finest clearly stamps his offspring lookswise: especially their head and necks are very much like daddy, pretty faces but heavy necks. In movement I didn't really see an engaged and carrying hindleg. I do wonder if they would make nice sport horses though, but as this is Finest's first crop the youngsters will only go under saddle in 2018. I love Governor's bloodline and even though he is a bit ponyesque himself, I do like the way he moves. Unfortunately the two Governors in Vechta had weak top lines and looked a bit in two pieces..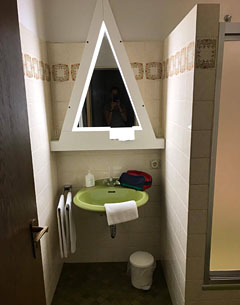 After the lunging I drove to the Schockemohle tack store to browse the shop and have a nibble. The store owners were clever to do a late night opening for all the licensing spectators and offered wine and cheese to draw them in. Afterwards I had dinner with the Americans at Restaurant Stratmanns. It is always a pleasure to catch up with Holly Simensen, the liaison for the Oldenburg Verband in the U.S.A., who each time has a different rescue dog in tow. For years she has been joined by Nancy Holowesko, Mo Swanson, and Jen Vanover, who are always keen on putting their finger on the pulse of what's happening on the German breeding scene.
By 23h00 I drove to my hotel because I still hadn't checked in. When I arrived there, I realized I had messed up the dates of my reservation (something very unusual for me) so I didn't make a fuss about the fact that they did not have a room for me. The hotel owner called a neighbouring hotel which still had a single room so I drove there and checked in. As I walked up the stairs and looked into the corridor of the first floor I immediately made the association with the hotel of The Shining. Brrr. It is so retro that it is scary. Nonetheless, it was just for one night and the bed and bathroom looked clean, so no complaints. Tomorrow is another day!
by Astrid Appels