Spanish Dressage News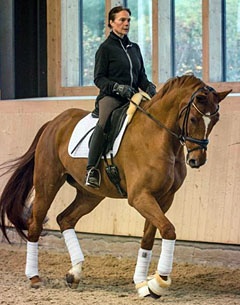 The German based Finnish rider and trainer Jenny Eriksson has been appointed Spain's new Youth Team Trainer, replacing British Nicky Barrett whose contract came to an and after the summer of 2017.
The Spanish Equestrian Federation (RFHE) chose not to extended Barrett's contract but replaced her with Eriksson. 
"I was told it was a change in direction," Barrett said about the RFHE opting to go for another trainer. "I enjoyed working in Spain and still will as have now private clinics in Valencia, Madrid, Barcelona and Marbella."
The 58-year old Jennifer "Jenny" Eriksson is born in Helsinki, Finland, but lives in Germany. She competed at the 1988 Olympic Games in Seoul on My Way.
Jenny Eriksson started out as a groom for the Rehbein family and worked her way up. After the 1988 Olympics she went on to compete internationally in the early 2000s on Watteau and Schicksal. On a national level in Germany her last recorded results are from 2004 with Captain's Rennoir and Schicksal. She is also listed as a breeder in Germany with eight of her home bred horses registered for sport.
Eriksson worked as an independent trainer and rider at stable Oberbiegelhof in Bad Rappenau, Germany, where she coached Finnish young rider Julius von Staff-Reitzenstein. Jenny is now based in the Munster area. 
Related Links
Scores: 2004 CDN Redefin
Scores: 2000 Zwolle International Stallion Shows
Matador, a Scandinavian Fairytale