2017 CDN Toronto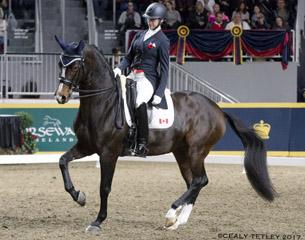 For the second consecutive year, Canadian Olympian Megan Lane of Loretto, ON and her Rio 2016 partner, Caravella, swept the $20,000 Royal Invitational Dressage Cup on 8 - 9 November 2017 at the Royal Horse Show in Toronto, ON.
Lane began her Royal reign with Caravella (by Contango x Riverman), a 16-year-old Dutch Warmblood mare she co-owns with her mother, Cathy and sister, Kelsey in the Grand Prix. Together, they scored 68.833% from Canadian Dressage Judges, Cara Whitham (FEI 5*), Joan Macartney (FEI 4*) and Brenda Minor (FEI 4*).
"It's an incredible honour to be here," said Lane, who was competing with Caravella for the first time in eight months, having given her veteran partner a break following the seven week Adequan Global Dressage Festival series in Wellington, FL in the winter and spring of 2017. "She felt great and The Royal is a good show to come back to. I love it here. The crowd is very supportive and respectful of dressage, and Canadian crowds are the die-hard fans. They are great to ride for."
The following night, Lane entered the indoor arena to treat the crowd to an intricately choreographed performance set to an original composition of Spanish music created by Dutch composer and choreographer, Joost Peters of The Netherlands.
Threaded throughout Lane's performance were technical elements with a high element of difficulty, including one- and two-tempi changes on a bending line and one-handed canter pirouettes. The judges provided Lane with high praise by awarding her a score of 73.708% for the win.
"I had a little bit more power under me than I did yesterday, so I was really happy with that," Lane commented about Caravella's Freestyle performance. "I like Spanish music for Caravella, I think it suits her. But, it's tricky choreography. Going from one-tempis to two-tempis is considered a higher degree of difficulty. Also, dropping one hand (in the pirouettes) is very fun to do and a crowd pleaser. I look forward to that movement."
Taking second place in both classes was two-time Canadian Olympian, Jacqueline Brooks of Cedar Valley, ON aboard her 2012 London Olympics partner, D Niro (by D-Day x Napoleon), an 18-year-old Swedish Warmblood gelding owned by Mary Brooks and Brookhaven Dressage Inc.
After scoring 67.333% in the Grand Prix, Brooks and D Niro fired up the fans with a brand new freestyle choreography, interestingly set to an acoustic cover of Simon and Garfunkle's The Sound of Silence by the metal band, Disturbed. Highlights of her Freestyle performance included a challenging sequence of canter movements that included extended canter to pirouette to two-tempi changes that helped bring her score to 72.208%.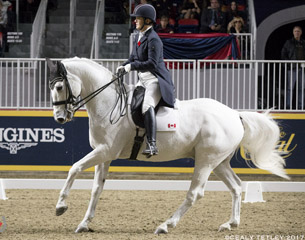 A long-time competitor of the Royal Horse Show, Brooks has gained a strong following and become a fan favourite. Her 2017 appearance was no exception, and she exited the ring to roaring applause following her Freestyle.
Taking third place in both classes was Eiren Crawford, a British Columbia native currently living in the Baltimore, MD area. Riding Warello (by Warkanson x Lord Vancouver xx), her 14-year-old Canadian Warmblood gelding, Crawford rode to a score of 65.433% in the Grand Prix. Her Grand Prix Freestyle, performed to an instrumental medley of Adele songs, including "Rolling in the Deep", "Set Fire to the Rain", and "Someone Like You" earned 66.52%.
Also competing in the Royal Invitational Dressage Cup was Esther Mortimer, who rides for Guatemala, but currently resides in Millgrove, ON. She rode Diamond Geezer to scores of 62.467% and 67.000% in the Grand Prix and Grand Prix Freestyle, respectively, for fourth place in each class.
As the overall winner of the $20,000 Royal Invitational Dressage Cup on a combined total score of 142.541, Lane was awarded the Neckermann Pracht Trophy, donated by the Pracht family.
"I'd like to thank Butternut Ridge and the Nicoll family, and my family at Deer Ridge Equestrian," said Lane. "All of these people make this possible for me, and it really is a village that makes it happen."
-- Equestrian Canada press release
Related Links
Lane Wins Royal Invitational Dressage Cup at 2016 Royal Agricultural Winter Fair
Belinda Trussell Tops $20,000 Invitational Dressage Cup at 2015 Toronto Royal Horse Show
Brooks Wins Kur, Pavicic Takes Royal Invitational Dressage Cup at 2014 CDN Toronto
Marcus and Creech Take Top Honours at 2013 Royal Winter Fair in Toronto
Pop Art Goes Out on a High Note at the 2012 CDN Toronto