American Breeding News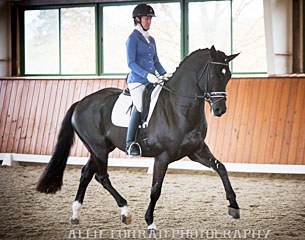 Harvest became the dressage winner of the 2017 American Stallion Sport Test held at Hilltop Farm in Maryland and Pollyrich Farm in California from 31 October till 5 November 2017. This was the inaugural North American Stallion Sport Test supervised by the German equestrian federation (FN).
The panel of judges and officials included Gerd Sickinger (FN approved Judge for both Dressage & Jumping Sport Tests), Dieter Stut (FN approved Judge for both Dressage & Jumping Sport Tests), Jurgen Koschel (Discipline Expert Dressage and Steward Show Jumping), Sebastian Rohde (Discipline Expert Show Jumping) and Steward Dressage).
The guest judge riders were Marion Ostmeyer for the jumpers and  Jessica Wisdom for the dressage stallions.
Seven dressage stallions in total participated and one was withdrawn. Six stallions finished the testing and five of them actually passed with sufficient results.
The dressage high scorer of the U.S. testing was Alice Tarjan's Dutch warmblood bred Harvest (by Connaisseur x Ulft x Able Albert xx). He scored to total of 8.61 points. He got 9 for trot, 8.8 for canter, 8.0 for walk, 8.5 for rideability and 9 for overall impression.
Tarjan told Eurodressage that breeding will be secondary in Harvest's career. "I may stand him on a very limited basis next year but I really want to concentrate him on sport," said Alice. "My hope is to try to qualify him for US young horse championships next year."
The second highest scoring stallion was Five Rings Farm's 5-year old Oldenburg bred Boreas FRF (by Bordeaux x De Niro x Rubinstein), who scored a total of 7.92 points. He earned 6.8 for trot, 8.2 for canter, 9 for walk, and 7.8 for rideability and general impression. Boreas was the 2015 Oldenburg Saddle Licensing Champion in Vechta, Germany. At the auction following the licensing he sold for 140,000 euro to Five Rings Farm.
Maryanna Haymon's stallion Debonair MF (by Doctor Wendell II MF) scored 7.89 points. This stallion got 7.8 for trot and canter, 8 for walk, 7.9 for rideability and 8 for general impression. 
The 5-year old Oldenburg Rohmeo (by Royal Prince x Lord Liberty G), bred by Carol Di Maggio, earned 7.88 points, while a nameless Baden-Wurttemberger bred jumper colt by Diarado x Cassini x Lantaan got 7.84.
Michael Yates' Hanoverian bred Donarsong GGF (by Donar Weiss GGF) failed the testing with a total of 6.92 points. Unfortunately the stallion struggled with the trot, rideability and general impression, not going over 6.8 for those criteria. The passing score is 7.5.
Dante's Diamond (by Dante Weltino x Dimaggio), bred by Bommerten in Germany and owned by Cashel Farms, was withdrawn from the testing.
Photo © Allie Conrad
Related Links
Boreas, Champion of the 2015 Oldenburg Saddle Licensing 
Let Kiss, Price Highlight of the 2015 Oldenburg Spring Elite Auction
Connaisseur and Cover Story Approved by the KWPN Society