Hanoverian Breeding News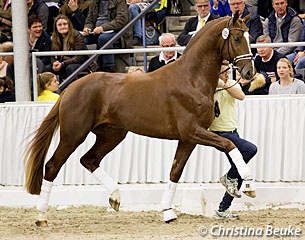 (by Kerstin Aronis for Eurodressage) This year, I was in Verden from Wednesday on and had the opportunity to observe the stallions from day one. Also, this year for the first time, I stood at the tip of the triangle right next to the judges' booth and learned to value this perspective. This is a good spot to be, both to see movement as well as foundation correctness when the horses move towards the judges and away from them. What I am writing down here for Eurodressage are my personal observations from this event.
Too Soft?

Overall, I think the horses are changing faster now than we used to see. They have become a lot bigger, and exhibit far more body mass and upper body development than they used to. No horse looks like a 2yr old anymore. In fact, some look like adult horses in full work. Most stallions have tremendous power from their haunches and can carry that through their bodies and use the front arm accordingly. However, flipping through my catalog I notice more than a fair share of horses where I wrote a question mark next to "topline", meaning that the toplines could be stronger, often are too narrow in the loin connection and many stallions are missing saddle positions, despite their obvious state of maturation. Since the stallions enter the triangle in a maximum extended trot it is no big surprise that very few of them show even remotely relaxed walks. It has become clear to me that we no longer judge the walk on the hard surface. It is literally impossible and even unfair to ask these youngsters to go at 180km/m and then settle down and stride out in a relaxed walk in the frame of a second.
What still works on the hard surface is the evaluation of the foundation, and this year I found myself silently going "ouch" several times. Our horses have become rather soft, not seldomly pasterns come close to the ground when the colts race around the ring. So I am wondering if this is really healthy, long-term. But it seems that this is the new "look" of stallions and not only in Verden, so time will tell. Overall my impression after the triangle was that we saw some exciting dressage prospects this year. Interestingly, four stallions came for approval only, and were not for sale. At least with three of those it became clear why very quickly. It would be more honest to say they had no competition, and hence didn't need the sales.
The Stand Out Stallions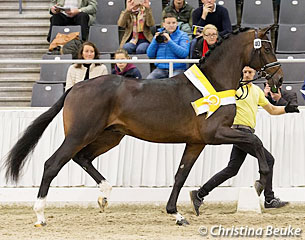 One of those stallions that just takes your breath away was No 40, a son of Belantis – Ampere – Ravallo, who was bred by Thomas Schult and presented in Verden by none other than Isabelle Werth and Mr. Schult in partnership. His 2nd dam also produced the approved Fidertanz. And what a horse this one was! He owned the arena from the first step he took and it was no question that he would be handed a premium title at the end of the show. His impulsion, his sense of self-carriage and the way he always worked under his center of gravity were quite amazing. The plan for him actually includes a 2-year breeding contract before he begins his sport career. After he was gone, we all had to literally try and focus on the next horse, so lasting were the impressions from No. 40.
The next stallion that caught my attention was No. 44, a Dancier – Bonifatius – Hochadel, a refined type with exemplary impulsion who also convinced me on the lunge line. He sold for 90,000 Euro and remains in Germany. His paternal half-brother, No. 45 out of a dam by Weltmeyer – Airport, reminded very much of his famous grandfather Weltmeyer in the way he used his hind end. He was a very expensive candidate and the Celle State Stud tried hard to get him. This didn't work in the end, he sold for 142,000 Euro and I will be watching for his emergence hopefully in the breeding shed.
Next in line was No. 46, a son of Danzador – Royal Highness – Brentano II, who also ended up with a premium title. Indeed, this was a horse that moved extremely well and was always supple, but again, maybe a bit too soft in his topline?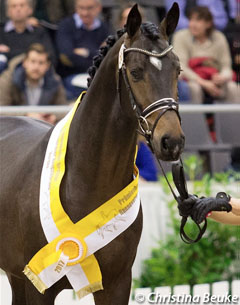 And if Hanover still proclaimed a champion, then No. 56, the Rhinelander Escamillo (by Escolar – Rohdiamant – De Niro) would have been more than just a hot contender. This exceptional stallion was bred by Gestüt Tenterhof and is owned by Kimberly Davies from the US. He too, was not for sale. Hopefully he'll get a chance in the breeding world before heading on to the US. I loved his type and his amazing movement especially in trot and canter; this horse stepped under himself and always had an uphill tendency in his movement. Later when he relaxed, you could also get a glimpse of the quality of his walk. He was both an outstanding model of a breeding stallion and a sport horse – just like it should be. Of course, he received a premium.
F-Line: From Fantastic to Fail
Following the catalog, we then entered the "F-world". The commission really liked them it seems and this despite the fact that many of these Fs were missing a good walk. Finest alone sent 9 sons to Verden this year of which 5 were approved. One ended up as a premium and found a new home in Luxembourg for 360,000 euro, but more about that later. Generally, these Finest sons all had active haunches, but more of an up and down movement than really pushing off the ground and under themselves. That didn't prevent the approval commission from handing out positive verdicts. I personally much favored the three sons of For Romance I. No. 72 out of a dam by St. Moritz – Weltmeister, bred by Cornelia Gedenk and owned by Spanish Michele Wider del Pino was another one of those horses that are hard to forget. He moved with great dynamics and elasticity and had a lot of fans in Hanover. Also, he was not for sale …. Again, it appeared the best horses of the event were those that did not come up for auction.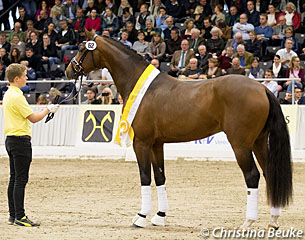 One of the best, from a dressage perspective, was the next For Romance I in line, No. 73 out of a dam by Royal Diamond – Donnerhall. Only barely 16h tall, this grey stallion had many fans due to his exceptional movement marked by a maximum of elasticity, rhythm, balance and power. Also approved was No. 74, again by For Romance I out of a dam by Rubiloh – Ehrentusch, who impressed especially on the lunge line. Overall, these For Romance sons, as different as they were in their types, represented the top of the line of future dressage horses. All four Fürstenball sons were approved, although that may have been a bit more enthusiastic than I would have liked to see. The walks of these four were very heterogeneous, ranging from very good to poor. Yet all four showed a good performance on the lunge line.
Worth Noting
I was personally very interested in the sons of Livaldon, a stallion that had many fans and critics when he was approved a few years ago. I never understood the hype around him, but am more than willing to change my mind. One that really impressed was No. 93 out of a dam by Worldly – Longchamp, who had very expressive movement and covered a lot of ground. Also, his walk was very good. At the same time, he appeared very soft in his topline and was a bit too long for my taste. He sold at auction for 120,000 Euro to Luxembourg.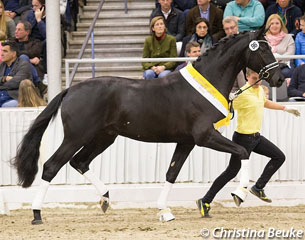 Two more stallions should be mentioned. One was No. 96, a son of Millennium – Donnerhall – Hohenstein, with a good dose of Trakehner blood. Like all the Millenniums we have seen so far, this one was a tall, black, elegant beauty with a good trot and many fans in Verden. For my taste, he was not correct enough for a stallion career, but he still fetched 140,000 Euro at auction. Celle will be his new home and Dr. Brockmann and Ms. von Velsen (stud manager in Marbach) were visibly delighted with the knock down. So who cares that the payment slip arrived even before the purchase price was final. Probably a mistake, right?
And the second stallion I would like to mention specifically was my personal highlight regarding stallion type and sport horse qualities, and that was Taminiau (by Toto Jr. – Sandro Hit – Caprilli), bred in the Netherlands by J.W. Holtland and owned by Home of the Stallions. He reminded me very much of his sire, who back at his approval in Verden was met with a booing concert that was truly embarrassing for the audience. Politics were more important than horse quality in front of us and so this Totilas son, Toto Jr. was laughed out the door. Well, laugh again. This grandson of Totilas moved well in all three paces, always energetic and dynamic and with a great feel for rhythm and balance. Like his sire, he was sold to Mr. Glock in Austria and hopefully, he'll have a similar career under saddle. He was a delightful dressage model that I will be happy to follow along.
Lunging Horror
The next day brought the time of lunging and while there are numerous critics out there, I for one am in favor of this part of the approval process. However, we need standards that are enforced, and not written words of goodwill that aren't worth the paper they're written or stewards that are blind on one eye when certain stallion owners are in the ring. Needless to say, of course stallions gain or lose on the line, and some careers have effectively ended in the ring. This year, it was appalling to see what some people thought was ok to do with young horses (or any horses as matter of fact). If Hanover doesn't want this part to become the industry's laughing stock, we need more transparency and truly, enforcement of animal welfare standards when it comes to lunging. It is one thing to check bandages, boots and bits, and it is an entirely different thing to call up stallion owners and actually throw them out the door if they can't change the way they are showing their horses. Lunging is not a race on a 15m circle, nor is it a contest to see whose nose can be cranked closest to the chest. We saw some really well-prepared stallions this year that truly got better with every round and clearly improved their chances for approval. Unfortunately, some images will stay with me forever as some really disgusting "horsemanship".
Bad Santa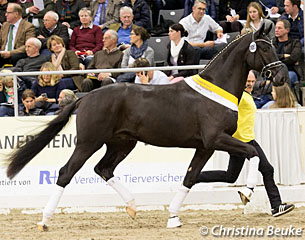 And maybe we should also discuss exactly which type of behavior is unacceptable when it comes to the stallions. We saw a horse this year that simply refused to go even one round in an organized circle, refused to move forward, turned towards its handler numerous times in a clear attack mode - and still got approved. This makes no sense. If we agree to use lunging as a criterion for approving stallions, then maybe we should come to terms as to what it is we want to see and don't want to see. As it stands right now, the entire process is terribly biased, unprofessional and frankly, hard to comprehend for the observer.
Likewise, we saw a stallion whose tail was in a spin the moment he began to move, in fact, the horse not once dropped his tail and relaxed his topline throughout the entire 3 days. And he too, was approved. This is hard to understand.
In 2017, the approval commission gave out positive verdicts by the masses. Naturally, I don't understand all of them, but that is nothing new. We all have personal tastes that we tend to gravitate to and then horses get approved that just do not meet our criteria. However, the sheer number of approved stallions coming out of Verden this year is a bit troublesome. This is supposed to be a selection process. I am wondering if it still is.
Auction Mysteries
Another touchy subject is the auction itself. In the vicinity of people around me, nobody believed the high amounts supposedly paid for stallions by big names such as Helgstrand Dressage. What really sells and what is fixed beforehand is of course a big secret, in fact the powers that be will say nothing is ever fixed. Just the people in the Niedersachsenhall are not fooled anymore. In the end it is irrelevant, as long as the commissions are paid for the actual knockdown price since that is what the Verband makes a living on.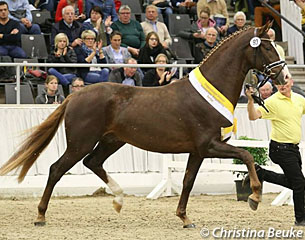 I find it far more troubling that more and more stallions show up "only" for approval. Normal sellers that bring a stallion to Verden for approval and sale pay 500 Euro alone just for the video and pedigree in the catalog, then of course pay full commissions no matter how good or bad the sale actually is and have to cover an insurance premium. Those owners that bring horses for approval only, or turn around and sell a horse just a few days later, pay a fixed amount of 2,500 Euro, no questions asked. And these are increasingly the high-priced horses, one can safely assume. This has got to change and hopefully the Verband is already working on a solution.
And a friendly word of advice to the auction team – your clients are not only those that raise the little yellow paddles to buy a horse, but foremost those that actually bring you the horses in the first place. Maybe a bit more manners would suit you well next time you deal with horse owners (and I was not one of them, this became very apparent just from observing the process). Along those lines, it would also serve us all much better if it was known beforehand which sale is considered a commission sale via a third party with the 5% payment attached to it. Again, the magic word is transparency. I am not criticizing the fact that every auction has its own dynamics and requires sometimes rather creative decisions. It's knowing about them from the get go that is the issue here.
Who Will Follow in Rotspon's Footsteps?
And so we saw the new generation of Hanoverian sires-to-be this year, all the while a real Hanoverian heavy weight stepped into the ring and reminded us all that even the "old" type horse can still make a big splash. Stallion of the Year was Rotspon, a stallion I always loved for the outstanding rideability his offspring showed and continue to prove every day in competition. Who of the new guys will be standing there in the spotlight, covered in the yellow blanket in a decade from now and will be called out as Stallion of the Year?
by Kerstin Aronis for Eurodressage - Photos © Christina Beuke
Related Links
Sezuan x Donnerhall Top Seller of the 2017 Hanoverian Stallion Auction
Christmas Came Early at the 2017 Hanoverian Stallion Licensing, Sezuan x Donnerhall Top Seller
Do Breeders Still Think in Generations? A Critical Eye on the 2017 Trakehner Stallion Licensing