What's Happening in the Dressage World?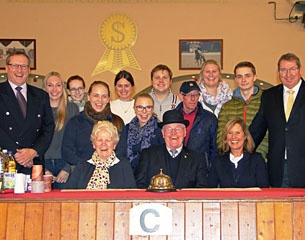 German dressage judge Klaus Harms judged his last show at the Ankum Dressage Club CDN in Ankum on Sunday 29 October 2017. The 80-year old, highly esteemed judge will now fully retire from his judging duties.
The team in Ankum praised Harms for his positive way of thinking, his humour, his expertise and commitment to the sport.
Canadian Walter Patrick Shanly passed away on 28 September 2017 at the age of 58.  Shanly founded Sunnybrook Stables Ltd. in Toronto, ON's historic Sunnybrook Park. Under his careful supervision, Sunnybrook's riding school quickly became - and remains - a prestigious destination for equestrians of all levels in the Greater Toronto Area. In fact, it is the largest public riding facility in the nation. Shanly's influence also extended to the international stage, and he was a key supporting member of the Canadian Dressage Team for the 1996 Olympics in Atlanta. Shanly founded the Exhibition Therapeutic Riding Academy (EXTRA), a volunteer-run program for children and adults with cognitive and/or physical impairment. He also identified an opportunity to help Canadian Armed Forces (CAF) veterans with Post Traumatic Stress Disorder (PTSD) by founding a therapeutic riding program called Saddle Up. Shanly is survived by his wife, Jacquelynn, and son, Muredach.
Dutch FEI rider Christianne Goes had to say goodbye to her small tour horse Manhattan. The 23-year old Dutch warmblood gelding (by Voltaire x Akteur) suffered from Cushing's disease and could no longer get up on his final day. Goes decided to euthanize the gelding. Manhattan is bred at stud farm Broere, where Christianne saddle broke the youngsters. She bought Manhattan and competed him in the Pavo Cup. The pair moved up to small tour level under the supervision of coaches Liseon Kamper, Else Mouw and Nicole Werner. The pair never competed internationally but twice rode in the national classes at the CDI's in Rotterdam (2005) and De Steeg (2007).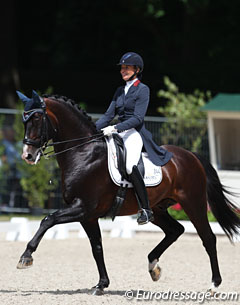 Danish born American Grand Prix rider Charlotte Jorst was quite frank in an interview with the Danish Fortune 500 magazine Boersen.dk about the money she has spent on her horses. According to the article, she disclosed that she paid 1 million euro for Nintendo, which she bought at Helgstrand Dressage from Anna Kasprzak. For the 2016 Spanish Olympic team horse Lorenzo, Helgstrand had set the price at almost 3 million euro, but Jorst negotiated a bit on that. Her Kastel Denmark equestrian clothing brand sells clothes for around 3.4 million euro per year.
Lily Forado reported that Kim van Kampen, owner of the PRE stud farm Hampton Green Farm, sponsor of Spanish Olympic team rider Jose Daniel Martin Dockx and the benefactor behind the brand new "Discover Dressage" USEF/USDF Emerging Athlete Program, has acquired the 11-year old PRE stallion Lechino as her own horse to ride. The Dictador XVII offspring is bred by Yeguada Felipe Garrocho Rubio and has been competed at national Grand Prix level by Manuel Ignacio Ortega. The pair did its first CDI at Medina Sedonia. Van Kampen has now purchased the horse for herself to ride at home in Wellington, Florida. 
Dressage-News reported the sad passing of Jimmy Mandala, who was an FEI steward and best know as the facilities manager at the Global Dressage Festival in Wellington, Florida. The 48-year old succumbed after a long battle with pancreatic cancer at a hospice in Easton, MD on 31 October 2017. In 2016 dressage riders in the Wellington community contributed to the restoration of Mandala's 15-year old Dodge 2500 pickup truck as a gesture of hope. 
The lack of creativity many breeders and owners seem to have in the name giving process of their horses is astonishing! It has become so blatant the German Equestrian Federation has even posted an article about it. This month, the German FN registered the name "Max" for the 4016th time !! It is the most popular name for a horse in Germany by far. The second most often used name is Moritz. No less than 2840 horses are registered with the same name!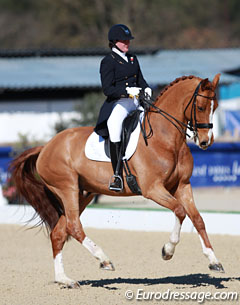 Dutch FEI rider Jessica Leijser has sold her small tour horse Winando, a 14-year old Dutch warmblood gelding by Jetset D x Ulft, to Dutch young rider Fenna Roefs. Leijser will continue her international career aboard rising Grand Prix horse ChaCha Time (by Painted Black). Winando has moved to Anky van Grunsven's stable, where Roefs is based. The chestnut gelding made his small tour CDI debut in September 2012 and did his last international at small tour level in Hickstead in July 2017.
Got Event, the organizers of the 2017 European Championships for show jumping and dressage in Gothenburg, might be facing a lawsuit from Dutch footing company De Grondslag for not following the correct procedure when they asked companies to make a proposal for putting in the footing in the Ullevi stadium. Tidningen Ridsport reported that the Swedish court has ruled that they have to pay a fee of 600,000 SEK (approx. 60,000 euro) for not following proper procedure and Got Event might be facing another lawsuit if De Grondslag wants to persist. In 2016 Got Event asked four footing companies to send in a proposal for the footing in the stadium, two ended up doing so: De Grondslag with a bid of 5.9 million Swedish Kroner (590,000 euro) and Expara with a bid of 6.2 million Kroner (620,000 euro). De Grondslag claims that they had not received all necessary info to make a correct proposal and Expara won the contract. Legal procedures were already started before the August Championships which led to the 600,000 SEK fee, but De Grondslag wants to request damages from Got Event.