2017 Nurnberger Burgpokal Final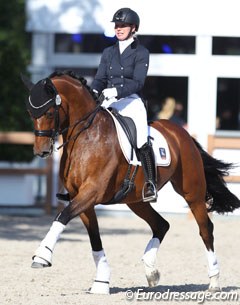 With the final qualifier in Nürnberg ridden, the twelve finalists for the 2017 Nurnberger Burgpokal Finals are known. The winning horses at each of 12 qualifiers is eligible to compete in the Finals, which will be held in Frankfurt, on 14 - 17 December 2017. The Nurnberger Burgpokal is the German Championship for Developing Prix St Georges horses.
The 2017 Burgpokal qualification season kicked off at the 2017 CDI Hagen in April, where Swedish Malin Nilsson won the qualifier aboard the Dutch warmblood Foreign Affair. The horse sold to Rothenberger and Westfhoff right after Hagen and will therefore not be competing in Frankfurt. 
The organizing committee will announce the reserve horse(s) that will step in for those finalists choosing not to compete in Frankfurt. 
The twelve qualification winners this year are:
Hagen: Foreign Affair - Malin Nilsson - 74.976%
Mannheim: Foundation - Matthias Alexander Rath - 77,366%
Redefin: Fürst Levantino - Isabel Freese-  77,098%
Lübeck: Abegglen FH - Marcus Hermes - 75,976%
München-Riem: Chilly Jam - Aikje Fehl - 75,610%
Balve: Brisbane FE - Helen Langehanenberg -  74,293%
Berlin: Soiree d'Amour OLD - Kira Wulferding - 76,610%
Bettenrode: Escolar - Hubertus Schmidt-  80,415%
Neu-Anspach: Quantum Vis MW - Matthias Bouten - 73,829%
Schenefeld: Don Frederic - Holga Finken - 73,244%
Donaueschingen: QC Flamboyant OLD - Isabell Werth - 81,512%
Nürnberg: Toscana - Hubertus Schmidt - 73,415%
Photo ©