2017 Australian Dressage Championships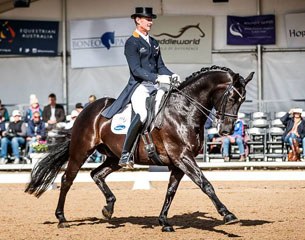 Brett Parbery and DP Weltmieser became the brand new 2017 Australian Grand Prix Dressage Champions at the National Championships held at Fiona Selby's Boneo Park in Boneo, Australia, on 19 - 21 October 2017. By placing second in the Grand Prix and winning the Kur to Music, Parbery achieved the highest point total for the title.
Parbery and Susan Duddy's 15-year old DP Weltmieser (by Weltmeyer x Dutch Courage) scored 69.060% in the Grand Prix to finish second on Judy Dierks' heels. In the Kur to Music he surpassed all competition and with his 74.540% winning freestyle score, he took a very clear lead in the ranking of the national championships. 
After a one-year hiatus, Parbery is back at being the country's best Grand Prix rider. He won the title in 2015 and got the champion sash again at Boneo on Saturday afternoon 21 October 2017.
"Another nationals done and dusted! Phew! What a show! We are so lucky to have this outstanding venue at Boneo Park," said Parbery at the end of his show weekend. "Today Rabbit basked in the glory of being Australian Grand Prix Champion. What a pro he is!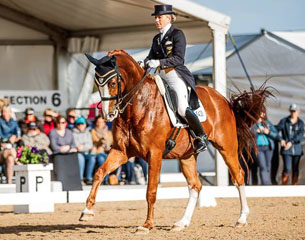 Judy Dierks and her own and Vicki Newman's 11-year old Bavarian bred Diamond Star (by Diamond Hit x Pour Plaisir) were the victors in the Grand Prix with 69.300%, but a miscommunication in the Kur to Music made them drop to a fifth place in the freestyle with 71.610. Dierks became the runner up and reserve champion with her score total. 
Shannan Goodwin and her 12-year old Australian warmblood bred Aristede (by Aachimedes x Lander) grabbed the bronze medal as they stepped on the third step of the podium after scoring 66.680% in the Grand Prix (7th place) and 71.575% in the Kur to Music (3rd).
Photos © Stephen Mowbray
Results - 2017 Australian Grand Prix Championship - Boneo
1. DP Weltmieser - Brett Parbery - 69.060 -74.540
2. Diamond Star - Judith Dierks - 69.300 - 71.610
3. Aristede - Shannan Goodwin - 66.680 - 71.575
4. Royal Oak II - Deon Stokes - 67.680 - 69.025
5. Jarrah R - Rozzie Ryan - 65.880 - 70.380
6. Bluefields Floreno - Alexis Hellyer - 66.720 - 69.373
7. Sancette - Gitte Donvig - 65.880 - 69.480
8. Robali Razzamatazz - Robbie McKinnon - 64.540 - 68.225
9. Amicelli Gold - Lesley Anne Taylor - 64.980 - 67.535
10. PPH Zeppelin - Brett Parbery - S65.140 - 66.647
11. Utopian Cardinal - Heath Ryan - 66.460 - 65.120
12. Don Rubin - Susan Elekessy - 64.020 - 66.595
13. Clive - Kylie Riddell - 62.720 - 65.525
14. Diva Royale - Holly Cutler - 60.620 - 65.784
Related Links
Scores 2017 CDI-W Boneo 
Judy Dierks Wins 2017 Australian Dressage Prix Championship Grand Prix Test
Shooting Star Mary Warren Wins World Cup Kur, Heath Ryan Wins 2016 Australian Grand Prix Championship
Parbery Wins Third Grand Prix Champion's Title at 2015 Australian Dressage Championships
Heath Ryan Wins World Cup Qualifier and 2010 Australian Dressage Championships