What's Happening in the Dressage World?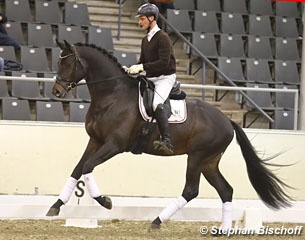 Gerd Sosath's 5-year old Trakehner licensed stallion Honoré du Soir has been leased to the Trakehner stud farm Loebnitz, where Kathrin Madlen Sladek will take over the training of the stallion.
Zuchterforum reported that the Easy Game x Latimer offspring, bred by Marten Hillmann, has moved to Loebnitz. 
While Diederik van Silfhout has been loading his barn with new stallions, such as Furst Jazz and Rentino, he also had to say goodbye to one: Galaxie. Owner Renate van Vliet decided to continue the 6-year old stallions training herself now that her horse has matured more and become safer to handle after a year at Van Silfhout's. Galaxie is by Jazz x Future.
2008 U.S. Olympic team rider Courtney King-Dye has given birth to her third child, a boy named Zed. He joins girls River (3) and Bailey (1.5). King-Dye's high performance dressage career came to a very abrupt end in March 2010 when she sustained a traumatic brain injury falling off a horse. While she is still actively involved in the dressage as a trainer on the ground, her kids have been her inspiration. "Having kids for 3 years has made me exponentially better than 3 years of therapy did," said Courtney. "My dexterity, my balance and my strength have all improved dramatically. I feel that Jason (Dye) and I are a team once again and not that I'm another being for him to take care of."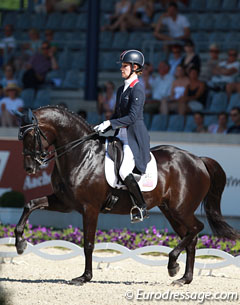 Ken Braddick of Dressage-News dropped a bomb by going public with the fact that on 29 September 2017 American dressage rider Alice Tarjan filed a lawsuit in Florida against Caroline Roffman, a horse dealer who was a 2014 U.S. WEG dressage team candidate. Tarjan sold her horse Faberge (by Fidertanz x De Niro) through Roffmann for 300,000 USD to the Belgian based Peter Eeckman Horses, a show jumping horse dealer. However, afterwards she found out that Eeckman did not buy, but in fact Bethany Peslar did. According to the suit Roffmann collaborated with Endel Ots, her former business partner and Peslar's trainer, and sold Faberge to Peslar for 900,000 USD by sluicing the money via Eeckman. Tarjan has filed a lawsuit on 8 accounts, including breach of covenant of good faith and fair dealing, fraud, and unjust enrichment. By Florida law Roffman has 45 days to respond. In a reaction to Dressage-News, Roffman described the suit as "inaccurate, misleading and, in many instances, just plain wrong.(..) I am confident that after a court looks at the facts and law governing the dispute, the lawsuit filed by Ms. Tarjan will be dismissed quickly."
Dutch stallion owner Hein Peeters passed away at age 58 after a fierce battle against cancer. Peeters was based with his stallion in Diever, The Netherlands, and mainly stood show jumping sires. He had one dressage stallion in his collection, Dark Pleasure (by Ufo x Jazz x Ferro). Last spring Hein was operated on after he was diagnosed with cancer. Unfortunately he lost his battle against cancer and passed away at home on 9 October. He leaves behind a wife and two children.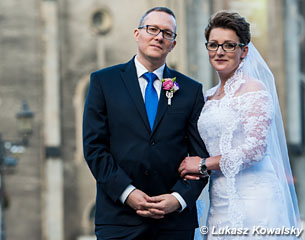 Polish Grand Prix team rider Zaneta Skowronska married her longtime partner Maciej Kozubik on 7 October 2017.  The wedding took place in the church of Suchej Góra, and the wedding dinner was in restaurant Sedlaczek in Tarnów, Poland, in attendance of a small, intimate group of family and friends.
Danish based Norwegian Grand Prix rider Ellen Brigitte Farbrot will be replacing Christine Oye as official Norwegian youth team trainer. The Norwegian Equestrian Federation appointed the 32-year old Farbrot as a substitute for Oye as the coach goes into maternity leave.