Italian Dressage News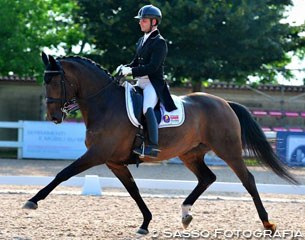 The Sport Tribunal of the Italian Equestrian Federation (FISE) has suspended Italian Grand Prix dressage rider Roberto Brenna for one month after he had shown unsportsmanlike behaviour at the 2017 Italian Dressage Championships.
Brenna had to appear in front of the sport tribunal after Massimo Petaccia, president of the ground jury at the 2017 Italian Dressage Championships in Montefalco, Italy, on 21 - 24 September, filed an official complaint of Brenna's unsportsmanlike behaviour.
The rider had won bronze in the Senior Technical Dressage Championship after placing third in the Grand Prix behind Valentina Truppa and Micol Rustignoli, but ahead of Ester Soldi. Unfortunately, Brenna did not show up on time for the prize giving ceremony, of which the timing had suddenly changed by an hour on the day itself and was not apparently not properly communicated to all the riders. Brenna had to be called over the speakers, who then came running to the podium.
Unaware of the changed time schedule, Brenna was so upset, that he shouted the renunciation of his medal, threw his helmet on the ground and spoke expletives towards the judge, FISE and the representatives at the show. Because of this reaction Petaccia filed the report.
Judge Luca Brancato of the FISE Sport Tribunal cast his verdict on 6 October 2017 and gave Brenna a one-month suspension. The rider had officially submitted a letter of apology before the trial.
View the official report here.
Related Links
Zamperetti, Volpini, Arturi, Alghisi, Remold, Truppa Win 2017 Italian Dressage Championships
Scores: 2017 Italian Dressage Championships
Pierluigi Sangiorgi Wins 2008 Italian Dressage Championships
Scores: 2001 European Junior Riders Championships
Scores: 2000 European Junior Riders Championships