Oldenburg Breeding News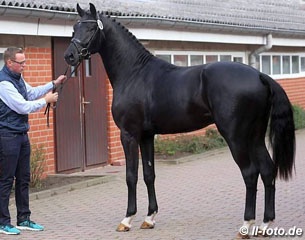 The Oldenburg stallion licensing committee selected 41 colts that are accepted to appear at the 2017 Oldenburg Stallion Licensing in Vechta, Germany, on 16 - 18 November 2017.
No less than 170 2,5-year old colts were presented at the pre-selection days in Vechta, which took place on 7, 9 and 10 October 2017. 
Of the 41 selected colts, 10 of them are foreign owned. 
Three sires each have three sons selected for the licensing: Furstenball, his son Finest, and Diamond Hit
The selected colts are:
Danciano  x Fürstenball - Breeder: Margarete Strohm - Owner: Dressurpferde L. Kathmann
Escolar  x Cabaret  - Breeder: Renate Dornauer  - Owner: Ramsbrock & Burger
Finest  x San Amour I   - Breeder and Owner: Hannelore Bauer
Finest  x Christ  - Breeder: Eitel Wehrs  - Owner: Heinrich Ramsbrock
Fürstenball  x Donnerhall - Breeder:  ZG Limbecker/Kandziora  - Owner: Helgstrand Dressage
Vitalis  x Jazz  - Breeder and Owner: Reesink Pferde GmbH
Wild Child  x Florencio I - Breeder and Owner:  Lynne Crowden
Ampere  x San Remo  - Breeder: Erhard Reulein  - Owner: H. Frhr. Von Fircks
Dante Weltino x  De Niro  - Breeder: Franz Bolte  - Owner: H. Frhr. Von Fircks
Diamond Hit  x Sandro Hit  - Breeder: Georg Tönjes  - Owner: Hochreit LiegenschaftsVerwaltung 
Don Schufro  x Stedinger  - Breeder: H. & E. Schulte  - Owner: Johannes Westendarp 
Franklin  x Sir Donnerhall  - Breeder: L. De Bie  - Owner: Stal van de Sande 
Fürstenball  x Lauries Crusador xx  - Breeder: Klaus Gustenberg  - Owner: J. Westendarp & K. Gustenberg
Self made  x Diamond Hit  - Breeder: Hubert Ratermann  - Owner: H.H. Groenwoldt
Ampere  x Sandro Hit  - Breeder: Karin Rinnen  - Owner: Juliette Piotrowski
Farrell  x Boston  - Breeder: Hans Höffmann  - Owner: BG Kemper & Wagner
Farrell  x Diamond Hit  - Breeder: Otto Espelage  - Owner: Blue Hors 
First Choice  x Zack  - Breeder: Landkjaergaard I/S Hvid  - Owner: Hors Blue Hors 
Follow Me x Sir Donnerhall  - Breeder: Jürgen Fetzer  - Owner: Adrian Gasser
Fürstenball  x Sandro Hit  - Breeder: Dr. Rolf-P. Schulze  - Owner: BG Kemper & Wagner
Grey Flanell  x Donnerschwee - Breeder and Owner: Andrea Gräfin v. Merveldt
Millennium x  Rubin-Royal  - Breeder: Heinrich Vahle  - Owner: Albert Sprehe 
Belantis  x Sir Tender  - Breeder and Owner: Angelika Krause
Desperado  x Sandro Song  - Breeder: Aloys Schmidt  - Owner: Heinrich Gieselmann
Diamond Hit  x Fielmann  - Breeder: Zuchthof Bauer  - Owner: Gestüt Sprehe
Finest  x Sergeant Pepper  - Breeder: Dr. Hubertus v.Tiedemann  - Owner: Dr. H + H. v. Tiedemann
Goldberg  x Rohdiamant  - Breeder: Heiko Meinen  - Owner: Dr. Axel Schürner
Londontime  x Danone  - Breeder: Wilhelm Schwierking A - Owner: rndt Schwierking
Van Vivaldi  x Stedinger - Breeder:  Katja Temp  - Owner: Ninja Sosath 
Diamond Hit  x Fürst Heinrich  - Breeder and Owner: Gestüt Sprehe GmbH
Fürsten-Look  x Sir Donnerhall - Breeder and Owner:  Felix Tiemann
Grey Flanell  x Licotus - Breeder:  Bernd Meyer  - Owner: Gestüt Lewitz
Quaterback  x Paradiesvogel  - Breeder: ZG Detlef u. David Bahnemann - Owner:  Debora Nitsche
Sansibar AK (by Sandro Hit  x Fürst Heinrich)  - Breeder: Andreas Klinker  - Owner: HP horses
Sir Donnerhall  x Fürst Romancier  - Breeder and Owner: F. & E. Körner
Fürsten-Look  x Don Primero  - Breeder and Owner: Rolf Waering
Governor  x Swarovski  - Breeder: Joop Breukink  - Owner: Stal Brinkman & Korbeld 
Vincent Maranello  x Jazz  - Breeder: J. de Boer  - Owner: Jaap Quartel
Grand Galaxy Win  x Fassbinder  - Breeder and Owner: HH Horses
Grand Galaxy Win  x Romanov  - Breeder: Jan Pedersen  - Owner: Helgstrand Dressage
Governor x Fürstenball  - Breeder and Owner: Gestüt Lewitz
Photo © LL-foto
Related Links
Furst Fabrice, Champion of the 2016 Oldenburg Stallion Licensing
Bonds, Champion of the 2015 Oldenburg Stallion Licensing
Morricone, Champion of the 2014 Oldenburg Stallion Licensing
Don Deluxe, Champion of the 2013 Oldenburg Stallion
Follow Me, Champion of the 2012 Oldenburg Stallion Licensing
For Romance 2011 Oldenburg Licensing Champion, Tight Junction Steals the Show
De Martino Captures Champion's Title at 2010 Oldenburg Stallion Licensing
Fairbanks, Champion of the 2009 Oldenburg Licensing
Furstenball, Champion of the 2008 Oldenburg Stallion Licensing
Sieger Hit, Champion of the 2007 Oldenburg Stallion Licensing
Sandro Hit Euphoria At 2006 Oldenburg Stallion Licensing
Marketing Above Quality at the 2005 Oldenburg Stallion Licensing
Furst Heinrich Fledglings Fly High at 2004 Oldenburg Stallion Licensing
2003 Oldenburg Stallion Licensing