German Dressage News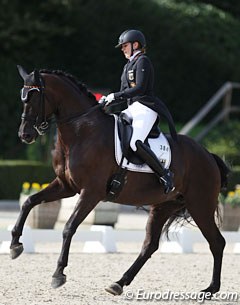 German team gold medal winning Young Rider Anna Christina Abbelen sustained a severe concussion in a riding accident that left her hospitalized for a day on Tuesday 10 October 2017.
The 21-year old Abbelen, who recently won team gold and double silver at the 2017 European Young Riders Championships and who was the 2014 European Junior Champion, was in a riding accident during a daily training session.
Abbelen, who is in her last year as a young rider and who will be making the definite transition to Under 25 level in 2018, was launched from the saddle of her number one horse First Lady (by Florencio x Donnerhall) when the mare suddenly jumped forward and stumbled.
Abbelen was immediately brought to the hospital for a check-up and had to stay overnight as she was diagnosed with a severe concussion and some bruises. 
"I got a major headache, and I think my helmet broke. We will check that tomorrow. I also have a small injury to my back, one of the vertebrae, but I'm OK," Abbelen told Eurodressage. "I can still laugh and Lady is fine too, so everything is alright. I think I can't thank the invention of the helmet enough!"
"It was a big shock yesterday but I came out of it with just a scratch," Anna continued. "This was the sixth time that I fell of a horse this year."
Photo © Astrid Appels
Related Links
Hannah Erbe Makes it Three, Wins Kur Gold at the 2017 European Young Riders Championships
Anna Christina Abbelen's Furst On Tour Sold to Hong Kong
Middelberg, Allard, Rothenberger Win the 2017 German Youth Riders Championships
Abbelen Blazes Trail to German Team Gold at 2014 European Junior Riders Championships