WBFSH Breeding News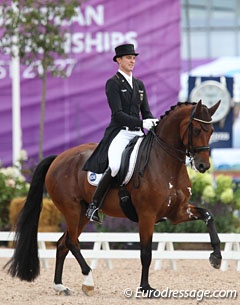 The KWPN society and dressage horse Weihegold have topped the 2017 WBFSH Studbook and Dressage Horse Ranking, which has been announced on 9 October 2017.
The final WBFSH rankings for horses and studbooks are based on the 2017 FEI competition year. This year the Dutch studbook KWPN has advanced in all three disciplines moving up to first place in dressage, second place in show jumping and fourth place in eventing.
For dressage the KWPN relied heavily on the performances of Sönke Rothenberger's Cosmo (by Van Gogh x Landjonker), Laura Graves' Verdades (by Florett As x Goya) and Carl Hester's Nip Tuck (by Don Ruto x Animo) for its top ranking. Voice, Zaire E and Cennin make up the six KWPN horses that led to the winning score of 13,957 points.
The Hanoverian society, who led the ranking in 2016, has dropped to second place in 2017. The contributing horses to the 12,527 point score were Don Johnson, Damsey, D'Agostino, Dablino, Deep Impact and Real Dancer.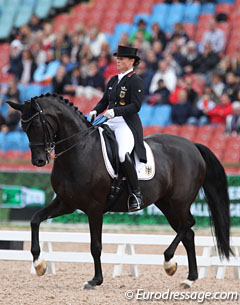 The Oldenburg society finished third with 12,519 points. Weihegold, Dante Weltino, Delaunay, Doktor, Spirit of the Age and Sir Donnerhall II were the highest scoring Oldenburg horses that contibuted to the studbook score.
The award winning breeder in dressage is German Inge Bastian for having bred the WBFSH highest scoring dressage horse, the Oldenburg mare Weihegold (by Don Schufro x Sandro Hit) with 3026 ranking points.
At the 2017 WBFSH annual meeting in Billund, Denmark, in November the winning studbooks of the three disciplines dressage, jumping and eventing will be honoured, and so will the three winning breeders at the occasion of the CHI Geneva in December.
Dressage Studbooks
1. 13957 – Koninklijk Warmbloed Paardenstamboek Nederland (KWPN)
2. 12527 – Hannoveraner Verband e. V. (HANN)
3. 12519 – Verband der Züchter des Oldenburger Pferdes e. V. (OLDB) 
Dressage Horses
1. 3026 - Weihegold (OLD, by Don Schufro x Sandro Hit)
2. 2586 - Cosmo (KWPN, by Van Gogh x Landjonker)
3. 2525 - Verdades (KWPN, by Florett As x Goya) 
Complete Breed Ranking - Dressage Horse Ranking
Related Links
Hanoverian Society and Desperados Top 2016 WBFSH Studbook and Dressage Horse Ranking 
Valegro and KWPN Top Final 2015 WBFSH Dressage Horse and Studbook Ranking
Valegro and KWPN Top the 2014 WBFSH Dressage Breeding Ranking
KWPN Tops 2013 WBFSH Breeding Ranking for Dressage and Show Jumping
KWPN Society and Valegro Lead 2012 WBFSH Dressage Ranking
KWPN Leads 2011 WBFSH Ranking in Dressage
Totilas Takes KWPN to the Top in 2010 WBFSH Ranking
Hanoverians Win 2006 WBFSH World Breeding Dressage Ranking