What's Happening in the Dressage World?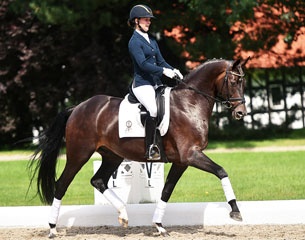 Canadian David Marcus and his partner, Australian Nicolas Fyffe, have acquired the 6-year old Hanoverian bred Salinas (by Soliman de Hus x Aaarking xx x Bumerang), who sold at the 2016 PSI Auction for 120,000 euro.
After announcing her resignation as head rider at Gestut Nymphenburg in june of 2017, Tessa Frank has now made the physical move away from the stallion station and relocated to her old stomping grounds. She is back with her old coach Hans-Jürgen Armbrust in Soltau, Germany, where she will set up her own shop. Leif Hamberger has taken over her position at Helmut von Fircks' Gestut Nymphenburg.
The embryo by Totilas out of La Traviata, the only full sister to Sandro Hit, has been auctioned for 12,000 euro.
Ridehesten reported that the 2017 European Pony Championship kur bronze medal winning Sara Aagaard Hyrm has acquired her junior rider's horse in Denmark now that her pony time is over. Hyrm has purchased the 11-year old Danish warmblood gelding Skovborgs Romadinov (by Romanov x Mago xx), who was trained and competed at small tour level by Rikke Klinkby. 
Judge Martin Richenhagen has been honoured with the German Federal Cross of Merit during a German ex-pat meeting in Washington DC, U.S.A.. Richenhagen was praised for his merits going from horse trainer to CEO of AGCO, a multinational agricultural company that also owns Fendt, the title sponsor of the German Equestrian Federation. Richenhagen is a 4* judge, and was chef d'equipe of the German team at the 2008 Olympic Games.
British Mount St. John broodfarm had to say goodbye to one of its top broodmares, the KWPN mare Wendela (by San Remo x Glendale). The 14-year old chestnut mare had to be euthanized. Wendela is best known as the dam to Laura Tomlinson-Bechtolsheimer's rising Grand Prix horse Capri Sonne Jr. "Wendy only joined us a couple of years ago with a history of regular colic episodes, sadly recently they became more frequent and aggresive, and further investigation showed tumours throughout her intestines so we knew what decision had to be made," said Emma Blundell of Mount St. John. "We are devastated at the loss, Wendy was such a special mare with amazing presence and grace in her movement, which she passed onto her offspring, including having multiple licensed sons with the KWPN. She leaves us expecting embyro foals for 2018 so we will keep everything crossed for safe deliveries and hopefully a filly to continue this precious line."
Did you know that the name of the Hanoverian licensed stallion Damsey was actually a spelling mistake from the Hanoverian society?! The dark bay Dressage Royal x Ritual stallion was discovered by Dutchman Hans Miedema as a non-licensed stallion at the 2004 Hanoverian Stallion Licensing. He named the stallion "Dempsey" after the world famous, unbeatable boxer, but when the Hanoverian society registered him they miss-spelled the name and wrote Damsey. "In the end I was ok with it," Miedema told Eurodressage about his horse's new name. Damsey sold to the Leatherdales one year later right before Christmas 2005.
DIXIT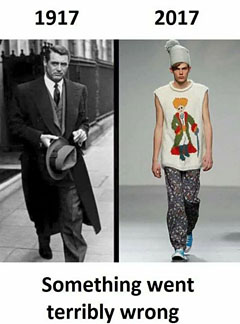 Renowned Dutch Olympic show jumper and highly respected horse trainer Albert Voorn spoke out on Facebook about elegance disappearing from dressage. While Voorn mainly complains about helmets in the Grand Prix dressage ring, his statement about certain types of saddles we believe is more to the point. He writes: "Everything is allowed nowadays. It has to be flashy and sparkly. Riders nowadays are sitting in saddles that look ike handicapped stools. It no longer has anything with horse riding. You hardly see nice horse horses. A rider who sits quietly, without working in the saddle, in beautiful harmony. You have to look for them. My eyes don't lie. You can call me an old frustrated rider who no longer has success. Anky did that once when I criticized the rollkur. She defended the method at the time, but you shouldn't have anything to defend."
Voorn also spares no critique for his fellow show jumpers. He regrets that good horse riding is hardly seen in the jumper ring either. Voorn explained it "because the riders in general are not interested in riding better and more beautiful, they are very quickly content with what they do." He also used the image above to illustrate his point.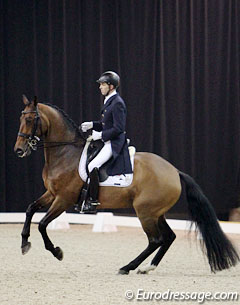 Dutch Grand Prix rider Derk Schekkerman also rang in on the same topic, calling it "the downfall of equitation". Schekkerman trains horses for sales and complained about the people trying out his horses. "What deeply worries are the young riders who call themselves professionals," Schekkerman wrote. "Yes they rode a Grand Prix test, but have absolutely no feeling for riding. They don't feel the horse. They know only one trick: pull hard in the mouth and kick with the leg. Months of training were deleted in half an hour. And then they say, 'yes he's a bit too strong for my client.' Are riders no longer trained to sit in balance, to leave a horse in its dignity and to ride the best out of it with feeling?"