Dutch Dressage News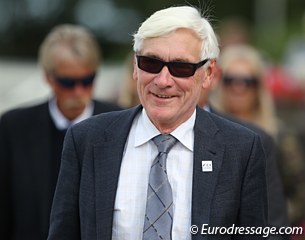 The Dutch Equestrian Federation (KNHS) has filed an official complaint with the FEI against Danish 5* judge Leif Törnblad. The KNHS believes that Tornblad has shown unethical conduct in an interview he gave to the Australian Horse Magazine.
Dutch team trainer Rien van der Schaft takes offence in Tornblad's words about "the Dutch way of training" and in particular in the statements that Anky van Grunsven's horses were always very tense and that it is not a good idea for Edward Gal to give a clinic in Denmark. 
The Horse Magazine Interview with Tornblad
When looking at the actual interview in the Horse Magazine, Tornblad stated the following:
on Anky:
Horse Magazine: (Bonfire) wasn't quite so tense as Salinero…
Leif Tornblad: "I thought he was the same in a way. In some senses I quite liked Salinero, of course he was a better horse than Bonfire. She's a very good rider, Anky and she presents the horses well, but there are problems with the whole Sjef Janssen way of training…"
HM: It was awful…
Torblad: "That's your point of view, I think Anky did ride quite well, but I think the ones that tried to copy her, didn't cope. Anky could actually ride them deep and whatever, but when they came into the arena, they were looking okay."
on Gal giving a clinic in Denmark
HM: No, it is not a subjective thing, we have a standard of riding and of how horses should go, and this has been recognized since at least the 1936 Olympic Games, and riders in chair seats with ultra-tense horses, are not good dressage riders, and you can see how many of their horses break down…
Torblad: "That's your opinion, it is also my opinion, but that's not everybody's opinion. Next month, Edward Gal comes to Denmark to make a clinic."
HM: That's not a very good idea…
Torblad: "No, but he still does, and attracts a crowd. If you go anywhere in Holland, or some parts of Denmark, they disagree with you and me."
Further down in the interview Tornblad discusses the rollkur training method which resulted in more spectacular movements
HM: The person I spend the most time with in Holland, is Johan Hamminga, and his training is like the good trainers is Germany (...).
Tornblad: "But he's the old fashioned one. What happened when Anky came out with the deep Rollkur, they actually managed to get more drama, and more higher movements, more fantastic piaffes and things. They did manage to do that – you call it tension – but people in general thought it was fantastic."
HM: I thought it was just ugly, and it was always irregular because if the horse's front leg is swinging twice as far as the diagonal hind leg, then one is going faster or the other slower but the rhythm is gone and that is the first building block and the way horses show their tension…
Tornblad: "But it is not everybody who thinks that. Look at the results."
HM: But if someone says to you, the earth is flat, I don't say, that's your opinion so it is a valid way of looking at the world…
Tornblad: "But like I said, the pendulum swings, and all of a sudden it was accepted and now it is not accepted again."
HM: Let's hope the pendulum stops swinging for a while…
Rien van der Schaft Takes Offence
In an interview with Dutch equestrian publication Horses.nl, Dutch team trainer Rien van der Schaft expresses his criticism against Tornblad's word.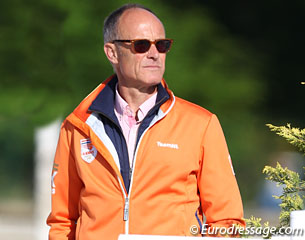 "If I read the article right, I'm in agreement with Mr Tornblad on a technical level, but I think it's very inappropriate for a judge to express himself in this way about riders. I don't think he can keep up not being prejudiced the next time he sees Edward Gal or Hans Peter Minderhoud in the ring."
Van der Schaft is also critical about the way in which Tornblad idolizes his wife's Anne Grethe Jensen's riding career on the legendary Marzog.
"I have often seen how Marzog was cooked by her ex-husband Toni Jensen for the test later that day. Back then that was still allowed. That had nothing to do with lightness, to say it nicely," Van der Schaft noted.
Rien added that it is his job to improve the level of training in Holland. "I'm working at it, but this is not a job done in a jiffy, but the way Tornblad discards the Dutch dresage elite is totally unaccaptable. (...) In my opinion Tornblad disqualifies himself as an international judge."
KNHS Files a Complaint
According to Horses.nl the Dutch Equestrian Federation has now filed a complaint with the FEI. KNHS top sport director Maarten van der Heijden, who is also a 4* dressage judge, filed the complaint. He stated:
"We expect a high ethical standard of 5*-judges. How can a judge express such things and then judge independently and objectively, without prejudice, the Dutch riders."
Tornblad Reacts, KNHS Attempts to Manipulate Judges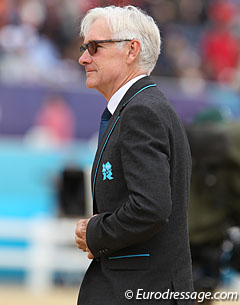 Eurodressage contacted Leif Tornblad for a statement: "I find it interesting that they do not seem to have read the article where I actually defend Anky and also make it clear that there are different views on the the Dutch (and others)," said Tornblad. "My message is that we need to have a more uniform meaning on what we accept and what not."
Tornblad also finds it interesting that the Dutch federation tries to gag the judges from expressing their opinion the development of the sport. 
"I find it really interesting that the Dutch Federation again tries to influence who are judging what," Leif stated. "We have seen enough of that in the past. Judges should not be selected based on preferences from the Federations. I do however not feel particularly anti Holland or any other country and everybody can look at Stickland statistics to verify how I am judging."
Photos © Astrid Appels
Related Links
Horse Magazine interview with Leif Tornblad
Leif Tornblad, a Special Back to Back
Greatest Oldies: Marzog, King of Suppleness
An Affair to Remember: the 1980 Olympic Games
The Great European Dressage Riders