2017 French Young Horse Championships
The 4-year old Dorian Grey de Hus, the 5-year old First Step Valentin, and the 6-year old Flair Royal became the winners of the 2017 French Young Horse Championships which were held during the "Grande Semaine de Dressage" at the Cadre Noir in Saumur, France, on 22 - 24 September 2017.
French Olympian Jessica Michel-Botton is finally kicking back into gear and showing herself on the competition circuit after the retirement of her top Grand Prix horse Riwera de Hus in 2014 and her giving birth to her first child. Michel won the 4-year old division aboard Xavier Marie's Selle Français registered Dorian Grey de Hus (by Don Juan de Hus x Sandro Hit) after topping the board in the warm up as well as in the finals. The chestnut is the mirror image of his sire, the late Don Juan, and scored 92.2 for presentation and 93.2 for the Finals test to total 93 points for the title. Guillaume Recoign and Jean-Michel Roudier's Hanoverian registered Star de l'Ocean (by Soliman de Hus x Carismo) won the silver medal with 87.3 for presentation and 85.4% in the finals test. He totalled 85.7 points for second place. Arnaud Serre and Sylvain Massa's Portuguese Sport Horse bred Dionysos de Massa (by Special Agent Amour x Xaquiro) scored the bronze with 83.6% for presentation and 83.0% for the Finals Test. They totalled 83.1 for third place.
In the 5-year old division not a French rider but a Belgian ruled the roost. Larissa Pauluis and the Westfalian First Step Valentin (by Vitalis x Fidermark) reclaimed the French title for the second, consecutive time, after representing Belgium in the finals at the 2017 World Young Horse Championships. In Saumur the liver chestnut licensed stallion scored 88.8 for presentation and 87.8% in the Finals test to total 87.9 points for first place. French Margaux Damonneville and Laurent Fourrier's Belgian warmblood bred Mac Donovan (by Sir Donovan x Cantos) earned silver with 86.2% for presentation and 82.6% for the finals test. They were second with 83.1 points. Arnaud Serre and Sylvain Massa's Lusitano bred Caporal de Massa (by Rieto x Xaquiro) finished with bronze on 81.7% and 83.0% to total 82.8 points.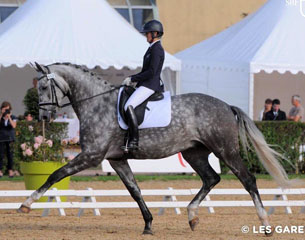 In the 6-year old division Maxime Collard steered Marietta Almasy's Oldenburg bred Flair Royal (by Fairbanks x Royal Diamond) to victory with an 88.6 score in the finals. The pair stayed well ahead of last year's champions in the 5-year old division, Lena Thouvenin on the Oldenburg bred Diamondgio (by Diamo Gold x Pik Noir). They earned silver with an 86.0 point earning finals' ride. Clemence Jean and the Hanoverian Quickstep (by Quaterback x Rotspon) got bronze with an 84.4 point earning ride in the Finals.
Photos © Rose Harang - Les Garennes
Results - 2017 French Young Horse Championships - Saumur
4-year olds (top 10)
Rider - Horse - Presentation - Finals Test --- Total
1. Jessica Michel Botton - Dorian Grey de Hus (by Don Juan de Hus x Sandro Hit ) - 92.2 % - 93.2 % --- 93.0
2. Gauillaume Recoing - Star de l'Ocean (by Soliman de Hus x Carismo) - 87.3 % - 85.4 %  --- 85.7
3. Arnaud Serre - Dionysos de Massa (by Special Agent Amour x Xaquiro) - 83.6 % - 83.0 %  --- 83.1
4. Gauillaume Gauthier - Detonation de Hus (by Don Juan de Hus x Ferro) -  84.1 %-  82.2 %  --- 82.5
5. Maria Jose de la Chica Parras - Filarmonie de Malleret (by Furstenball x De Niro-  78.6 % - 81.4 %  --- 80.9
6. Julien Vincent - Zenith du Feuillard (by Zhivago x Samba Hit II)- 84.8 % - 79.8 %  --- 80.6
7. Larissa Pauluis - Irish Coffee (by Winningmood x Cabochon) - 83.7 % - 78.4 %  --- 79.3
8. Pauline Guillem - Lucky Gold (by Licosto x Wanderer) - 81.0 %  - 78.4 %  --- 78.8
9. Rebecca Rooke - Lady Chanel (by Hancock x Goodwood) - 77.4 %-  78.2 %  --- 78.1
10. Pauline Guillem - Diamond de Saint Val (by Don Juan de Hus x Florencio) - 81.8 % - 77.2 %  --- 78.0
5-year olds (top 10)
1. Larissa Pauluis - First Step Valentin (by Vitalis x Fidermark) - 88.8 % - 87.8 %   --- 87.9
2. Margaux Damonneville - Mac Donovan (by Sir Donovan x Cantos) - 86.2 % - 82.6 %  ---  83.1
3. Arnaud Serre - Caporal de Massa (by Rieto x Xaquiro) -  81.7 % - 83.0 %   --- 82.8
4. Magalie Ledoux - Da Vinci (by Don Juan de Hus x Don Bedo) -  79.3 % 7- 8.8 %   --- 78.9
5. Mathilde Bayor - Full Monty LH (by Fidertanz x Donnerhall) - 82.6 % - 78.4 %   --- 78.9
6. Pauline Vanlandeghem - Dakota de Hus (by Don Juan de Hus x Florestan) - 82.8 %-  77.6 %  ---  78.3
7. Steeve You - Some Like it Hot LH (by San Amour x Wenzel) - 77.0 % - 76.8 %   --- 76.8
8. Marie Noelle Fulop - Surprise de Hus (by Soliman de Hus x Rohdiamant) - 78.2 % - 76.2 %   --- 76.5
9. Arnaud Serre - Cyclone de Massa (by Quazar de la Font x Mulato Hb) - 79.3 % - 76.0 %  ---  76.4
10. Marion Henn - Barca Gih (by Borowski x Weyden) - 78.2 % - 73.4 %  --- 74.0
6-year olds (top 10)
1. Maxime Collard - Flair Royal (by Fairbanks x Royal Diamond) -  88.6O
2. Lena Thouvenin - Diamondgio LTH (by Diamo Gold x Pik Noir) - 86.0O
3. Clemence Jean - Quickstep (by Quaterback x Rotspon) -  84.4
4. Alizee Roussel - Furstin Star JM (by Furst Nymphenburg x Lauries Crusador xx) - 80.0
5. Valentin Bligny  - Feeling (by Furstenball x Der Lord) - 79.6
6. Maxime Collard - Schabernack (by Sandro Hit x De Niro) -  79.6
7. Odile van Doorn - Flic Flac (by Furst Nymphenburg x Don Crusador) - 79.4H
8. Isabelle Augustin - Qupidon de Hus (by Quaterback x Don Frederico) - 75.0
9. Isabelle Augustin - Shakira de Hus (by Soliman de Hus x Don Frederico) - 74.0
10. Alexandra Senkowski - Brentano de Lauture (by Karamel de Lauture x Looping) - 69.4
Related Links
Valentin, Diamondgio, Barroso Win 2016 French Young Horse Championships 
Flair Royal, Quaterdance, Quaterbold du Payrol Win 2015 French Young Horse Championships
Quaterdance, Kojak, Hermes de Hus Win 2014 French Young Horse Championships
Kojak, Hermes de Hus, Django de Charry Win 2013 French Young Horse Championships
Don Juan de Hus, Danciero de Hus, Dona Primera Win 2012 French Young Horse Championships
Blacktime, Grand Passion, Socrate de Hus Win 2010 French Young Horse Championships
Rock N Roll Star, Socrate de Hus and Wodan are 2009 French Young Horse Champions
Jessica Michel, Triple French Champion with Prime Time, Noble Dream, Riwera at 2007 French Young Horse Championships