2017 British Young Horse Championships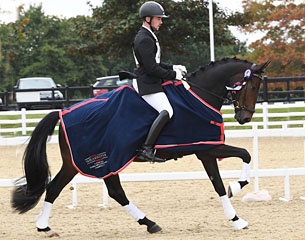 The 4-year old Waverley Dante, the 5-year old Hawtins San Floriana and the 6-year old Mount St. John VIP became the winners of the 2017 British Young Horse Championships held at the British Nationals in Stoneleigh Park on Sunday 17 October 2017. Both Hawtins San Floriana and Mount St. John VIP extended their title from last year.
Waverley Dante In Front in 4-year old Division
For another year the popular Potential International Dressage Horse classes thrilled the fans who travelled to Stoneleigh for the final day of the British Dressage Championships. The judges looked closely at the quality, way of going and future potential of all the finalists over a very exciting afternoon of competition.
Whilst Kerry Makin and Rowan Bryson's stallion Izonik impressed in the first round it was the combination of the Hanoverian Waverly Dante and Greg Sims to stand out in the final impressing the panel of judges Maria Colliander, Ulf Moller and foreign rider Eva Moller.
Over Radio Nationals Paul Hayler and the team commented on how well trained and well produced Waverley Dante was, they also discussed his impressive quick hind leg and balance – two factors which without doubt affected the final decision.
At the end of Eva Moller's test ride Finnish judge Maria Colliander said 'At first when he came into the arena I thought he was quite normal but then the more I watched I realised he is a true riding horse. I really liked him, he was well balanced and the more Eva rode him the more the top line developed.'
British Bred Waverley Dante (Dimaggio x Furst Heinrich) was bought from Waverly Stud by rider Greg Sims as a six-month-old foal; 'I've produced him lightly, he's done a few local shows and the Shearwater qualifiers so now we're here. I had hoped to do well but I definitely didn't expect to win!'
Greg reaffirmed the judge's comments stating that the horse's rideability is one of his best attributes, 'He's always been a really chilled out guy and from day one he's never really put a foot wrong. He's a real trier - that's one of his main strengths – his attitude is great and he's got three fantastic paces. The canter in particular is brilliant and his balance is really quite special'
2015 Young Professionals Award winner Greg has confirmed that he's keeping the horse and hopes to train him through the levels towards Grand Prix.
Hawtins San Floriana Captures Title in 5-year old Division
It was the battle of the mares in the five year old division which saw four outstanding horses come forward from Saturday's preliminary round.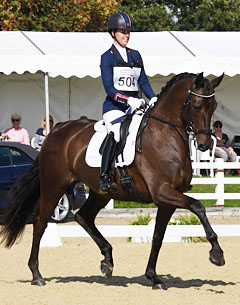 In the end it was another great result for British breeding with Judith Davis' Hawtins San Floriana coming out on top to gift Charlotte Dujardin her eighth win of the Championships. The bright bay mare by San Amour and out of Hawtins Floriana (Florestan x Weltmeyer) showed her class and potential once again to mirror her winning performance in the four year old competition this time last year.
'Wow that's a good picture, it looks like an Advanced Medium horse,' expressed Judy Harvey over Radio Nationals as Eva Moller started her test ride aboard the class winner. The judges were also impressed as Ulf Moller explained, 'She has a really nice uphill, swinging trot with a nice natural cadence and a nice balance. There is a very nice jump from behind in canter but the rider will have to be careful in the future that there is enough ground cover,' this was his only slight criticism of the superstar as he concluded, 'In general I think you'll all see that the conformation is good and the picture is nice, it's no wonder she was a winner last year.'
From the back of San Floriana in her prize giving Charlotte said, 'I'm keeping her for the six year olds next year! She gives an amazing feeling and I have really high hopes for her.' With ten horses to compete over four days it's been no mean feat for the Olympic Champion to fit everything in, 'it's been a busy week but going down the centre line becomes a normal day of training when you do it so many times. I've tried my best and it's been hard work but it's a great experience for my horses coming through for the next few years.'
Second place went to Mount St John Zonetta presented by Amy Woodhead whilst yesterday's first round winner Helga moved into third place.
Mount St. John VIP Clinches 6-year old Title
Jumping off San Floriana and onto Mount St John VIP, Charlotte entered the arena to eventually claim the six-year-old title. Having qualified both VIP and her own chestnut son of Apache, Gio, for the final, Charlotte elected to ride Emma Blundell's beautiful Vivaldi mare with Sadie Smith piloting Gio. Dujardin had won the warm-up round with Gio and she placed fifth with VIP.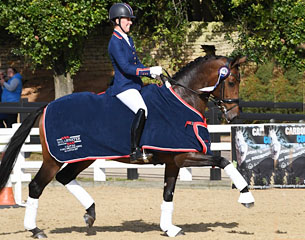 Although a little tension crept in when ride judge Eva Möller first boarded VIP, she soon settled and displayed easy extensions with great balance in all three paces, 'the training hasn't been too bad' laughed judge Maria Colliander as Eva continued to put the horse through its paces before giving the ride back to Charlotte.
'I like the horse's adjustability and its education, she feels like being at home' announced Eva as she discussed her thoughts with the judges before heralding the talented mare as the winner.
Having already earned the Medium Level title yesterday, Charlotte and VIP are proving to be a real exciting partnership for the future.
"VIP is slightly more experienced than Gio, which is why I chose to ride her in the Final. I'm very lucky to be working with Mount St John and able to ride such super horses. I'd also like to thank my team, without them it wouldn't be possible to do what I have done this week."
Text by British Dressage, edited by Eurodressage - Photo © Kevin Sparrow
Related Links

Scores 2017 British Dressage Championships
Hawtins San Floriana, Mount St. John VIP, San Marco Win 2016 British Young Horse Championships
Hawtins Duchessa and Florentina Win 2015 British Young Horse Championships
FJ Veyron and River Rise Escarla Win 2014 British Young Horse Championships
Eldorado and Romanno Stromboli Win 2013 British Young Horse Championships
Romano Ruinart, Zolansky, Royal Concert Win 2009 British Shearwater Young Horse Championship
2007 British Dressage Young Horse & Breeding Championships