2017 Hungarian Young Horse Championships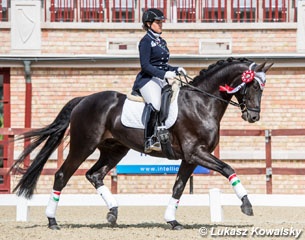 The 4-year old Stiffelio, the 5-year old Die Oder Keine, and the 6-year old Kitti became the winners of the 2017 Hungarian Young Horse Championships held in Diosgyor, Hungary, on 8 - 10 September 2017. Good group of 4 and 5-year olds gathered for the Championships, the 6-year old division was small with only three pairs.
The Hungarian Young Horse Championships consist of two rounds which both count for the final ranking. 
Nine combinations were competing for the 4-year old title and Hungarian junior rider Jazmin Yom Tov steered the Hanoverian bred Stiffelio (by San Amour x L'Espoir) to the title after winning both rounds. The pair scored 80.40% and 83.4% for gold. The 15-year old Yom Tov, he will turn 16 next week, also earned silver aboard the Westfalian bred For Joy (by Feedback x Donnerbube II). This duo scored 76.8% and 79.0%. Csaba Szokola and the Dutch warmblood Icoon (by Sorento x Don Primaire) scored the bronze with 76.2% and 78.8%.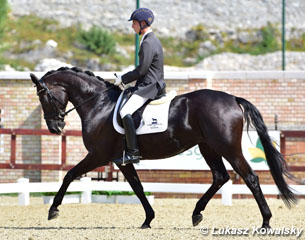 In the 5-year old division the 26-year old Maté Garai steered the Hanoverian bred Die Oder Keine (by Don Index x Hochadel) to the title with 79.8% and 84.0%. Last year the horse won bronze under Nikolett Szalai. Jazmin Yom Tov got silver aboard the Dutch warmblood stallion Hyde van de Wolfshoeve (by Johnson x OO Seven) after posting 81.0 and 82.6% on the board. Szalai saddled Jozef Acs' Dutch warmblood Vivaldo's Sun (by Vivaldo x Olivi) and earned bronze with 77.2% and 85.6%. The 2016 Hungarian Young Horse Champion in the 4-year old division, Jamiroquai (by Johnson x Alabardos) now finished fourth under Barnabas Gemes.
In the 6-year old division Viktoria Nebel extended her title on the Friesian bred Kitti (by Viktor fan Bommelsteyn x Sape x Olof) after last year's victory in the 5-year old division. She won both rounds with 77.2% and 81.0%. Eniko Decsi and the Oldenburg bred Jazzmine (by Johnson x Western Star) finished with silver on 74.4% and 78.0%, whereas Orsolya Bogar and the palomino pony Kimball Weering (by Klein Roderijs Cocktail x Le Matsjo) got bronze with 65.2% and 69.0%.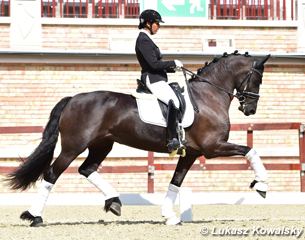 Biggest absentee in the 6-year old division was Csaba Szokola on the Oldenburg bred Siracusa (by Sir Donnerhall x Don Schufro). The pair did well at the World Young Horse Championships in Ermelo, but were eliminated from the consolation finals because the rider did not show up for the prize giving ceremony. "He was a really super in Ermelo and we have now started the preparation for the 7-year old class," Csaba told Eurodressage.
Photos © Lukasz Kowalski
Related Links
Jamiroquai, Kitti, Fly With Me Win 2016 Hungarian Young Horse Championships 
Hungarian Horses Selected for the 2017 World Young Horse Championships