2017 Hungarian Dressage Championships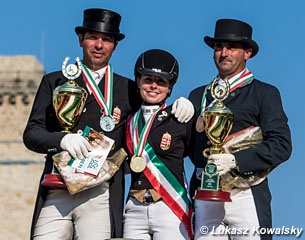 Nikolett Szalai has claimed back-to-back titles and won the Grand Prix Championship at the 2017 Hungarian Dressage Championships held in Diosgyor, Hungary, on 8 - 10 September 2017. Six Grand Prix riders contested the Big Tour Championships, while the divisions at the other levels were grouped together based on level and not rider's age.
Nikolett Szalai and her 12-year old Hanoverian Willy the Hit (by Wolkenstein II x Brentano II) face tough competition for gold from Robert Acs on Heike Pinneau's 12-year old Oldenburg bred Rasputin (by Rubin Royal x Sandro Hit). In the Intermediaire II Szalai was second with 67.368%, but she won the Grand Prix with 69,100%. However, in the kur she was second again with 71.750% but her Grand Prix score was high enough to lift her to the top of the board in the overall ranking. With 208.218 points she got gold and her second, consecutive Grand Prix title.
Acs finished in silver medal position after winning the Intermediaire II with 67.921% and placing second in the Grand Prix with 66.360%. He won the kur with 73.025% but totalled 207.306 points which landed him an overall second place.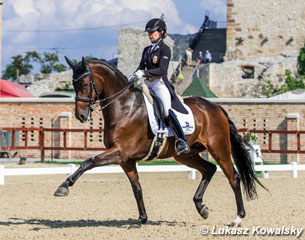 The bronze went to Gabor Nemeth on the 16-year old Hanoverian gelding Le Baldi (by Lauries Crusador xx x Garibaldi II). He scored 64.500%, 65.800% and 68.075% to total 198.375% for bronze.
Biggest absentee at the 2017 Hungarian Grand Prix Championship was Aniko Losonczy on the 14-year old Hanoverian Mystery (by Margue H x Delano). The pair represented Hungary at the 2017 European Championships in Gothenburg three weeks ago, but did not travel to the Nationals where team mates Acs and Szalai were competing. Also last year's bronze medalist Emese Vagi and her 14-year old Oldenburg gelding Discovery Hit (by Diamond Hit x Romancier) were not present in Diosgyor.
Losonczy told Eurodressage that Mystery did not travel well to Gothenburg and was very nervous and a difficult eater there. She wanted to give her horse more time to recover instead of competing at the Nationals.
"It was not easy for me to decide that we would not go to the Hungarian Championship, but for Mystery it was the best," said Aniko. "She is my best horse, my partner and friend and I do not want to be incorrect to her. She is helping me a lot and she gives me her best all the time, so I owe it to her to give her a short break, so that she can have some time in the paddock and go out in the forest and a lot of carrots and apples."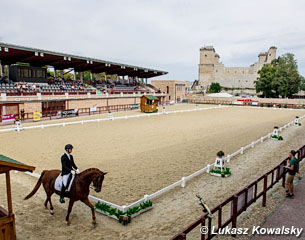 In 2017 proper Hungarian Youth Riders Championships were already staged in Babolna at the beginning of July, but in Diosgyor more Nationals were held based on level: L, M and S at which several of the pony/ junior/young riders competed as well against senior riders. Pony rider Hanna Hoffer won the L-level Nationals on her pony Macciato, young rider Berill Szoke-Toth won the M-level division on Donna Romma and the small tour championship was won by senior Grand Prix rider Robert Acs on Bilan.
Photos © Lukasz Kowalski
Related Links
Nikolett Szalai Wins 2016 Hungarian Grand Prix Championships 
Radnai, Ivan, Szoke Toth, Zengo Win 2017 Hungarian Youth Riders Championships