German Breeding News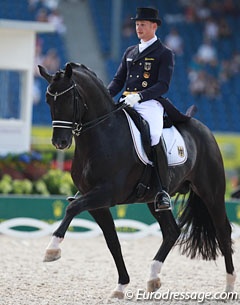 On 1 September 2017 the German newspaper Stuttgarter dropped a bomb by publishing that Edward Gal has ridden Totilas again at Paul Schockemohle's stallion station in Muhlen, Germany. Fake News from Germany, it turned out to be!
The article has several mistakes. Not only did Gal never ride Totilas again after the sale of the horse to Germany, but Totilas never won the 5 and 6-year old divisions at the World Young Horse Championships, as the Stuttgarter Zeitung printed
However, the interesting piece of information in the text is that since Totilas' retirement after the 2015 European Championships in Aachen, the black stallion has permanently returned to Schockemohle's station in Mühlen and is no longer staying at Ann Kathrin Linsenhoff's yard in Kronberg.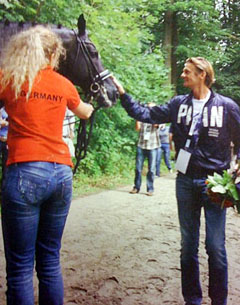 When Schockemohle bought Totilas from Cees Visser in 2010, Linsenhoff paid for the sport rights so that Matthias Rath could compete the horse. The stallion regularly spent long period in Kronberg for training and just short stints in Muhlen where he was being collected.
In February 2017 there was another brief upheaval when Totilas was supposed to make his appearance at a small stallion show in Saint-Lô, France. First, the black stallion's coming to France was assured, but then blatantly denied by Schockemohle (even though his box at the stallion show was made ready with Totilas' name on the door). Owner Paul assured that the stallion will never be shown in public again.
The Dutch warmblood stallion continues to stir hearts at the Stuttgarter article again raised commotion. The German newspaper posted that "a long time ago" Edward Gal came by the stalion and paid Totilas a visit. "A witness stated: "When Edward came, Paul spontaneously asked him, "do you want to ride him again? After some hesitation, Gal went to his car, pulled on his breaches and boots and mounted into the saddle. The judgement of the beholder: "it was magical. After a few minutes Totilas went just like before."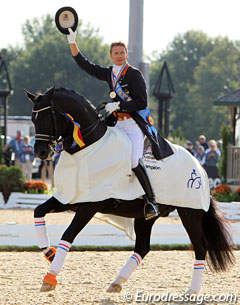 Eurodressage asked Edward Gal's life partner Hans Peter Minderhoud if this story was true and the Dutch Grand Prix rider replied: "No comment. That book is closed."
When we asked Christoph Hinkel, Paul Schockemohle's spokesperson, about this mythical hook-up, he stated: "I have honestly no idea (where the story came from. All I can say is that Totilas is fit, getting ridden daily and, Edward, I've never seen him here in Mühlen before."
Hinkel further told Eurodressage that groom Christin rides him most of the time, but sometimes Isabel Freese steps on board, or someone else of the staff.  "We just keep him fit and in a good condition," said Hinkel.
Photos © Astrid Appels - private
Related Links
Totilas Completely Retired from Public Presentations
Totilas To Appear in Saint-Lô
The End of an Era: Totilas Retired from Sport
Totilas Buzz at the 2014 CDI Kapellen
Totilas Sold to Paul Schockemohle