Opinions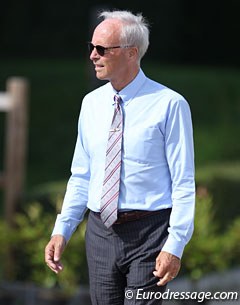 Norwegian 4* dressage judge and former FEI Dressage Director Trond Asmyr rings in on the proposal of a HiLo Drop by the Dressage Judging Working Group. "We need to come out of the deadlock the discussion is in now," Asmyr told Eurodressage.
Trond Asmyr: "The 6% Rule Automatically For All"
I have been following the discussions around the recommendations from the Dressage Judging Working Group, and the FEI Dressage Committee support of these.
The most controversial proposal is the HiLo drop score proposal. Many good articles have been published and FEI has also issued various documents to support their proposal. Even so, it is easy to understand that even the FEI Dressage Committee is split in their support. I will not repeat all the negative arguments from stakeholder groups and National Federations. The arguments against the proposal seem much stronger than the arguments for it, especially knowing from the statistics that this change would have very little practical influence on the results. Today, it seems that most strong dressage nations are against the proposal, with the exception of Netherlands.
Knowing the enormous political pressure for changes, there might be an alternative way to go, with more active use of the so-called 6 percent rule. This rule has the same intention as the proposed HiLo drop score; eliminating judges' results which are very different from the other judges. Today this is used only for shows with a working Judges Supervisory Panel. If one judge's result for a ride is more than 6 percent different from the average of the other judges, the JSP has the right to adjust this, if all three JSP members agree.
By reducing the percent to 5, and making it automatic to ALL CDIs, it would also secure that "extreme" results from one judge would not have such a strong influence on the total result. This seems to be the main goal for FEI's work. At the same time , most of the negative arguments against HiLo would be eliminated, and the proposal would have the possibility to have real support from stakeholders and National Federations. It would also make the practical work of the Organizers much easier, especially for those who still do the calculations manually. I would think many National Federations would also introduce this for their national shows.
The 6-percent rule as it is today should be changed anyway. It is not fair if JSP decides to change one result and not another. This could end up in protests and legal proceedings. The change must be done automatically for all.
- by Trond Asmyr
Photo © Astrid Appels
Related Links
HiLo Drop: Why the Dressage Judging Working Group Proposes this Trimmed Mean System

Dressage Judging Working Group Makes Recommendations for 2018 Rule Amendments

David Stickland: A Tale of Two Competitions