2017 Bundeschampionate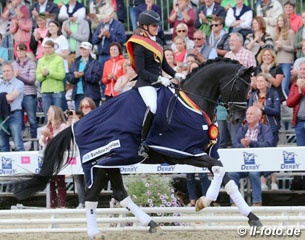 (by Dr. Maren Engelhardt for Eurodressage) - My relationship to the Bundeschampionat is ambivalent. I love it and I hate it at the same time. Which is why I usually don't make up my mind to go right until before. That in itself is kind of stupid, knowing that accommodation is booked out in the entire region way in advance.
 At least that way I get to stay in cool villages and towns I had no idea existed and can drive alone through just stunningly beautiful scenery very early in the mornings. Nothing says "horse country" quite so well as the Münsterland at 7 AM with fog and the rising sun. Unfortunately that is the only tranquility my little story here will offer the reader. You hit the grounds at the DOKR in Warendorf, and your world changes. At least most of it.
A Great Place to Understand What Horse Breeding is Evolving Into
Some 700 horses and ponies that have qualified via a rigorous system all year long appear in Warendorf to battle it out. The show is well run and has a great feeling to it. Now if we could figure out cell reception and more than one hot spot along the way that would really help. But I digress. It IS a great show, hands down. If you want to understand more about German horse breeding, this is the place to go.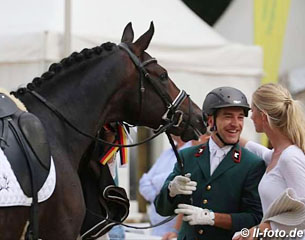 If you want to understand my little story, I should probably tell you that I am not a dressage rider. At least not in the sense of what dressage is today. I live and breathe eventing and you will find me mostly on the cross country course in Warendorf. But of course I want to stay educated and venture into other disciplines frequently. I also still draw from my military-precision, staccato-teaching grandfather who instilled dressage in me the way the German cavalry rode it. Yes that was a long time ago. I just find it still works so darn well. Very few things in life are still great the way they were 70 years ago, particularly in Germany ….. but training young horses from scratch is a thing that really shouldn't deviate too much from the original idea, yet it has. Dramatically so.
The other thing that has changed very much since my early childhood riding days (NOT 70 years ago!) is the type of horse we see today in the dressage world. It really is fascinating to me that theoretically, you could still plug a great eventer from the 1970s into today's 4* competitions and you wouldn't even look funny (in fact you could win!). Yet try riding around even a regional dressage show here on something born in the 1970s (or 80s). My first horse at home was a somewhat stiff little mare that had a heart of gold and could run and jump very well. But because you don't get to do all the fun stuff without a proper foundation, my parents would make me and my sisters show regular dressage on her too. It wasn't fun, but we learned a lot. More to the point, the horse had a decent shot at doing well when ridden correctly. She didn't trot for a 10 (mostly not even for a 7), but she had other qualities that helped us go home with the one or other ribbon. Today? No more.And the Bundeschampionate is a great place to understand what horse breeding is evolving into.
Candy Shop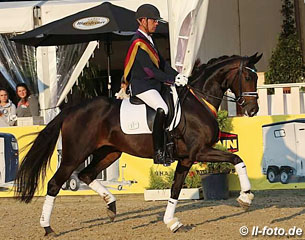 So by sheer coincidence I find myself sitting outside the ring of the 4-year old finals (mares and gelding). I have American friends with me and we really only wanted to have a conversation, but ended up right outside of E, not the main stands, truly on eye level with the horses. A great spot.
In come three finalists that very nicely displayed the three types of horses we so often see today. One was the lovely Rhinelander gelding Discover (by Don Frederic – Ferragamo) with Sina Aringer, accompanied by the powerhouse mare Feel Free OLD (by Foundation – Sandro Hit) with Anja Engelbart and finally the elegant Candy OLD (by Sir Donnerhall I – Fürst Heinrich) with Hermann Gerdes. The phenotypes ranged from settled dressage type with incredible ability to collect (Discover), energetic bunny ready to jump out of her skin (Feel Free OLD), to elegance and light-footedness with power (Candy OLD). That in itself was great to watch.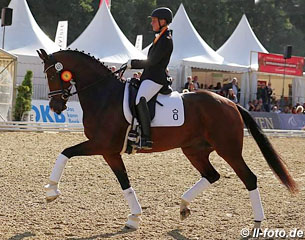 My eventing friend and I immediately were drawn to Candy, contemplating she might be so much happier galloping around cross country. She really has the body type for that sport and well, we also have to ride dressage on day 1 and sitting on THAT might make even Bettina Hoy's head spin. Speaking of which – she was one of the two test riders in that final. What a great choice!
For those of you DQs who don't know that name, Bettina Hoy is one of Germany' most successful international eventers, a former European Champion, multiple German champion, an Olympian Bronze medalist, a WEG team gold medalist, and a force on British soil where she has ridden around the toughest courses on the planet. She holds the dressage records at both WEG and EC level. The lady knows how to ride young horses better than most and could easily plop down center line in a FEI sandbox competition giving many riders a run for their money. We were thrilled to see here in Warendorf. Her colleague as a test rider that day was Marcus Hermes, who impressed with his routine and absolutely gentle way with the horses.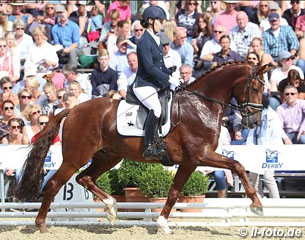 And all three horses were "tested" in the literal sense of the word. It also seemed they were quite fun to ride judging by the expression on the riders' faces. It was no surprise to see that the TB type Candy suited Bettina Hoy the best. She let the mare fly down the long sides and brought her back on her hind leg easily in the corners, no fighting, no head shaking, and no pulling from the rider. Just a joy to watch. My confidence in modern dressage was somewhat rebuild. How bad could it really be? The horses were prepared well, and still somewhat knew how to stretch forward-downward although the overall frame these 4-year olds are ridden in is problematic. But I get it – it's a big show, you gotta run with the flow. Discover was particularly interesting as an aspiring dressage horse – under both test riders he produced some very nice half halts and his conformation makes it almost natural for him to sit during transitions. That is talent right there.
Red Beacon Eternity
So seeing this I wasn't too hesitant to watch the 3-year old mares + geldings class the next day (Finals part A, not B, the test riders), this time in the middle of the pack at B sitting next to another friend. And boy was that an eye opener. I guess we just got lucky the day before.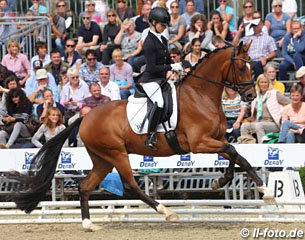 So in the ring we have more bay horses, the Westfalian gelding Eternity (by Escolar – Sir Donnerhall I) with Eva Möller, the Hanoverian mare Borgia (by Benetton Dream – Westernhagen) with Ulrike Hatzl, the Westfalian mare Eyleen (by Escolar – Laurentianer) with Andrea Krehenwinkel, the Oldenburg mare Elfenperle OLD (by De Niro – Florencio I) with Anna Neubauer, the Westfalian mare Evita (by Escolar – Sir Schölling) with Manuela Nitschke, the Hanoverian mare Dschamilja (by Dancier – Lauries Crusador xx) with Madeleine Bendtfelt and at least one more man, the gelding Fidermann OLD (by Fidertanz – Baroncelli) with Annika Korte.
I didn't know any of these horses before, so had no idea that Eternity was the favorite just coming of a big win at the Westfalenwoche under Pascal Kandziora. The gelding had since then changed owners, now being managed by Helgstrand Dressage. When you're ignorant to all that and you just sit there and observe a bunch of bay horses and one chestnut moving around, Eternity stuck out like the proverbial red beacon. There were several amazingly talented young horses and then there was Eternity. I don't often wish I was a dressage rider, but this horse is drool-worthy in every aspect. He has the right mix of elasticity and positive tension without which upper level movements are impossible to execute correctly. He looked extremely comfortable and just so centered within himself that one really wonders how it could possibly get any better. BUT.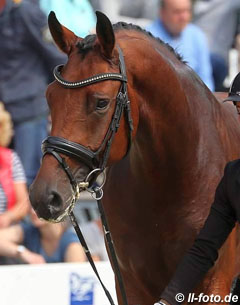 This horse was at his best when his rider didn't try to "produce" him in movements that just cannot be there in a 3-year old, no matter how talented. A 3-year old horse may look more mature and can certainly be forced into a frame that makes it appear GP ready, but no rider will change the basic biochemistry of the 4-year old musculoskeletal system. Nor can you drive that brain to maturity just by pushing and pulling more. The few moments when Eternity's rider just rode, and didn't work, the horse was just breathtaking to look at. Then came the trot extensions, out of a working trot that was already an extension in itself. As a result, Eternity held his back and frequently stepped short/long or lost his rhythm. The walk was mostly not there – at least not in the sense of a relaxed, clear 4-beat with a supple back and an engaged hind end, although it got better towards the end of the test. None of this is new of course, we've all seen young horses pushed too much and moving in frames and speeds that are just plain too much of a good thing. But often enough, the judging will point that out. In the case of the Bundeschampionate I remember a lot of questionable judging, but I also remember very good work from the sidelines where the obvious was explained, not tainted over and scored accordingly. This was not such a day.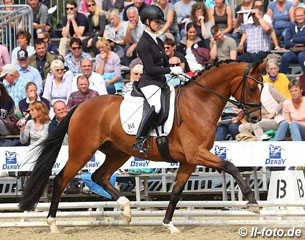 I can certainly appreciate the "between a stone and a hard place" situation the judges were in. This horse was hands down the best in the group, no doubt. But you judge what you see. The 10 canter score was understandable. The 10 trot score, given the horse had issues lengthening his strides without holding his back, losing his rhythm frequently, is hard to understand. The walk score of 7.5 was somewhat of an insult to the other horses. The training score was another whopping 9 – really? The judge with the microphone went on and on how relaxed, elastic and willing the horse was, how very well trained. Sure, willing. I get that. He had no reason to throw his rider off. Relaxed? The Kafkaesque moment had come. You know, when most see what is going on, but the person with the microphone describes the literal opposite? As if SAYING it would make it happen? I am not an expert judge. And I certainly didn't wish this horse any harm. But insulting the collected intelligence of several 100 people really is not the correct approach to instill faith in the system. It is even funnier considering my friend next to me pointed out that the last time this happened (questionable training in the young horse class awarded with big scores), the announcer than proudly broadcasted Uta Gräf as coming in next to show case how to properly train young horses. Ok so what was it we just gave high scores for? I left the finals and walked back to the real world, aka the cross country course where the 5-year olds were beginning their finals.
Checks and Balances, Secret Second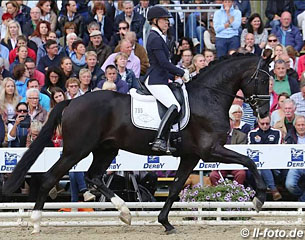 The afternoon session for the 3-year old stallions then somewhat brought the world back to order again. Throughout the qualifying rounds, the big-moving Württemberg stallion Secret (by Sezuan – St. Moritz) under Jessica Lynn Andersson had won. The horse is impressive with great shoulder freedom and a pretty impressive coolness about his work. The walk, however, points towards a problematic connection between front and hind end and is close to pacing at times. In trot, Secret just never really moves his back, again evident in issues with rhythm and suppleness. The rider keeping the horse in a high frame didn't make it much better. Yet the big scores kept coming. So this would have been another champion of questionable quality if it hadn't been for the test riders (Anke Unger and again Marcus Hermes) that did a wonderful job and ranked the horses based on their rideability that day, not on their posse. It is great to see that at least in the horse world, checks and balances sometimes work well. Anke Unger rode Secret in a frame befitting a 3-year old, even let him stretch deep while trotting on a circle and the horse quickly lost his shine and drama. The hind leg was barely engaged, the horse literally "fell apart" – mind you, this is perfectly ok for a 3-year old in my book, but it so clearly showed the difference to the winner of that day.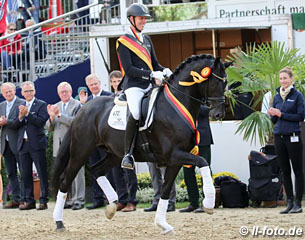 The Champion Finest Selection (by Follow Me – Lauries Crusador xx, under Lukas Fischer) is the more "honest" horse; his legs may not fly all over the place, but his back is engaged, he carries himself well already (a bit too narrow at times) and has a fantastic walk. In fact he scored 2 points higher in the test rider session, and even the Bronze medalist Dohnanyi, a Celle State stud employee (by De Niro – Lauries Crusador xx, with Janina Tietze) received a higher test rider score than Secret.
So you may say, none of this is a surprise, or new. Agreed. And it will happen again. There are different ways to deal with it though. You can strive to do better at home, in your own backyard. You can appreciate the exceptional level horse breeding has achieved without fretting over who gets to wear a gold medal and who doesn't. You can decide never to watch the young riding horse classes again. The thing that inspired me to write this down is the fact that the spectators are apparently considered too ignorant to see the obvious, and something is sold as the gold standards when it so clearly isn't. The level of hypocrisy seems to rise with the level of quality horses we breed. You think an Eterntiy would have looked any less stunning with a bit less speed, push, and pizzazz? No. He would still have nailed the competition. He deserved to win. Just not that day.
Find me at the Bundeschampionat 2018, letter E away from the crowd in the riding horse classes. I saw good and bad this year and I am making it my job now to go back and hope for better times. Our horses certainly deserve that.
By Dr. Maren Engelhardt - Photos © LL-foto
Related Link
Eurodressage Coverage of the 2017 Bundeschampionate