2017 Bundeschampionate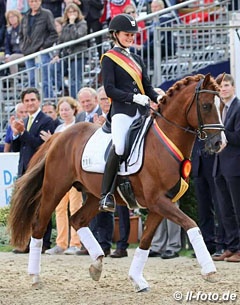 Ann-Cathrin Rieg and the chestnut Weser Ems bred stallion Daily Pleasure became the gold medalists and titlists in the 6-year old Dressage Pony Finals at the 2017 Bundeschampionate in Warendorf, Germany, on Sunday 3 September 2017. Daily Pleasure created a strong lead and referred Golden West to silver position and Steendiek's Corlandos to bronze.
Second, Consecutive Gold for Daily Pleasure
Rieg and Daily Pleasure (by HB Daylight x Dressman) made a stunning push for power in the finals after placing fifth in the preliminary round with "just" 7.80.
"In the first test Daily was a bit fresh early in the morning and he wasn't used to the cold weather. I had to warm him up longer and he got a bit tired because of that, dropping a bit in the poll," Rieg told Eurodressage. "Also he twice accidentally almost stepped out of the arena, but that wasn't his fault. He gave me a secure round and what mattered was that the cards would be redealt in the Finals."
In the Finals, however, the pair posted a total of 8.4. Judges Horst Eulich, Rolf-Peter Fuss and Katja Westendarp rewarded the stallion bred by Reinhard Kramer, with 8 for trot, 8.5 for walk and canter, and 8.5 for submission and general impression. The pony was praised for being well on his rider's aids with a constant contact in the bridle. The trot was cadenced and elastic with a good ability to collect from behind. The canter was uphill and balanced and the walk ground covering and clear in the rhythm.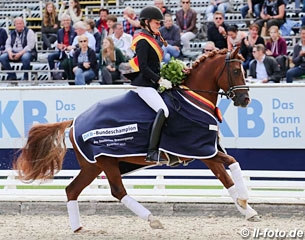 "We trained on Saturday and worked on our mistakes. On Sunday he gave it his all in the warm up. He knew it counted and did his best," said Ann-Cathrin. "He went into the ring with his ears pricked and that was fun. He wanted to defend his title and gave it all. I didn't expect to be able to win again. After last year we could only lose. I was also very nervous, but fortunately Daily is always cool and he doesn't lose his focus. He gave me a secure feeling. I didn't expect to win, the other ponies were also good. I was fortunate to go last into the arena and as I knew that the best score so far was 8.2 I realize that we had topped that mark before. And then it worked."
Daily Pleasure has built up an impressive performance record. As a 4-year old he was a finalist at the 2015 Bundeschampionate and in 2016 he won the gold medal as a 5-year old dressage pony. He was briefly marketed for sale on Eurodressage, but the owner changed his mind and decided to keep the stallion. Daily Pleasure now did the double and claimed his second, consecutive Bundeschampion's title!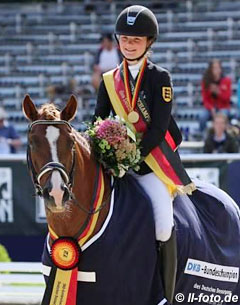 Ann-Cathrin trains on her own at home with her mom or dad videoing the rides which she then reviews and afterwards tries to correct herself in her riding. The Rieg family will not sell Daily Pleasure, but keep him as a future FEI level dressage pony. 
"In October he will go to my good friend Moritz Treffinger, who will work him towards FEI and compete him as I will no longer be allowed to do it myself because I've reached the age limit. Daily will be seven next year and will not be overasked. Everything has to be calm and easy. Up till now Moritz came in the spring/summer to our place on the weekend to train him. They already scored over 70% in an FEI level test in May. That was top class. But now Daily the Champ will get a holiday before the winter work begins."
Golden West Gets Silver
Julia Rohmann placed second on Golden West, who is another Bundeschampionate multiple title winner. Bred by Bianca Wiedner and owned by American Melissa Mulchahey, the cremello Golden West (by Hesselteich's Golden Dream x FS Golden Moonlight) was the 2014 and 2015 Bundeschampion in the riding pony classes under professional Wibke Hartmann-Stommel. With young pony rider Juia Rohmann he was 7th in the 5-year old Dressage Pony Final at the 2016 Bundeschampionate. This year the duo had an extra year of riding and trainer together under their belt and it paid off.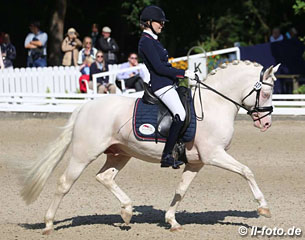 Rohmann and Golden West were third in the preliminary round on a score of 8.1, and improved in the finals to finish second on silver with 8.2. The judges rewarded the stallion with 8.5 for trot, 7.5 for walk, 8.5 for canter, 8.0 for submission and 8.5 for general impression. The stallion was praised for his energetic trot and much engagement from behind in the extensions. The canter had a clear 3-beat rhythm and good suspension, but in the medium canter he was hurried. The contact with the bridle was elastic. Overall the pony could have shown more collection. 
"Westi give me a fantastic feeling in both test," Rohmann told Eurodressage. "He was really concentraded, cool and easy to ride. I think when there will be a guest judge rider test he will get a 10. In the final he went like a super star like he would say "here i am"."
This was Rohmann's second time at the Bundeschampionate with Golden West and with her pony's winner's reputation, she aimed to do her best.
"Everytime I go to the BuCha I hope that everything will be good, but I know that getting a medal is really difficult and hard work," she admitted. "We train really hard but there are lots of other good ponies and riders. It was a really surprise that we were so good!"
The 2017 Bundeschampionate was Rohmann's last show on Golden West. The stallion will now move to his owner Mulchahey's Rose Lane farm in California, USA. 
Steendiek's Corlandos Rockets to Bronze
In the Dressage Pony Finals the entire field got reshuffled heavily and Steendiek's Corlandos made a massive leap on the leader board moving from 11th place in the preliminary round with 7.4 to a third place and bronze medal in the Finals with 8.1.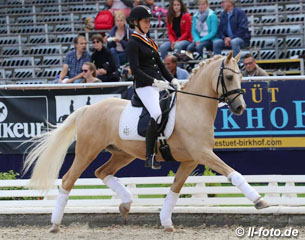 Bred by Peter Böge and owned by Julia Holtermann, Steendiek's Corlandos is by FS Chambertin x Nordstar and was ridden by Marie Holtermann.
In the finals the judges rewared the palomino stallion with 7.5 for trot, 8 for walk and canter, and 8.5 for submission and general impression.  Corlandos stood out with his active trot but it could have swung more over the back. The canter was uphill and showed willingness to collect. The contact with the bridle was consistent.
Big Changes on the Leader Board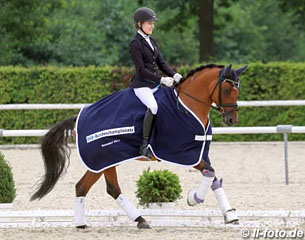 The winner of the preliminary round with 8.4, Helena Eickhoff on the Baumgurtel family's buckskin stallion Nasdaq FH (by Nemax x Don't Worry) could not maintain that top position in the Finals and dropped to a sixth place with 7.8.
The second placed pony in the preliminary round with 8.2, Ceylon E (by Cyriac x Viktoria's Colano) under Sophie Dupree, ended up fifth in the finals with 7.9.
Alissa Horz and the buckskin stallion FS Coconut Dream (by Coco Jambo x Don't Worry) moved from a 9th place in the preliminary round (7.5) to a fourth in the Finals with 8.0. 
Photos © LL-foto
Related Links
Eurodressage Coverage of the 2017 Bundeschampionate
Double Diamond, Camino Royal, Clooney, Coolio, Daily Pleasure, Daddy Moon Win 2016 Bundeschampionate Pony Finals 
Golden West, Price Highlight at 2013 Westfalian Pony Stallion Auction
Double Bundeschampion Golden West to be Available Worldwide in 2016