2017 Bundeschampionate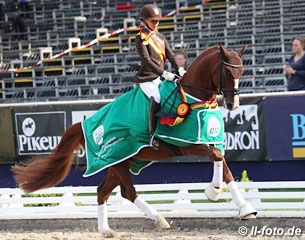 Fresh off winning team bronze and placing fourth in the GP Special at the 2017 European Championships, Swedish Therese Nilshagen returned to Germany to steer her employer Dressage Performance Centre's Dominy to victory and the national title in the 5-year old finals at the 2017 Bundeschampionate, the German Young Horse Championships held annually in Warendorf.
The road to victory for Dominy was certainly a bumpy one. The Bavarian bred chestnut stallion (by Diamond Hit x Pour Plaisir) had been initially ridden by Lukas Fischer, but Nilshagen took over in May and only had a few months to gell with the stallion. In the preliminary round in Warendorf the pair had to retire because of too much tensions. This meant that they had their re-try in the consolation finals in which they placed third with an 8.1 score. In the Finals the pair reigned supreme and scored a whopping total of 9.0. The judges panel, consisting of Ebert, Eulich and Ridder, rewarded the stallion with 9 for trot, 8.5 for walk, 9.5 for canter, and 9 for submission and general impression.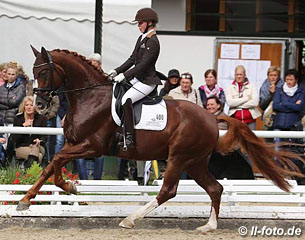 "It was quite funny in Warendorf," Nilshagen told Eurodressage. "The first day I made a mistake and went into the ring when the horse before us was still inside. When this horse went out Dominy got very tense. I was really surprised by this and tried my best to get his attention but there were too many mistakes so I decided to finish the test with no marks because I knew they wouldn't be good anyway. For the small final I warmed up a bit longer; many transitions to get his attention and when it was our turn I waited for the rider before me to go out before I went in. Then he was just fine in the test; not perfect but much better. So for the final I did the same preparation and he felt really good and concentrated in the ring! I was very pleased with him."
Nilshagen admitted that she didn't expect to win in Warendorf as the partnership has been so new.
"I really did not expect us to win but when the judges said the points I thought that perhaps I can get a medal. And later when we realized it was gold I was really happy. It's my first time to win in Warendorf. I was once second in 6-year old class with Sean Connery, but I never won there. Dominy is a really nice horse with three very good gaits and a good mind, so I really look forward to the future with him."
Belgian Owned Furst William HC Gets Silver
The Belgian owned Oldenburg stallion Furst William HC (by Furst Wilhelm x Lord Sinclair x Ferragamo) landed the silver place under the experienced young horse rider Beatrice Buchwald.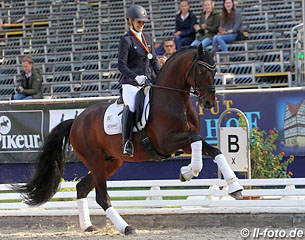 Furst William HC's path in life so far is very interesting. Under Anna Sophie Fiebelkorn, Furst William won the 2015 Bundeschampionate. When Samyn ended her collaboration with Fiebelkorn, the stallion moved to Andreas Helgstrand's in Denmark in 2016 and was ridden by Severo Jurado Lopez, who won the 4-year old class with him at the World Young Horse Championships. In 2017 owner Anemone Samyn wanted Furst William at home in Belgium and she rode him in some Belgian qualifiers for the 2017 World Young Horse Championships but the young stallion proved to be a handful to keep his attention on the job. In May 2017 Samyn sent the bay to Beatrice Buchwald for further professional training.
In the preliminary round at the Bundeschampionate, Buchwald and Furst William HC placed third in group 2 with an 8.3 score. In the Finals he climbed to second place with 8.7. The judges rewarded the horse with 8.5 for trot and walk, 9 for canter, 8.5 for submission and 9 for general impression. Judge Plewa commended the stallion on his "loose and elastic trot with much shoulder freedom" and his canter for being "practical, dynamic and impressive in the way the hind leg reaches under."
"I'm really happy to have won silver with William," Buchwald told Eurodressage. "I know that he has the quality to be in the top, but you never know with young horses what happens; especially for stallions the arena is really difficult. In the preliminary test he was not so self-confident as usual, but in the final he was relaxed and concentrated on me so we could show a really good test. I think it was a good demonstration that William has not only three super gaits, he also has a super character!"
Million Euro Horse Revenat Get Bronze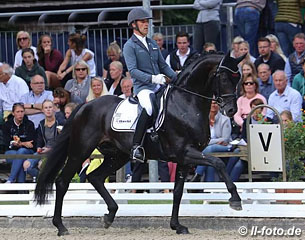 The gorgeous Westfalian stallion Revenant (by Rock Forever x Sir Donnerhall) captured the bronze medal under Rudolf Widmann. In 2016 Revenant was the Westfalian Young Horse Champion as a 4-year old under Eva Möller, after which Gestut Ammerland acquired the stallion for 1.1 million euro at the 2016 PSI Auction. Widmann and Revenant represented Germany at the 2017 World Young Horse Championships, but only managed to place 6th in the consolation finals (with a score of 8.52). On home turf in Germany, however, he does better.
Widmann and Revenant were second in group 1 in the preliminary round with 8.4 (third highest score of all horses in both groups) and in the Finals he improved to an 8.6 total score and third place, good for bronze. The eye-catching stallion got 9 for trot, 7 for walk, 9.5 for canter, 9 for submission and 8.5 for general impression. The stallion sparked quite some debate as he's a spectacular mover, with much uphill scope, but his ability to stretch and lengthen in the frame is more restricted, which also showed in the walk score. 
Villeneuve and Best for Me Complete Top Five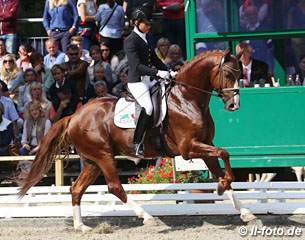 The Austrian owned Rhinelander stallion Villeneuve (by Vitalis x Dancier) landed place four. Under Laura Strobel, the chesntut stallion was third in group 2 in the preliminar round with 8.3 points. In the Finals he upped the ante and finished fourth with 8.5. The judges rewarded the horse with a 10 for trot, 8.5 for walk and canter, 7 for submission and 8.5 for general impression. Villeneuve was the 2014 Westfalian reserve licensed champion and acquired by Sissy Max-Theurer at the auction for 270,000 euro. He became the top scorer at the first 2017 German Stallion Sport Test held in Munich in March 2017 and was also the high scorer at the 14-day Stallion Perforamnce testings in Neustadt/Dosse in May 2017.
The 2017 Bundeschampionate were a major success for Dressage Performance Centre Lodborgen with champions in the 3-year old (Finest Selection OLD) and 5-year old division (Dominy). Lodbergen's Best for Me OLD (by Bretton Woods x Latimer) also placed fifth under Melanie Tewes in the 5-year old finals on a score of 8.4. Best For Me got 8.5 for trot and canter, 8 for walk and 8.5 for submission and general impression.
5-year old Mega Class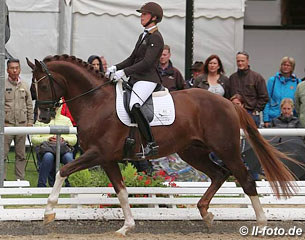 It is worth mentioning that the 5-year old division at the 2017 Bundeschampionate was historically big. With 74 combinations showing up for the preliminary round on Thursday, the concentration of the judges must have been put to the test with 11 hours of almost non-stop assessment of these youngsters. Maybe the qualification criterium of 8.0 has to be pulled up to reduce such a massive number of horses clogging up the schedule and putting any human concentration level to the test. 
Biggest absentee at the 2017 Bundeschampionate was of course the 5-year old Hanoverian stallion Don Martillo, who won the 2017 World Young Horse Championships in Ermelo a month ago. Don Martillo had qualified to compete at the Bundeschampionate by winning the qualifier in Oer-Erkenschwick. The owners decided not to take their chances at the Nationals in Germany and let the stallion rest on his laurels.
Photos © LL-foto
Related Link
Eurodressage Coverage of the 2017 Bundeschampionate