2017 KWPN Foal Auction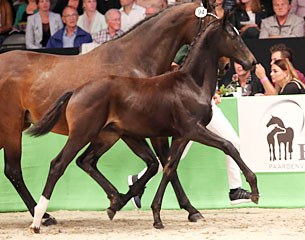 The colt Mackenzie Texel became the price highlight of the 2017 KWPN Foal Auction Borculo held at equestrian centre Lichtenvoorde in Vragender, The Netherlands, on 31 August 2017.
The dark bay colt (by Toto Jr x Voice x Krack C) sold for 51,000 to Dutch dressage clients.
Make My Day (by Toto Jr x Apache) sold for 41,000 euro and Madatschen P (by Toto Jr x Florencio) for 27,000 euro.
German team gold medalist Helen Langehanenberg bid in a duel with Laurens van Lieren's sponsor for Monteverdi (by Vivaldi x Furst Heinrich), and Van Lieren's sponsor Jan Pieter Dalsem won and paid 36,000 euro for him. Dalsem ended up buying five foals in total, including colt Magnify-K van 't Kattenheye (by For Romance x Fidertanz) for 30,000 euro, and filly Misty Nosa (by Toto Jr x Ampere) for 30,000 euro
Filly Milou (by Freinrich x Sandro Hit) fetched 25,000 euro, while Miss Million (by Toto Jr x Damon Hill) found new owners for 20,000 euro
Filly Mahinde S (by Franklin x Sandro Hit) switched owners for 17,000 euro, colt Mister Dreaming (by Dream Boy x Uphill) sold for 16,000 euro, colt Magic Men (by Morricone x Sorento) sold for 15,000 euro. 
On Wednesday evening 30 August a collection of jumper foals was auctioned and the top selling foal achieved a knock down price of 47,000 euro.
Fifty-two dressage bred foals were auctioned and they achieved an average price of 13,262 euro. 
"Just like last night this was a top auction. There was more variation in the prices, but he had a very beautiful collection of foals which was appreciated by the buyers," said Borculo chair Jan Markink. "The Borculo foal auction is back at the top and I dare other auctions to beat us."
Photo © Wendy Scholten
Related Links
2017 Borculo Foal Auction: "We Selected Foals for Borculo that are in Demand"
2017 Borculo Foal Auction: "Foal Auction Borculo is Always a Bit of a Party"
Superbly Moving Dressage Foals in 2017 Borculo Foal Auction
Luxury Star-K van 't Kattenheye, Top Seller at 2016 KWPN Foal Auction in Borculo
Kyton, Top Dressage Seller at 2015 Borculo Foal Auction
Joolz, Price Highlight of the 2014 Borculo Foal Auction
I'm Special, Price Highlight of the 2013 Borculo Elite Foal Auction 
High Five, Price Highlight of 2012 Borculo Foal Auction
Gambo, Price Highlight of 2011 Borculo Elite Foal Auction
Excellent Average Price at 2010 KWPN Foal Auction in Borculo