Luxembourg Dressage News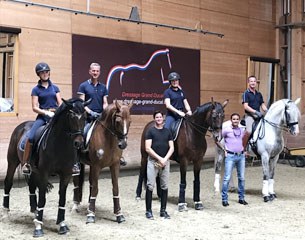 Danish born Luxembourg Grand Prix rider Fie Skarsoe has moved her business to Leudelange, Luxembourg, and joined the Grand Ducal dressage team headed by Grand Prix rider Sascha Schulz, I-judge Christof Umbach and French sponsor Patrice Mourruau.
Skarsøe and her First Choice Stables have been based in Luxembourg for 11 years. She now moved  her business to Ecuries des Pres in Leudelange.
"Now we have a competence center in Leudelange, offering a platform for all those interested in top sport," said judge Christof Umbach, who heads Dressage Grand Ducal.
Five riders are now based at Grand Ducal: Sascha Schulz, Gaston Chelius, Helena Bicker, Christof Umbach and Fie Skarsoe. They will get support from trainers Ulrike Lautemann and Ton de Ridder, José Antonio Garçia Mena, Christoph von Daehne and Christoph Koschel.
Skarsoe is thrilled to have made the move. "I keep my business, but we found out that we can be strong together. A team needs 4 members," Fie told Eurodressage. "So we will now fight for a team for Luxembourg and for dressage in Luxembourg in the future. I take 5 customers with 13 horses. I will keep on training with Koschel and José Garcia Mena."
The CDI Leudelange will also return back on the 2018 CDI show calendar with a 4* international competition.
Related Links
Quel Filou Sold to Anna Zibrandtsen
Ferrari, Price Highlight of the 2016 PSI Auction
Dragao Figueiras Sold to Luxembourg
Darjeeling, Top Seller of the 2017 Hanoverian Winter Auction 
Fie Skarsoe Declares for Luxembourg
So Dark, New Grand Prix Hopeful for Fie Skarsoe
Fie Skarsoe Goes Independent