2017 PS Online Foal Auction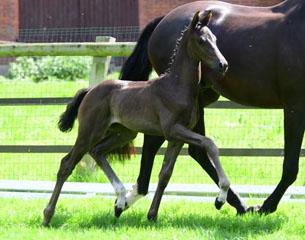 The filly Vivanesse (by Vivialdi x Bordeaux x Sandro Hit) became the best selling foal at the second 2017 PS Online Foal Auction which concluded on 26 August 2017.
Vivanesse sold to Denmark for 60,000 euro. 
The second most expensive foal was  the jumper colt Baloubet Blue (by Baloubet de Rouet x Chacco Blue x Carthago) sold for 40,500 euro to the U.S.A. The jumping bred Big Easy (by Big Star x Nekton) sold for 29,000 euro.
The dressage bred colt Furst Amour (by Furstenball x San Amour) switched owners for 23,500 euro. The chesnut dressage colt Bordonno (by Bordeaux x Sir Donnerhall) sold for 22,500 euro, the bay colt Talisman (by Totilas x Grand Cru) fetched a price of 16,000 euro.
The second PS Online Foal auction was a tremendous success with an average sales price of 17,288 euro per foal.
Related Links
Amazing Foals in Collection of Second 2017 PS Online Foal Auction
Vuitton, Top Seller of 2017 PS Online Foal Auction