2017 U.S. Young and Developing Horse Championships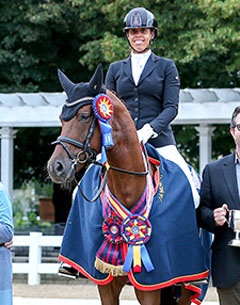 The final two division titles of the 2017 U.S. Young & Developing Horse Championships were determined on Sunday 27 August 2017 as competition came to an end at the Lamplight Equestrian Center in Wayne, ILL. Andrea Woodard and Ravenna maintained their top position in the 6-Year-Old Championship. Cesar Parra and Fashion Designer OLD held onto their lead to claim the 2017 U.S. Developing Grand Prix Horse Championship.
Today's tests counted 60% towards their overall score. The remaining 40% came from Friday's preliminary tests.
Ravenna Wins 6-Year-Old Dressage National Championship

On Sunday, the judges were impressed with the quality and overall delivery of the tests by the young horses. However, they ultimately awarded Woodard (Wellington, Fla.) and her own Oldenburg mare Ravenna the U.S. 6-Year-Old Championship. They had a superb preliminary test on Friday, winning the class with a score of 7.9. The combination only improved, scoring the only 8 in the final test and winning handedly with an 8.3 and overall score of 8.1.
The highlights of their test included the canter. With a normally expressive trot, Ravenna also showed the lightness and smoothness of this gait. With a careful plan for young horses, Woodard has cautiously aimed for the championships this year, allowing her mare time to grow up and mature.
"It feels wonderful of course. This is what I have been building up towards for such a long time now," said Woodard. "I've had my eyes on this championship. She actually qualified as a five-year-old, but I didn't feel like she was mentally ready to take this long trip. This year, I felt like she was much more prepared and mentally ready, so I went for it and it paid off. I am super excited and very happy with her."
Ravenna also received the Oldenburg Award, given to the highest scoring Oldenburg of the class by the Oldenburg Horse Breeder's Society.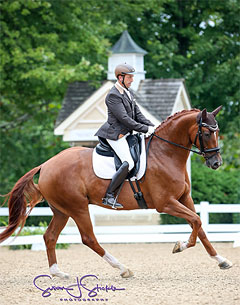 Placing second in the preliminary test on Friday with a 7.8, Werner Van Den Brande (Royal Palm Beach, Fla.) and Flyby FLF, Linda Sommer's Hanoverian gelding, put in an impressive final test, scoring a 7.9 and keeping them in second for the final test and overall reserve. With more energy in their second test and an improvement in the strength of the trot and canter work, the combination scored a 7.9 overall.
"We have been working for this for the last couple of months to get ready," said Werner. "We did it and it, of course, feels really nice."
Additionally, Flyby FLF was awarded the U.S.-Bred Award as recognition of the top U.S.-bred horse in the class.
Michael Bragdell (Colora, Md.) and Anne Howard's Oldenburg stallion Finery kept their poise, finishing third overall with a score of 7.6. The combination finished third in Friday's preliminary test with a 7.6, replicating their score and position in the final test to finish in the top-three.
"He held it together and stayed focused through the test," said Bragdell. "I really couldn't have asked him for anymore. I was just so proud of him. It is fun to come here and be here with all the great competitors. It really gives it a championship feel. I am just so proud that we made it this far and competed here."
Fashion Designer OLD Wins 2017 U.S. Developing Grand Prix Horse Championship

Maintaining the top position, Parra (White House Station, N.J.) and Fashion Designer OLD, his own and Martin Sosnoff's 9-year-old Oldenburg gelding, scored an overall score of 67.30%. Fashion Designer OLD is a true product of success from the USEF Young & Developing Horse Program, competing and placing first in the 5-Year-Old division in 2013, third in the 6-Year-Old division in 2014, and second in the Developing Horse Prix St. Georges division over the years.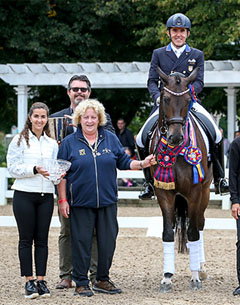 "First of all, I am super, super happy to get another title here at the national championships," said Parra. "I am very, very proud of my horse. I am super grateful, too. It takes a whole village to make it out here; from the owners, from the farrier and the grooms – there are so many people that helped us to get here. Expectations are very high. You want to do well for the horse, for the team, for yourself. I am very, very happy. The footing was excellent, and I think we had a good panel of judges. I am very happy."
The combination also earned the Oldenburg Award, given to the highest scoring Oldenburg by the Oldenburg Horse Breeder's Society. Parra and Fashion Designer OLD scored a 69.56%, winning Friday's Intermediate II Test and a 67.30% in Sunday's  Developing Grand Prix Test, placing third. 
Winning Sunday's Developing Grand Prix Test with a 66.25%, Patricia Becker (Wadsworth, Ill.) and Dr. Anne Ramsay's 10-year-old Oldenburg stallion Freedom were the reserve champions of the U.S. Developing Grand Prix Horse Championship with an overall score of 66.68%.
Tying for second in Friday's preliminary test with a 67.32%, Becker was pleased with Freedom's attitude and work ethic moving into the final test.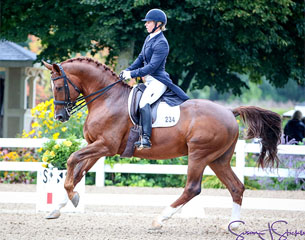 "Freedom is always a bit more tired towards the end of a big competition. Today, he felt very good in his body going in. He was very much with me. He really tried and gave me all of his focus and I was super proud of him," said Becker.
Freedom was also the recipient of the U.S.-Bred Horse Award, given to the highest scoring U.S.-bred horse of the class.
Perhaps riding the most talked-about horse of the show due to her coloration, James Koford (Lexington, N.C.) expertly navigated his final test aboard Adiah HP, Sherry Koella's 10-year-old Friesian/Dutch Warmblood mare. Moving from fifth place with a score of 66.84% in Friday's preliminary test to second place in the final test with a 66.04%, Koford and Adiah HP claimed the overall third position in the DevelopingGrand Prix Horse Championship with a 66.36%.
Koford's relationship with Adiah HP is special and they never take themselves too seriously.
"She is three-quarters Friesian and a quarter Dutch Warmblood – she is just a horse that makes me happy every day," said Koford. "She looks at me and it's like she's smiling. Every day the highlight of her day is when she goes to work."
Koford's expectations coming into the championship were to perform their best, giving Adiah HP an opportunity to shine.
"[Adiah HP] is new to the Grand Prix, and I just want her to feel like a champion every time she goes in," said Koford. "I want her to be happy, have the best time, and feel really good about herself. In that way, it was a win. Honestly, she gives me chill bumps when I ride her – she makes me happy. The whole day, the whole week was really fun."
Related Links
Scores 2017 U.S. Young and Developing Horse Championships
Parra and Woodard on Top of Divisions at 2017 U.S. Young & Developing Horse Championships
Tarjan, Doverspike, and Taylor-Smith Lead Early in 2017 U.S. Young and Developing Horse Championships