Eurodressage Market - Products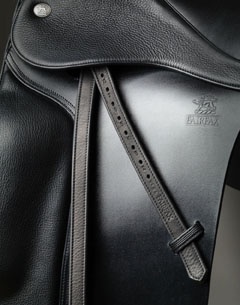 Fairfax Saddles, famous for its scientific approach to product development has much to celebrate at the moment. Two of its team riders – Gareth Hughes and Spencer Wilton - were selected for the British team to compete at the 2017 FEI European Dressage Championships in Gothenburg.
Both riders will be using the Gareth Dressage Monoflap featuring Fairfax's unique Performance Panel. The revolutionary panel design has recently been the subject of a scientific paper published in the Journal of Equine Veterinary Science (54-July 2017), looking at how pressure caused by the saddle influences the horse's freedom of movement.
Fairfax's groundbreaking study shows that reducing peak saddle pressure specifically between the 10th and 13th thoracic vertebrae – even on a well fitting saddle - will enhance the horse's gait in terms of extension, flexion and symmetry.
Read the paper here.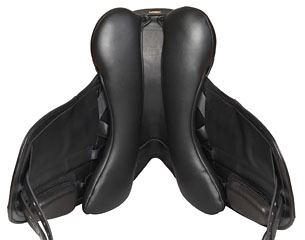 The long-term research project involved pressure testing, gait analysis and taking templates of the horses' backs before and after exercise. The study confirmed there is a lot of muscle activity related to gait and posture around the base of the wither and these findings led Fairfax to develop a Performance Panel to accommodate the physiology of a moving horse.
The weight-bearing part of the panel under the rider's seat is separated from the part under the rider's knee which lies over the horse's shoulder, allowing the shoulder independence of movement.
The panel has been proven to relieve the key pressure zone at T10-T13 and significantly improve the horse's freedom of movement. The company is also delighted that a patent has been granted on the design (GB2515079B), protecting it from being copied.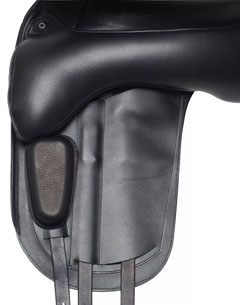 The Fairfax saddles that benefit from the Performance Panel are the Gareth Monoflap, Rebecca Monoflap and Original Dressage Monoflap.
British Dressage Magazine (the publication of the UK governing body for dressage) printed a feature about the research and new saddle. Read it here.
For more information, visit www.fairfaxsaddles.com