KWPN Breeding News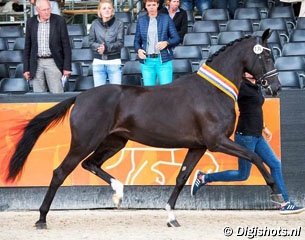 Jatilinda (by All At Once x Negro) became the 2017 KWPN Mare Champion on Friday 18 August 2017 at the KWPN Horse Days in Ermelo, The Netherlands. The black mare was a high scorer in the IBOP testing and excelled in hand in Ermelo.
No less than fourteen 3-year old mares were invited to the champion's ring and ten were ranked in the 3-year old Mare Championship.
Jatilinda, who is bred by Stal 104 in Wijdewormer and who is by All at Once out of Atilinda (by Negro)) was the mare champion of North Holland and can now add the Dutch national title to her list of achievements. 
The mare was chosen as champion for her exceptional way of moving, said judge Marian Dorresteijn. "We asked the top four to trot up once again and Jatilinda kept convincing. She has a sharp model, an exceptional IBOP testing of 87 points and moves with much electricity, leg technique and self carriage."
Junette (by De Niro out of Unette II (by Gribaldi)) was named the reserve champion. She is bred by René Franssen and owned by RS2 dressage
Jane (by Desperado out of Zandra (by Metall), bred by H van Oort and owned by Ad Valk and Katja Kelders, finished third. 
In the 4 to 7-year old mare division, Grace Subtilia (by Chippendale x Sandro Hit) was named the champion. Shanda de Boer presented the mare for its Canadian owners.  Indy (by Everdale x Jazz) became the reserve champion in this division.
Results - 2017 KWPN Mare Championships
1. Jatilinda (by All at Once x Negro) 
2. Junette (by De Niro x Gribaldi)
3. Jane (by Desperado x Metall)
4. Jendelin E (by Charmeur x Sir Sinclair)
5. Julia (by Jazz x Sandro Hit)
6. Joker Sollenburg (by Charmeur x Krack C)
7. jevera (by Eye Catcher x OO Seven)
8. Jinijke (by Ampere x Scandic)
9. Johanna Sollenburg (by Charmeur x Fidermark)
10. Jissy (by Desperado x Metall)
Photo © Digishots
Related Links
Iveniz Texel Named 2016 KWPN Mare Champion
Heliana VOD Named 2015 KWPN Mare Champion
Gamante D Named 2014 KWPN Mare Champion
Flieka Wins 2013 KWPN Mare Championship
Eskara de Jeu Wins 2012 KWPN Mare Championship
D.Obertje Proclaimed 2011 KWPN Mare Champion of the Year
Crisjena Wins 2010 KWPN Mare Championship
Brooklyn Wins 2009 KWPN Mare Championship