2017 KWPN Foal Auctions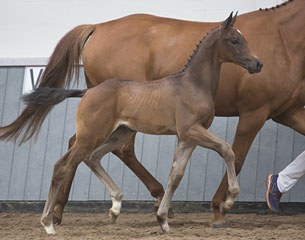 The National Elite Auction Borculo presents a fantastic collection of dressage and showjumping foals on Wednesday 30 and Thursday 31 August 2017 in Vragender, The Nehterlands. For the first time Eugene Reesink and Nol Gerritsen were responsible for the selection of the dressage foals and they are enthusiastic.
"We have a group of superbly moving dressage foals that, each time that we saw the, showed themselves beautifully! It still all has to happen in the auction, but the quality is there, that is for sure", say the members of the committee.
A total of 56 dressage foals were selected from the Netherlands and abroad. The selection people travelled around for thousands of kilometres and found specifically a lot of foals by Daily Diamond and Glock's Toto jr. These two young stallions were, with four products each, almost leaders of the auction. That honour went to the sensationally moving Franklin with five foals.
"We offer a lot of variation in the bloodlines. The foals descend from at least thirty different stallions. Yes, it was great fun to get them together. We saw much more quality than we had expected."
View the complete collection online
For more information, visit www.veulenveilingborculo.nl