KWPN Breeding News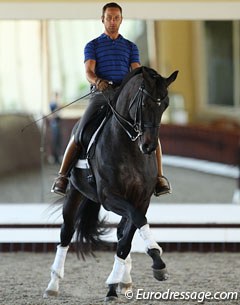 Canadian Olympian David Marcus has invited as the guest rider and judge for the 2017 Pavo Cup Finals during the KWPN Horse Days in Ermelo, The Netherlands, on 14 - 19 August 2017.
The Pavo Cup is a competition for Dutch warmblood bred and registered four-, five and six-year-old dressage horses in which they are evaluated in groups of two as they perform various dressage movements in front of an experienced panel of judges. They will be evaluated on their natural qualities of their gaits, as well as harmony.
After qualifiers all over the Netherlands in the spring and early summer, a group of youngsters has been selected to compete in the semi finals and finals during the KWPN Horse Days. The best six scoring horses will be test-ridden by Marcus.
"We are pleased to invite David Marcus as a guest rider because he practices the training of young horses up to the highest level and competes at the highest level himself," said Marijke de Greef-Freriks of the KWPN Center. "He has proven that he can properly estimate at an early age which horses are talented for the most advanced level of dressage.
"To obtain a start ticket for the semi-finals of the Pavo Cup, which takes place during the KWPN Championships in Ermelo, a horse must have some extra features," Greef-Freriks continued. "His natural movement mechanism - walk, trot, canter, harmony and appropriateness - as a dressage horse are evaluated critically. The Pavo Cup is different from a regular dressage test. It's the talent and quality of the horse that matters."
Marcus will ride the top three 4, 5 and 6-year-old horses who move into the final round of the Pavo Cup to determine their potential of developing into international quality Grand Prix dressage competitors.
"I feel very honored to be invited to such a prestigious event in Ermelo," Marcus said. "I have not had the chance to attend this competition before so when I was invited I couldn't pass up the opportunity to partake as the guest rider. I'm certainly a fan of the Dutch breeding and living in the United States I'm interested to experiencing the Dutch breeding culture. I'm excited and appreciative of the opportunity to share my perspective on how the top young horses in The Netherlands feel."
Photo © Astrid Appels
Related Links
David Marcus' Chrevi's Capital Retired
David Marcus, First Timer on a Team of Wisdom
David Marcus Scores Grand Prix Hattrick at 2013 CDI Rockwood
David Marcus Dominates 2012 CDI Burlington in Ontario, Canada