British Dressage News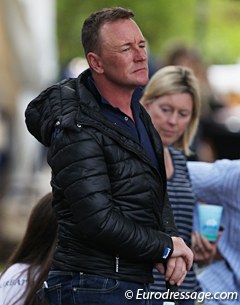 On 3 August 2017 British Dressage announced that Darryl Thickitt has stepped down from his position as British Pony Team Trainer with immediate effect.
Already a week before the official resignation Thickitt was not at the 2017 European Pony Championships in Kaposvar on 26 - 30 July 2017 to coach the British team. He was replaced last minute by progress squad team trainer Dan Sherriff.
"This is due to personal circumstances and a need to concentrate on his growing equestrian business at home," BD posted. "Darryl has the full support of British Dressage in his decision and we would like to thank him for the positive contribution he has made since he started with Pony squad training in 2011 and as Pony Team Trainer since September 2015 (succeeding Peter Storr)."
Darryl commented to BD; "I've had a difficult few months, which have certainly been character building, but it's time that my main focus is on my yard, horses and clients. I'm extremely proud of what we've achieved with the pony riders and last weekend's team bronze was very special to me. It's not been an easy decision, but I'm looking forward to focusing on my exciting stable of horses from small tour to youngsters and my other teaching commitments. The support from everyone has been overwhelming but it's now time to move on to the next exciting chapter."
BD Chief Executive Jason Brautigam added; "We are extremely grateful to Darryl for his hard work and the fantastic support he has given to our Pony riders. The team bronze at this year's European Championships was hard fought, but the skills, inspiration and confidence that Darryl has helped to instil in the riders during his time with them undoubtedly played a major part in their medal success. On behalf of British Dressage, we would like to wish Darryl well with his plans for the future."
Photo © Astrid Appels
Related Links
Germany Is Golden Once Again at 2017 European Pony Championships
British Team Selected for 2017 European Pony Championships
Darryl Thickitt Appointed British Dressage Pony Team Trainer