2017 CDI Crozet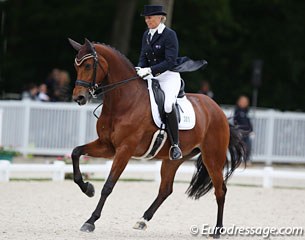 Australian five-time Olympian Mary Hanna is back in Europe to compete her two talented, young Grand Prix horses Calanta and Boogie Woogie on a whirlwind tour in France. After booking a spectacular win at the French seaside resort CDI in Deauville (27 - 30 July) she headed to the Alpine resort of Jiva Hill in Crozet, France (4 - 6 August) for further high placings in the searing summer heat.
Hanna has two stunning developing Grand Prix horses at the moment: Boogie Woogie, an 11-year old Dutch warmblood gelding by Du Moulin x Florett As which was her 2016 Olympic ride in Rio, and Calanta, a 10-year old Dutch warmblood mare by Johnson x Goodtimes who made her Grand Prix CDI debut in Compiegne, France, in May.
Victory in Deauville 
At the 2017 CDI Deauville, Calanta won the Grand Prix with 72.020% and finished fifth in the freestyle with 71.595%. With Boogie Woogie she was sixth in the Grand Prix (69.520%), but they upped the ante in the Special and landed second place with 71.471%.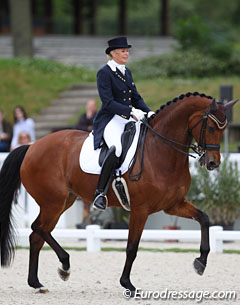 "Calanta has developed so much since arriving in Europe," a thrilled Mary explained. "Deauville was only her third international show and she really showed some highlights, especially with her piaffe-passage, changes and half passes. She is becoming a lot more polished in her work, and I was very happy with her win in the Grand Prix. My trainer Patrik Kittel has always been very positive about her future and she is certainly starting to prove worthy of his belief."
After the Rio Games Boogie Woogie was back in Australia with Mary, but returned to Europe in the spring of 2017 for further fine-tuning and development in his training.
"The highlight for Boogie Woogie in Deauville was the Grand Prix Special where he placed second. We have had to change a few things in training but now Boogie seems to be responding really well and was able to show some of his special talents with even some 9's for passage, and super extensions. He is such a supple, athletic horse, I just need to keep his mind with me and for him to stay focused on his job," said Mary. "They are two very different horses, but I feel they both have a great future."
Hot Competition in Crozet
Straight from Deauville, Mary took the horses to the luxury resort Jive Hill at the foot of the Alpine mountains. The altitude did not help incooling down the extremely high summer temperature.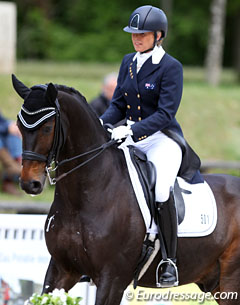 "The French really know how to put on a good show," said Mary. "While Deauville is a well established show, and one of my favorites, Crozet was a new experience for us, and we were in no way disappointed. Jiva hill Stables and Resort is a stunning venue and the organizers could not have been more helpful: safe stables, good footing and staying at the wonderful resort made it a most enjoyable experience. However, the searing heat on Grand Prix day was more conducive to lying by the pool than riding dressage and I feel many horses and riders were effected by this, resulting in lower scores overall."
Boogie Woogie still finished second in the Grand Prix with 68.560%, while Calanta lost some sparkle  and was fourth. The mare picked herself up again in the freestyle and placed second with 71.050%.
"Boogie Woogie handled the heat quite well to produce his second placing, but Calanta hit the hottest part of the day and I feel this resulted in some uncharacteristic mistakes, in our communication," said Hanna. "However in the Kur the next day I was thrilled with her performance, giving me a clean ride with some lovely expressive work. We rode Sancette's Kur, but I now feel she has earned her own special choreography and music. That will be my next project with her and then perhaps ride some World Cup qualifiers over the winter."
Staying in Europe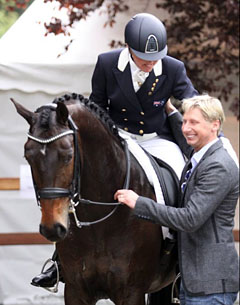 Hanna has learnt much from her short whirlwind tour in France, which especially put more mileage on her horses. 
"I felt in Deauville we were a bit fresher and more in form. Calanta's win with 72.2% was a real highlight, but in hindsight riding two shows so close without my trainer in between was not the best plan," Mary admitted. 
Since Deauville, Mary has decided not to ship her horses back to Australia for the summer circuit down under, but instead continue training with Patrik and competing in Europe at the heart of the sport. 
"The traveling back and forwards to Australia is very stressful on my horses, so I think now is the time to stay and focus on improving our performance," she said. "I had planned to return to Australia soon  but since the training is going so well with Patrik and for the welfare of my horses I have decided to stay in Europe, hopefully until the World Equestrian Games. The traveling forward and back to Australia is long and dangerous for the horses' health, so now we stay here and enjoy some concentrated training and good competitions." 
Mary has high hopes for a potential 2018 WEG qualification as she believes she has more horse power than ever before.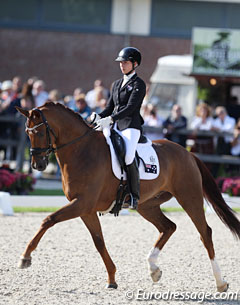 "I have two of the best horses I have ever had. With them both being relatively young, and at the start of their Grand Prix careers, I feel quite excited about their prospects, especially Calanta's win on only her third international show."
Mary also owns the 6-year old Dutch warmblood Gerion, who fellow Australian Briana Burgess has been training for her in Germany. The combination represented Australia at the 2017 World Championships for Young Dressage Horses in Ermelo, The Netherlands, last weekend and placed fourth in the preliminary test (8.94) and ninth in the finals (8.44).
"He is by Jazz and has much talent for the big tour. He is eager to learn and Brianna has done a super job with him," Hanna added.
Photos © Astrid Appels - private
Related Links
Scores 2017 CDI Crozet
Scores 2017 CDI Deauville
Feodoro Finishes on Top of 6-YO Preliminary Test at 2017 World Young Horse Championships
Lordswood Dancing Diamond, Sovereign Winner of the 6-YO Finals at 2017 World Young Horse Championships