2017 European Pony Championships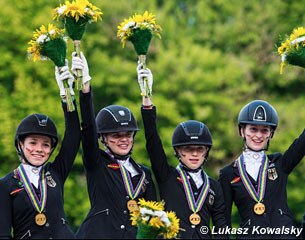 Team Germany grabbed gold after winning the team championship test, the first leg and nations' competition at the 2017 European Pony Championships which are being held in Kaposvar, Hungary from 25 - 31 July 2017. After a turbulent team competition, which was interrupted last minute due to a thunderstorm, the class came to a conclusion after three days of competitions on Thursday 27 July. Denmark earned silver and Great Britain got bronze.
A horrible thunderstorm with a torrential downpour and lightning struck the show grounds on Wednesday late afternoon and the class was interrupted abruptly during the ride of Belgian Clara Mourlon Beernaert. The entire German team - consisting of Jana Lang, Lucie Anouk Baumgurtel, Julia Barbian and Anna Middelberg - had already competed and their grasp on gold was firm with a total of 220.103 points.
Lang had initially produced the highest score of the test on her palomino Cyrill (by Champion de Luxe) x Power Man. After her ride she posted 75.308% on the board, but that score was later reduced to 74.795% because Lang had entirely the arena past the 45 second time limit. This still ranked her at the top of the board. The second German best score came from 2016 European Pony Champion Lucie Anouk Baumgurtel on the Holsteiner bred Massimiliano (by Monsun N x Cap Cennedy N) who finished third with 72.769%, while team newcomer Julia Barbian and her Rhinelander Der Kleine Konig (by Dorniks Donovan x Don't Worry) were fourth with 72.539%. Anna Middelberg and Drink Pink (by Don't Worry x Golden Highlight) rode Germany's scratch score  of 72.154% (7th).
Germany captured its 31st team gold medal since the inception of these European Pony Championships in 1978. Only in 2015 they lost their golden grasp in Malmo, Sweden, when Great Britain claimed top honour. Germany has lost gold only nine times.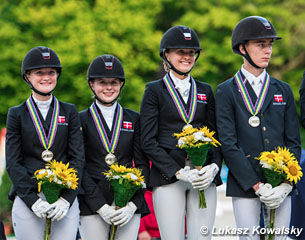 Denmark's best scoring rider Louise Christensen and the Dutch bred Vegelin's Goya (by Verona's Bo Gi x Leuns Velds Darling) were amongst the five riders who still had to appear in the postponed class on Thursday evening. The break in the competition certainly did not phase the experienced pony rider as she earned 74.231% with her test. The judges panel - consisting of Baarup, Hillier, Hamoen, Halsell and Lehrmann - were all over the place with her marks though. Christensen scored between 71.026 and 77.564% !
Denmark firmly landed second place and achieved the team silver medal. Had Christensen scored 77.103% the gold would have been for Denmark, but with 74.231% the silver was safely theirs on a total of 217.744 points. Further contributing to Denmark's silver lining were Sofie Hansen on Prince of Glory (by Prince Perfect x The Braes My Mobility) with 72.257 (5th) and Kristian Wurtz Green on Lilo L (by Notre Bach x Manitu N) with 71.256% (10th). The Danish scratch score came from Sara Aagaard Hyrm on the 15-year old team routinier Der Harlekin B (by Golden Dancer x Dornik B) with 70.872% (12th).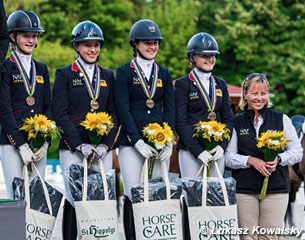 Team Great Britain secured bronze after a roller coaster ride for the young girls on the team. The British girls went into pre-training camp for the Europeans right before the competition and as the team ponies started their journey towards Hungary, Charlotte McDowall's Le Chiffre developed a kidney stone on transport and had to pulled out of the team. Team alternate Holly Kerslake had just returned back home in Devon from training camp but was called up to replace Le Chifrre and had to repack her lorry in a hurry to trailer Valhallas Zorro to Hungary on her own, instead of sharing the ride on the team transport. Furthermore, for undisclosed reasons the pony team trainer is not present in Kaposvar, and has been replaced by the progress squad team trainer Dan Sherriff. A rough start for the British pony girls, but they still rode up to par in Kaposvar and finished with bronze. 
The star of the team was Sophie Taylor on the 12-year old Dutch bred Madam's Miss Maria (by Woldhoeve's Silvo x Wester Aikema's Norbert). They finished 6th with 72.179%, followed by Anya Kolleth on the former European Pony Champion SL Lucci (by Lukas x Bazar) with 71.308% (9th) and Megan Barratt on former team pony Valido's Starlight (by Valido x Capri Moon) with 69.667% (13th). Britain's scratch score came from Kerslake, who still achieved a more than respectable 69.000% on the Danish bred Valhallas Zorro (by Valhallas Lord Matrafal x Fjordglimts Sir Johnson) to finish 17th in a class of 65 ponies. Great Britain scored a team total of 213.154 points.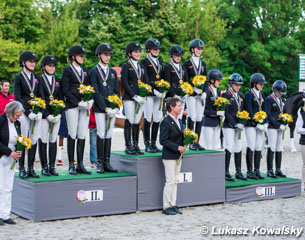 The Dutch pony team was less than one percentage point behind the U.K. with a team total of 212.564 points to place fourth. Their top rider was Brandy Bos on the 12-year old Dutch bred Charming Foret (by Bodo x Leuns Velds Elegant) with 72.128%. The Belgian team landed fifth place with 204.462%. Its three riders all scored 68% with Clara Mourlon Beernaert scoring the highest on Don't Dream (by Don't Worry x Dressmann) with 68.180% and a 20th place. 
The 2017 European Pony Championships continue on Friday and Saturday 29 and 30 July with the individual test after which the best 18 riders (3 per nation) will contest the Kur to Music on Sunday 31 July 2017.
Text by Astrid Appels - Photos © Lukasz Kowalski - check out a full photo gallery from the 2017 Euro Ponies here
Related Link
Eurodressage Coverage of the 2017 European Pony Championships