Dutch Dressage News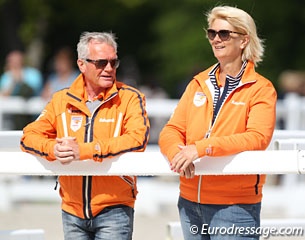 The Dutch Equestrian Federation and team trainers Monique Peutz and Alex van Silfhout have announced the teams that will represent The Netherlands at the 2017 European Championships for Children, Junior and Young Riders in Roosendaal, The Netherlands, on 9 - 13 August 2017.
Monique Peutz will be coaching the Children's team while Alex van Silfhout is in charge of the juniors and young riders. 
"We have a strong junior riders team and with the young riders I hope we won't be having so much bad luck as of now than in the selection process," said Van Silfhout. "A lot has happened in that process and it didn't make the choice easier. It's hard to estimate where we stand with the team. They all did well at international shows, but I know little of the other teams. I want to go for beautiful and successful championships."
Both young riders Lisanne Zoutendijk and Febe van Zwambagt dealt with some bad luck at the final selection trial in Ermelo so both riders were invited to a training camp on 25 and 26 July where Van Silfhout made his decision. 
The Dutch teams include:
Children
Chiel van Bedaf - Bond's Painting (reserve horse Fernando)
Sanne Buijs - Happy Feet
Lara van Nek - Fariska
Sanne van der Pols - Excellentie
The children's reserve is Megan van der Molen on Veni Vidi Vici C
Junior Riders
Daphne van Peperstraten- Cupido
Thalia Rockx  - Verdi de la Fazenda
Florence Siemer  - Zidane
Sem Stiemer - Waldemar
The junior reserve is Annelotte Felix on Amos
Young Riders
Esmee Donkers (Venhorst) - Chaina (reserve horse Zaffier)
Jasmien de Koeyer (Sint Jansteen) - Esperanza
Bo Oudhof (Nijeberkoop) - Colt Sollenburg
Lisanne Zoutendijk (St Willebrord) - Kostendrukkers Ringo Star
The young rider reserve is Febe van Zwambagt on FS Las Vegas
Photo © Astrid Appels
Related Link
Eurodressage Coverage of the 2017 European Children, Junior & Young Riders Championships